The perception that Hong Kong is a smart city actually improved in the last 12 months in spite of the latest poll commissioned by Google that showed only a third or an estimated 30% of residents – the same percentage as 2018 – share the same belief.
"Between 2017 and 2018, Hong Kong ranked sixth in the corporations' mind about where we were from a smart perspective. We were behind other cities like Shenzhen and Shanghai. Now we only lag behind Tokyo and Singapore." said Leonie Valentine, managing director for sales and operations at Google Hong Kong.
"In the business world, 44% of corporations and 39% of small-and medium business (SMBs) now consider Hong Kong to be a smart city – an increase of more than 15% and 12% from 2018. Yes, the relative positioning of Hong Kong against other cities is stilled ranked fourth – there is no change but the perception of Hong Kong to be a smarter city has actually improved," said Valentine during a press briefing held in the city.
The poll was conducted by Ipsos on behalf of Google Hong Kong for the latter's Smarter Digital City (SDC) Whitepaper, the third and final edition of which was released last Monday. The SDC Whitepaper tracked the progress of digitisation in Hong Kong across four key business verticals – travel, retail, finance and living.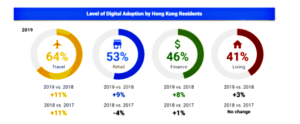 According to Google Hong Kong, this is the first time over the whitepaper series where noticeable improvements in digital adoption were observed across all four key sectors of the local economy.
"This final research report shows that Hong Kong's digitalisation is progressing well over the past three years," said Valentine. "However, more effort is needed to communicate the value of digital applications and how digitalisation can improve overall quality of life for Hongkongers. It is also important for all stakeholders – policymakers, corporates, SMBs and consumers – to bring an open mindset and actively collaborate to drive innovations that will be beneficial for all."
Valentine further pointed out the need to bridge the gap between perception and reality about the city's smart city standing in people's minds.
"Promoting the awareness and tangible benefits of technology applications and initiatives in people's everyday life can help build a receptive community that is eager to adopt new technology," she said.
Business sector stepping up the smart city plate
The business sector, however, are not blind to the growing digital adoption in the city. The SDC whitepaper said 89% of corporates in Hong Kong will increase digitalization investments over the next two years. Of these companies, 30% are considering to implement initiatives related to machine learning and AI, a jump of over 14% compared to last year.
And SMBs in the city have fence-sitting and are now playing catch-up, according to Valentine.
"There are more ways for SMBs to be digital in Hong Kong. We actually see an increase in POS terminals, accepting contactless payments and mobile payments. We see more competition in the payment industry," she said. "Twelve months ago, I couldn't pay for a taxi with a credit card in Hong Kong. Today, I can use the HK taxi app. So, we are being exposed to these everyday useful things and that also increased the perception of our SMB clients.
Talent shortage a major barrier
The SDC whitepaper showed that lack of skilled workforce continues to be a major barrier to the city's smart city and digital transformation, with 64% of corporates finding it difficult to employ talents with STEM expertise.
However, Valentine believes that the shortage in digital talent is also a matter of perception.
"The perception is Hong Kong does not produce graduates in STEM. Actually, this perception is not fact," she said. "If have a look at Hong Kong Census data, the number of undergraduate students is somewhere around 22,000 a year through the university grant scheme, roughly 23% to 24% of all HK graduates are STEM students."
"We are actually producing a lot of kids who have the ability to learn digital. They have the foundational skills – the conceptual stuff that actually matters. So, we do have a ready pool of kids coming through university, who could be trained and retrained to acquire digital skillsets. They are much closer to that than thinking about how we actually have to train for AI and ML (machine learning) from the very young age. They might be tricky to find because they are introverted, but they are really doing cool stuff in Hong Kong." Valentine said.
Furthermore, the silver lining on the horizon is that 81% of Hong Kong residents are willing to learn and acquire new digital skills for the smart future. App development (41%), machine learning and AI (40%) and data analytics (37%) remains to be the top three digital initiatives that Hongkongers want to learn.
Meanwhile, Google Hong Kong has been doing its share in helping build a smart workforce. To date, over 1,000 primary and secondary school students have participated in Google's fundamental coding program called CS First. The company also has been promoting ML and AI applications in Hong Kong through its advanced education program such as Google Cloud Certified Program and Explore ML program. It has also brought in its digital marketing curriculum called Digital Garage to Hong Kong, which has trained 20,000 people in the last two years.
"The appetite for learning is there. We only need to connect that desire to opportunities to learn those skills. And they create a much healthier ecosystem where we have the jobs here for Hongkongers. Because that is where we can see relative improvements in terms of the standard of living and relative improvements in terms of liveability of the city as well," Valentine said.
Providing on-the-job training
She added that organisations must also do their part in providing on-the-job training for new recruits who may not have the full digital capabilities needed for their position.
"Companies should be able to say – 'we will hire you for your innate ability and your potential. We don't mind that you don't have the exactly the right discipline for that job. We will train you'. We need more of that mindset in Hong Kong of looking at raw talent and potential regardless of which institution you came from," Valentine said.
"We want smarts. We want kids who can really change things. There is an onus on organisations to invest in training their employees and make sure they reach their full potential."