At last week's Gerontech and Innovation Expo cum Summit (GIES) 2019, Hong Kong Science and Technology Parks Corporation (HKSTP) hosted the largest pavilion, where 29 of its resident companies displayed cross-disciplinary innovations and solutions ranging from assistive equipment, predictive applications, early diagnostics devices, smart wearables to health monitoring platforms.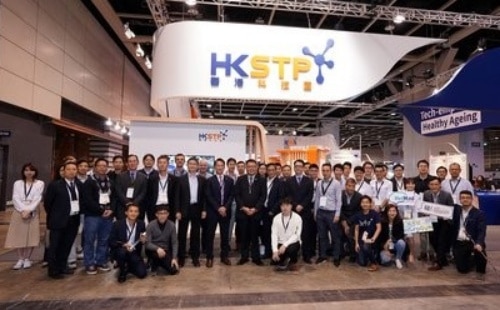 Co-hosted by the HKSAR Government and the Hong Kong Council of Social Service, and co-organised by HKSTP for the third consecutive year, GIES is the only Gerontech fair in Hong Kong that promotes the application of innovative technologies and ideas to enhance the quality of life for the elderly.
Consistent with the event theme of "Tech-empowered Healthy Ageing", they exhibited innovations, incorporating various technologies such as internet of things (IoT), artificial intelligence (AI), sensor and big data analytics, which have been responsible in boosting the quality of elderly care, in-home support, treatment and rehabilitation services.
In light of the fast-ageing population and increase in the demand for public healthcare services, Healthy Ageing is one of HKSTP's core technology focus areas.
By co-organising GIES, HKSTP strives to provide a platform for Park companies to engage in intimate dialogue and collaboration with stakeholders in the ecosystem, in pursuit of new business opportunities and partnership.
At present, over a hundred of Park companies work in tandem to develop practical healthcare applications and solutions, in a bid to make Hong Kong an elderly-friendly city.