Indonesian farmer Dedi is worried the future does not bode well for the small patch of rice paddies that he has been tending for 28 years. Located upstream of the renowned Citarum River on the island of Java, his farm – not to mention his family and his community – relies on the 297-km waterway to sustain his livelihood.
"People here depend on the Citarum for their everyday needs," he says. "But the water quality is changing. It causes health issues, especially for the skin, like itching."
The river runs down West Java's cloud-shrouded highlands near Mount Wayang and winds north to the sea, just east of Jakarta – Indonesia's desperately overcrowded capital.
For years, unchecked toxic run-off from textile plants and other factories along its banks have poisoned the river.
Nearly 60% of its fish species appear to have died out, and lead levels have been measured at 1,000 times above U.S. safety standards.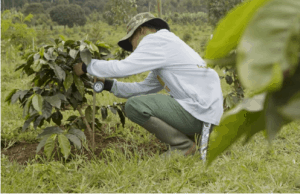 In December last year, a massive rehabilitation program begun to save Citarum River. And people behind the program hope that new technologies such as artificial intelligence (AI) and Internet of Things (IoT) can help bring it to life again.
Race against time
The Citarum river system is one of the worst-hit victims of Indonesian's urbanisation and industrialisation. It has been choked with garbage and industrial waste for years, making it one of the world's most polluted rivers. Swaths of lush jungle, essential to the health of the river basin's tropical ecosystem, have been cut down and replaced by poorly managed plantation farming.
But even its degraded state, the river remains crucial to today's Indonesia. Its three dams supply water to almost 20 million people in the West Java province and more than 10 million in Jakarta.
Around 104,000 acres of farmland, 3,000 factories and several hydroelectric plants rely on its water.
With so much at stake, recently re-elected President Joko Widodo has ordered a massive clean-up, with the aim of making water from the Citarum safe to drink by 2025.
Tree management system support reforestation efforts
Besides ordering thousands of troops to clear garbage in and around the river system, the rehabilitation program includes replanting of trees.
More trees will help filter runoff that makes its way into the river and reduce carbon in the air. Today, residents and environmentalists are using digital solutions to measure, monitor and support its progress.
One of these solutions is a tree management system developed by local technology startup Jejak.in. The system uses IoT and AI to collect and analyse ecological data. The solution supports and maintains a database consisting of more than 15,000 tree species.
According to Arfan Arlanda, CEO and founder of Jejak.in, the tree management solution developed for the Citarum River rehabilitation program has a variety of features and functions.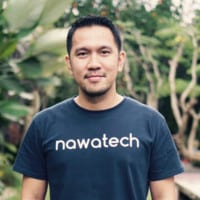 "It has image mapping and identification abilities which include data sampling with QR, IoT sensors and the mobile application. In addition, it has a remote sensing feature that obtains data using satellite imagery and an aerial map function that extracts data using drones," he said.
Arlanda pointed out that IoT technology is deployed specifically to fulfil several requirements.
"IoT is useful for the calculation of height and trunk diameter of the trees. IoT is also used in the soil sensors to collect data from the area of restoration. The data collected by the sensors mentioned above is used to monitor the progress of the restoration program and identify if further actions are required to ensure the success of the project," he said.
He added: "Restoring forests around the catchment area is a natural way to boost the river's water quality."
Jejak.in specialises in developing systems that support reforestation and conservation programs. For the Citarum River rehabilitation, the startup is one of the key collaborators in the project spearheaded by packaged drinking water company Danone-AQUA.
Danone-AQUA also worked together with Nawatech, a Microsoft partner to develop Jejak.in, while the World Agroforestry (ICRAF) also shared its experience, industry knowledge and provided its scientific methodologies to support the project.
"It took an estimated 3 months to prepare for the Citarum River restoration initiative and it was implemented in December 2018," said Karyanto Wibowo, director for sustainable development at Danone Indonesia.
Jejak.in solution for the Citarum River project runs in the cloud on Microsoft Azure. It sends information on carbon absorption to forest managers and government regulators.
"With machine learning, it is able to predict and calculate the environmental impact of tree planting such as carbon absorption within an area and share information on carbon absorption with forest managers and government regulators," said Arlanda. "Its machine learning capabilities allow it to process imagery data and identify both land cover area and Normalized Difference Vegetation Index (NDVI).
The solution also features an intuitive reporting dashboard that presents real-time information and analysis of reforestation efforts.
"Jejak.in's solution allows Danone-AQUA to plan, conduct and monitor their restoration and conversation programs successfully," said Wibowo. "It also enables us to make informed decisions driven by data. Moving forward, the solution is being improved, considering feedback gathered by the Danone-AQUA team, ICRAF as well as the local NGO partners."
Smartphone chatbot
Meanwhile, the data from the tree management system can be accessed by the local communities via a user-friendly AI-powered smartphone chatbot named Jaki.
"The data and analysis are always up-to-date. It makes the data collection process measurable, well-reported, and verified," Arlanda said. "The technology is still under development and is not limited to anyone who wants to contribute and monitor."
Danone-AQUA has been delivering healthy hydration to millions of Indonesians since it was founded in 1973.
With an estimated two-thirds of the nation's 269 million citizens still lacking easy access to safe drinking water, supporting the clean-up of the Citarum and the reforestation of its catchment has become a signature sustainability project for the company.
Its partnership with Jejak.in is also helping its production facilities produce zero net carbon emissions.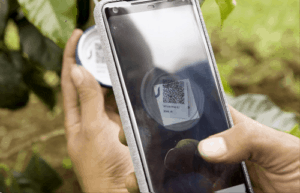 Under Danone-AQUA's corporate social responsibility initiative, every new tree planted in the Mount Wayang area is marked with a QR code medallion made from used water bottles. The codes can be read with a smartphone, making it easy to monitor the amount of carbon being reduced as each tree grows.
Local authorities and Danone-AQUA expect the reforestation around Mount Wayang will mitigate the dangers of floods and landslides.
"The Citarum case is unique because many people, even those who live miles away in Jakarta, depend on the river," Wibowo said.