COVID-19 has been one of the biggest disruptors in recent history. As world economies continue adapting to the new normal – especially on the front of digitalization – some sectors have emerged as leaders, while others still lag considerably.
Sectors which were already largely digital were able to quickly adapt to evolving demands and market conditions. An example is e-commerce, where disruption was mostly positive as more consumers and businesses went online. Contrariwise, more physical sectors like manufacturing and the supply chain were left more exposed, as many related enterprises only accelerated their digital transformation in full force during the crisis.
We have now reached a critical point for digitalization – for businesses of myriad types and sectors. Yet, for physical industries, the need to transform is even more acute; they must invest more heavily and strategically in Industry 4.0 to help them survive and withstand future shocks.
With more widespread 5G rollouts on the horizon, the time has come for industries to assess and implement next-gen connectivity that acts in concert with a broad ecosystem of key technologies, collectively termed as 5G+. This will lead to the next Big Inversion of industrial digitalization – one that can help restore the parity between digital investment and their broader economic contributions.
What is 5G+?
Despite the pandemic, the 5G revolution dampened only slightly. In Asia, governments have been doubling down on 5G, to the point that regional deployments are even ahead of other established markets like Europe. Hence, 5G will soon be more pervasive, but physical industries seeking to realize their full potential must catch up and accelerate adoption, in addition to going beyond just having foundational 5G networks.
Figure 1: Digitalization adoption in physical industries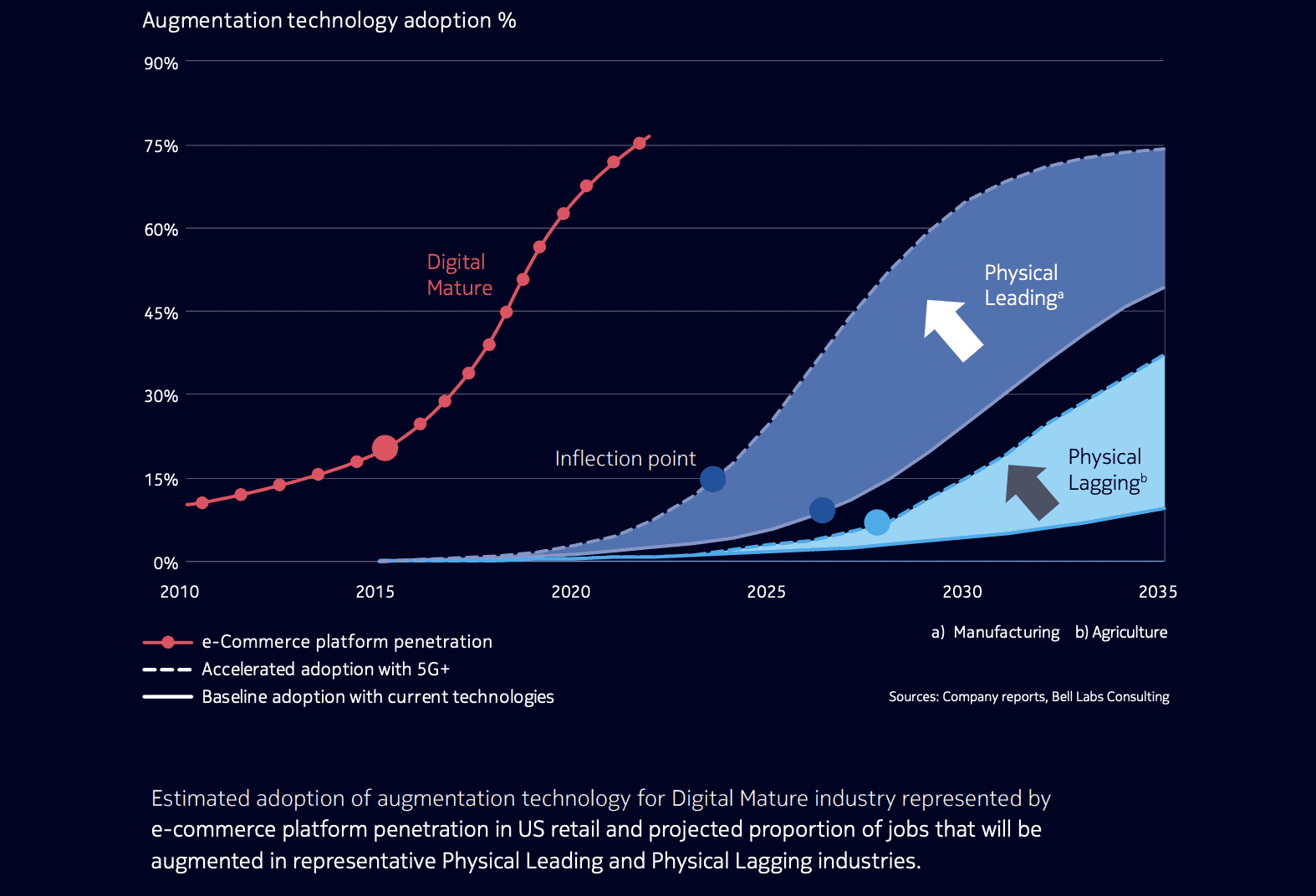 This is what it takes to be truly 5G+ ready, companies will not just have any 5G network infrastructure, but one which enables the confluence of enterprise ICT (information and communications technology) and industrial OT (operations technologies). This means the advancement of both digital and physical systems, which would then work in tandem with each other to the organization's benefit.
However, there are many elements that fall under industrial digital and physical systems and it can be a daunting task to figure out which 5G+ technology solution to prioritize.
As such, Nokia Bell Labs identified a suite of technology enablers that can power the 5G+ transformation of industries: pervasive 5G networks, edge infrastructure and cloud platforms, augmented intelligence and machine learning systems, private networks, advanced sensor and robotics, end-to-end (E2E) security, and network-as-a-service business models.
Alongside the enablers, 5G+ also includes enterprise applications, services, and platforms impacted by the aforementioned technologies. These comprise enterprise computing platforms, general and vertical-specific applications (including application development and business intelligence solutions), as well as professional and managed services and projects impacted by 5G+ technologies.
These constituent solutions will help enterprises of various sectors optimize their use of 5G+ when building the infrastructure foundation to digitalize their operations. The fusion and interplay of 5G and associated technologies holds broad application and a massive promise towards realizing a purposeful future.
How 5G+ enables strategic resilience via SPE gains
Physical industries – both those leading the way in digitalization and those still catching up – are now expected to make more significant ICT investments in the years ahead. But to ensure that they can reap the most benefits at faster speeds and scale, they must optimize their 5G+ technology usage to digitally augment themselves along the lines of SPE (safety, productivity and efficiency) improvements.
But what do 5G+ SPE improvements entail? Let us use augmented intelligence and machine learning (AugI/ML) as a 5G+ enabler and apply it to these areas, namely within a manufacturing environment.
Firstly, safety improvement can be defined as measuring the reduction in safety-related incidents. For instance, factories using augmented intelligence and machine learning (AugI/ML) can couple it with intelligent video sensing to detect an accident before it happens, thereby improving worker and equipment safety.
Meanwhile, productivity improvement – the prime determinant of overall SPE gains – means the increase in the volume of goods or services produced from the same asset base. With AugI/ML systems, factories can better forecast specific market demands which could then allow for anticipatory operations, while also shortening response times and allow for the maximization of the organization's operational capacity.
Additionally, AugI/ML can help optimize product and/or systems design to facilitate mass customization and streamline operational processes.
Lastly, efficiency improvement deals with the ability to reduce the number of resources consumed for the same output level. For example, innovative sensory technologies powered by AugI/ML can detect machine failures in factories before they occur.
This helps keep unexpected disruptions to a minimum, as video analytics can forewarn a possible quality issue to prevent resource wastage, while enabling real-time control of factory operations to ensure minimal inventories.
Altogether, achieving SPE benefits can help industries do more with less at greater speed and scale. This is because 5G+ enablers can provide enhanced operational flexibility.
They can also be further enhanced by network-as-a-service business models (namely those that are programmable and aimed specifically for 5G technologies) and better network redundancy, in addition to improved business intelligence that is powered by digital acceleration tools.
Our factory in Oulu, Finland provides multiple use cases as to how 5G+ enablers (such as E2E 5G networks and cloud automation) are enhancing applications, services, and platforms.
We have also introduced 5G+ in a real-world setting, such as in Japan, by deploying an industrial-grade private wireless network in a manufacturing design center to innovate the production process.
Figure 2: 5G+ driven SPE gains in physical industries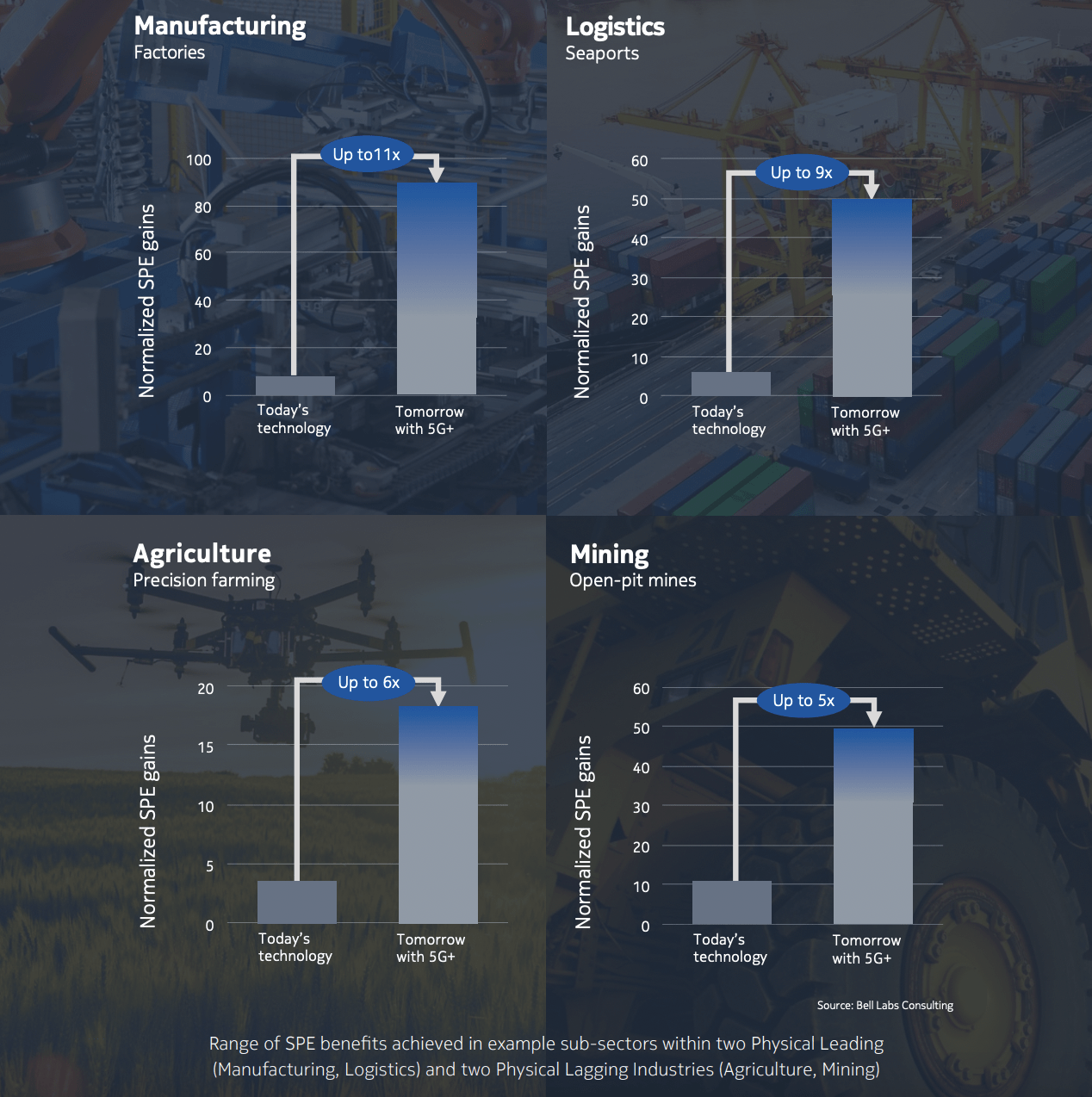 5G+ is defining the new normal for industries
During the wake of the pandemic, ICT spending across Asia, especially for more traditional technologies, dipped. However, there has also been an inverse reaction to technologies that could help enterprises better navigate the ongoing crisis' challenges. This was expected once sectors and businesses adapted to the crisis, leading to the current rebound in IT spending. This – as well as the increasing number of 5G deployments in the region – means we have already arrived at the key inflection point for mass 5G+ adoption.
Figure 3: Journey to a new normal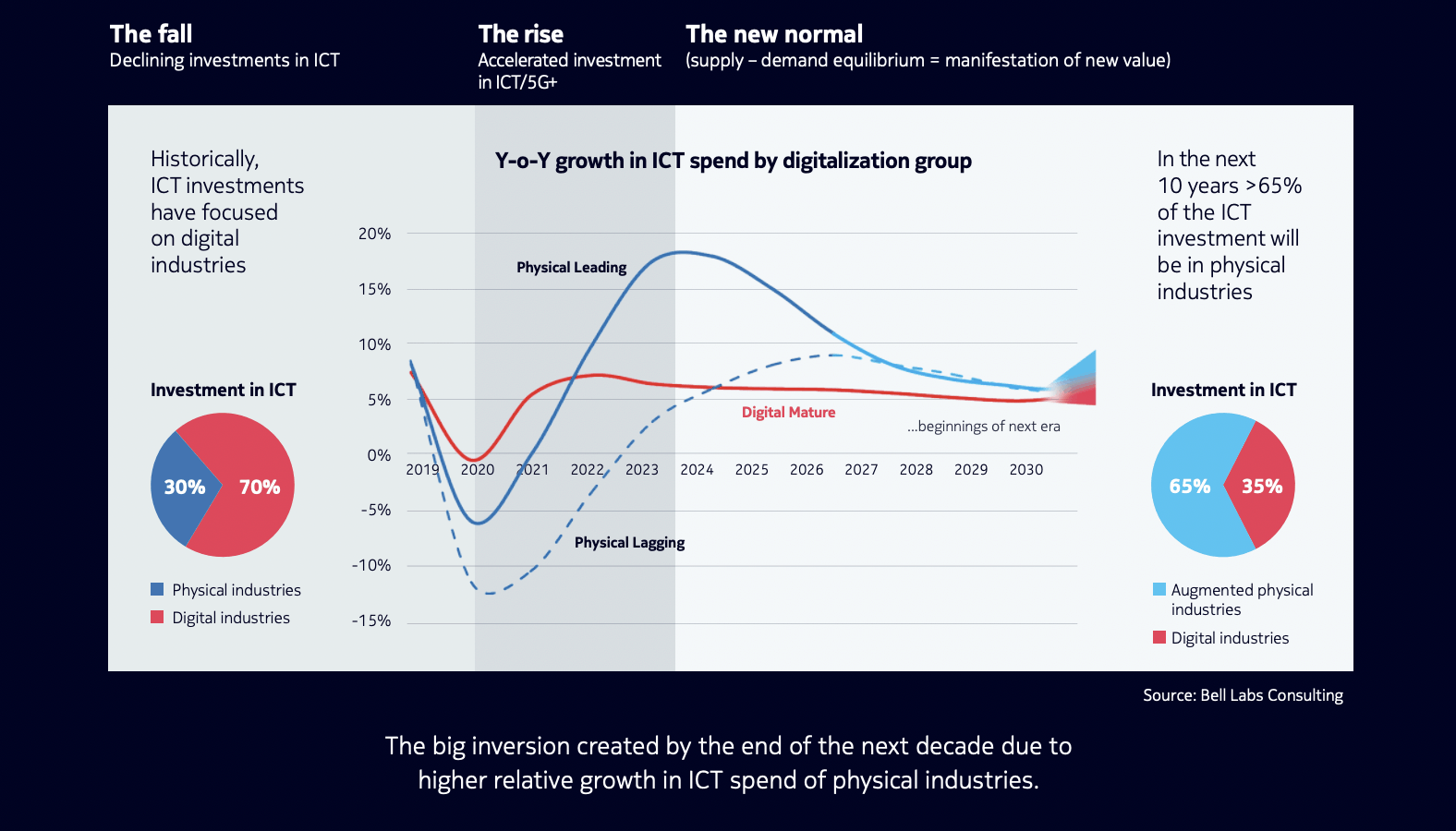 We expect wider scale 5G+ deployment once the regional economy stabilizes in line with the new normal, and the pervasive availability of such technologies will then steady ICT investments. This is how the Big Inversion for Asia's industries will happen and by then, it will be chiefly led by physical industries – by those both leading and lagging behind their industry's wider digital transformation.
However, there remains much work to be done. As companies emerge from the COVID-19, industries must begin planning their ICT investments along 5G+ lines as soon as this year. By taking a more proactive stance, industries and enterprises can ride the wave of initial adopters and gain a competitive advantage by realizing SPE benefits. These gains will then be compounded once mass adoption of 5G+ continues across Asia – resulting in a broader impact and contribution to the wider economy and GDP.