Singapore-based tech-startup SpaceAge Labs will embark on more pilot projects with landscaping companies in Australia and the United States in the coming months. The pilots aim to improve efficiencies of the companies' grass-cutting work through the deployment of SpaceAge Labs' AI/IoT monitoring solution. If these are successful, it could lead to nation-wide deployments.
These pilots signal the startup's international expansion, which comes on the heels of the recent US$1.25 million seed funding secured from investors led by Silicon Solution Partners (SSP) and SEEDS Capital, the investment arm of Enterprise Singapore.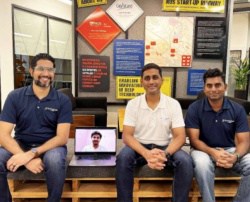 "We hope to conduct more pilot trials with companies and governments, to showcase how remoteEye results in benefits including cost savings, improved safety/hygiene levels, improved performance and reduced reliance on manpower," said Deepak Pitta, founder and CEO, SpaceAge Labs
In the next six to 12 months, Pitta said the company plans to double its current headcount of 12 employees as it opens international offices in Australia and the US.
Pushing for more pilots in Singapore
At the same time, SpaceAge Labs will continue piloting monitoring projects in its home country – specifically around water consumption patterns and leak detection in facilities, air quality in outdoor spaces, and water quality in swimming pools to name a few.
Last year, Public Utilities Board (PUB) of Singapore collaborated with the local startup to trial an IoT-based monitoring solution aimed at preventing sewer overflows in the city state's wastewater network.
Some 40 IoT devices have been installed in sewer manholes across Little India, Geylang and Serangoon Gardens, which were prone to overflows. These areas have a high restaurant concentration and tend to have faster build-up of fat, oil and grease in the sewer network which will eventually lead to a blockage if not cleared.
The battery-operated wireless IoT devices are installed inside the harsh, confined conditions within a sewer manhole, providing PUB with real-time alerts when waste water levels within the sewer system rises too high. When alerts are triggered PUB officers would quickly check for blockages downstream, with SpaceAge Labs informing them the areas that are likely to be clogged.
"Over a twelve-month period from January 2021 to December 2021, we successfully alerted PUB to 10 events within the wastewater network. PUB promptly cleared these blockages before any overflow events happened," said SpaceAge Labs in a statement.
This has significantly improved efficiency of operations, and in preventing pollution to ensure safety and regulatory compliance.
Today, More than 750+ rEye devices deployed so far on site to monitor 1000+ remote assets for different applications.​
IoT devices trialled in greenery management
The company also conducted a pilot with another government agency in Singapore, deploying IoT devices to enable the National Parks Board (NParks) to track the completion and quality of the grass-cutting operations.
NParks manages some 400 parks, 3,347 hectares of nature reserves, the Singapore Botanic Gardens, Pulau Ubin and the Sisters' Islands Marine Park With over 13,000 hectare of green spaces under its jurisdiction, it is a challenge to physically monitor each location regularly.
The grass height sensor is currently deployed as part of the pilot of park and greenery management using digital tools in the Bishan-Ang Mo Kio precinct. This project supports NParks' landscape sector transformation plan that aims to elevate and grow the local landscape sector through digitalisation, mechanisation and "professionalisation".
The IoT devices are worn by grass-cutters using push lawn mowers or handheld grass trimmers. They can also be installed on equipment such as sit-on mowers. The sensors transmit data on the height of grass (post-cut) as well as high precision GPS location data to the cloud. The data are available via web dashboards and a mobile app, where contractors and NParks staff can easily verify the completion and quality of the grass-cutting operation.
"It is important that we take steps to make operations more precise and think of ways to overcome physical and manpower limitations through the adoption of technology. Leveraging on SpaceAge Lab's smart technology, we have been able to conduct grass height inspections more effectively with less manpower.," said Ryan Lee, group director, National Parks Board.
Meanwhile, the IoT-based monitoring system also helps to expedite payment to the contractors as NParks can quickly confirm completed of their work. These operational data and insights also enable the contractors to improve their efficiencies, through better deployment of resources, resulting in lower labour and fuel costs.
Digitising distributed assets maintenance
Established in 2016, SpaceAge Labs started as a consulting company, designing end-to-end IoT solutions for its customers, but pivoted in 2017 to become a product company. In the same year, it became an NUS Enterprise incubatee, based within NUS Enterprise's deep-tech incubation facility in Singapore Science Park I.
The company has found its niche in transforming operations and maintenance of remote and distributed assets by collecting asset data using low power, long-range wireless IoT devices, together with advanced AI software to generate valuable insights from this data.
SpaceAge Labs' solution aims to deliver the following benefits: asset's uptime (due to data-driven predictive maintenance); reduces cost (less manpower required) and provides peace of mind (operators gain real-time asset visibility).
Its flagship product called remoteEye is sensor-agnostic IoT/AI platform that enables connected operations and maintenance, consisting of three parts:
rEye IoT Nodes – These are low-powered, wireless devices that read and transmit data from industrial sensors located at the assets.
Wireless networks – The sensor data is transmitted via low power wide area wireless networks to the cloud. The networks are at low cost (from S$1 per month per device), able to transmit over long distances (several kilometres) and consume low power (up to five years of battery life).
rEye Data Cloud – Enterprise-grade IoT/AI software that stores, analyses, and visualises this sensor data. This software is secure, easy to use and able to scale easily from managing one asset to thousands of assets. Proprietary AI software and geospatial data analysis provides useful insights and predictions that can be accessed via web or mobile.
SpaceAge Labs is initially targeting three sectors: Water/Wastewater; Urban Greenery/Landscaping; and Facilities management.
Currently, the company has IoT deployments with more than 30 customers, including two key Smart Nation pilot projects in Singapore with PUB and NParks.