Oxagon, the futuristic octagonal-shaped port city that will float on the Red Sea off the coast of Saudi Arabia, will adopt a host of advanced technologies such as IoT, human-machine fusion, artificial and predictive intelligence and robotics.
Saudi Arabia unveiled plans for the world's largest floating city this week, as it enters the new phase of the US$500-billion Neom city-state project that covers 10,000 square miles of country's Tabuk province, near its borders with Jordan and Egypt. Neom – a combination of the Greek word neos, or "new", and mustaqbal, Arabic for "future" – is a flagship project of Saudi Crown Prince Mohammed bin Salman.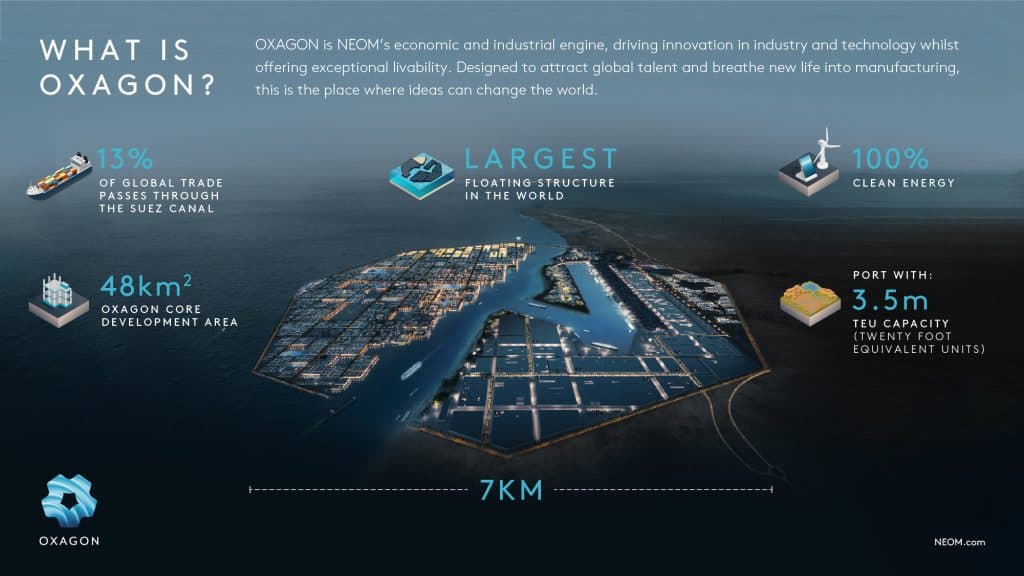 Located at the southwest corner of Neom, Oxagon is envisioned to be an industrial district where the city-state's integrated port and logistics hub will be located. It lies in close proximity to the Suez Canal where approximately 13% of global trade passes through.
"Oxagon will be the catalyst for economic growth and diversity in Neom and the Kingdom. I am pleased to see that business and development have started on the ground and we look forward to the city's rapid expansion," Prince Salman said.
He added that Oxagon will redefine the world's approach to industrial development in the future, which will have the protection of the environment at its core. It will represent a radical new model for future manufacturing centres.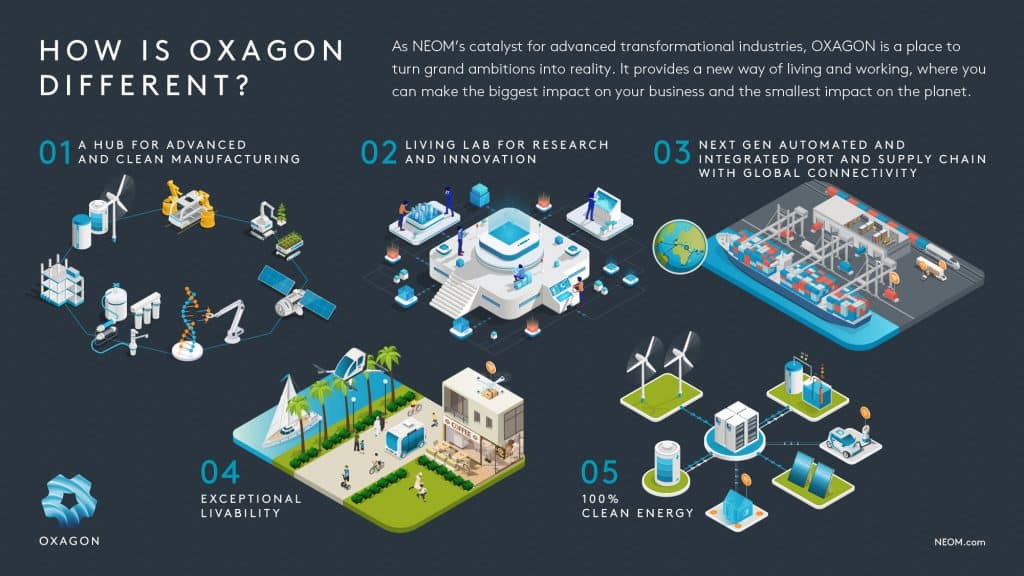 Nadhmi As-Nasr, CEO of Neom agrees that Oxagon will signal a fundamental shift of how the world views manufacturing centres.
"What encourages us is to see the enthusiasm of a number of our partners who have shown eagerness to start their projects in Oxagon These pioneers of change will establish factories, developed with the latest technologies in artificial intelligence, to achieve a significant leap for this era into the Fourth Industrial Revolution," Al Nasr.
World's first fully automated port and integrated logistic hub
Oxagon is being touted as the world first fully automated port and integrated logistics hub that will make use of robots and AI.
The adoption of advanced technologies of IoT, human-machine fusion, artificial and predictive intelligence and robotics will be coupled to a network of fully automated distribution centres and autonomous last-mile delivery assets to drive Neom's ambitions of creating a seamless integrated, intelligent and efficient supply chain.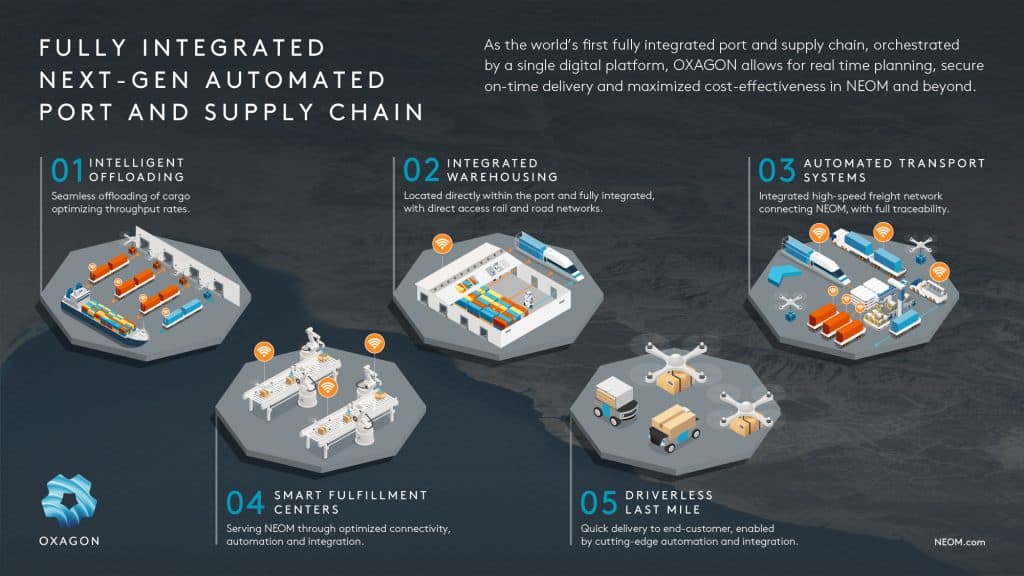 Furthermore, the port, logistics and rail delivery facility will be unified, providing world-class productivity levels with net-zero carbon emissions, setting global benchmarks in the adoption of technology and environmental sustainability.
The agile and integrated physical and digital supply chain and logistics system will allow for real-time planning, resulting in secure on-time delivery, efficiency and cost-effectiveness for industry partners.
Speaking to Arabian Business, Al-Nasr gave a definitive timeline for Oxagon's construction: "We expect the onshore development at Oxagon to be completed by 2030. The beginning of the offshore development will be very much underway by that point as well.
"The containerisation of our port is likely to begin in 2022 when we will also be building our advanced integrated port logistics facilities. We aim to have our logistics solutions facilities in place by 2025 as we continue to progress and deploy new technologies such as state-of-the-art high-speed rail and aerial taxis."
The city's first residents are expected to move in at the end of 2023,
A net-zero city powered by 100% renewable energy
Oxagon's octagonal shape is designed to minimise impact to the environment while providing optimal land use. It will be a net-zero city with all industries within its fold to be powered by renewable energy.
The city has identified seven key sectors for industrial development: sustainable energy; autonomous mobility; water innovation; sustainable food production; health and well-being; modern construction; technology and digital manufacturing,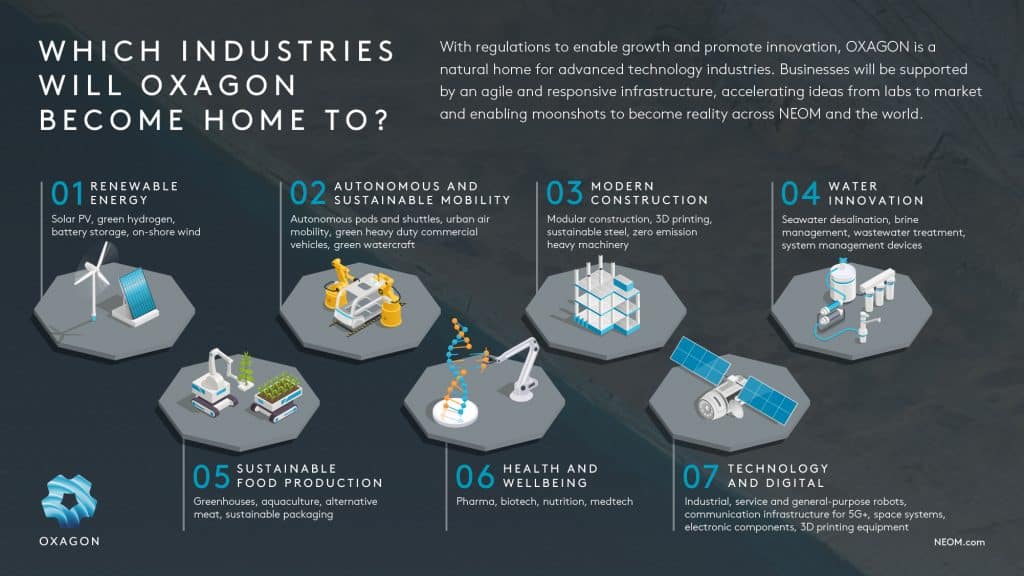 Oxagon aims to be a showcase of how manufacturing can co-exist with nature and respect the environment, especially the delicate ecosystem of coastal areas.
"We will demonstrate how industry and logistics, powered by 100% clean energy, can redefine manufacturing processes with advanced technology, innovation and the clean use of land and sea areas. What we are doing here in Oxagon is a testament that exceptional liveability and industrial advancement are not mutually exclusive," Al-Nasr told Arabian Business.
Oxagon expects to welcome its first manufacturing tenants at the beginning of 2022.