The global market for smart parking is set to grow by US$5.22 billion at a CAGR of almost 22% between 2020 and 2024, driven essentially by the increasing adoption of intelligent transportation systems, according to a latest report by Technavio.
With the increasing congestion on urban roadways, safe, efficient, and accessible public transportation has become a priority. Intelligent public transportation solutions provide application-enabling network services to connect public transit operations securely.
Intelligent transportation systems enable operators to safely gather, analyse, and distribute networked resources in real-time. For instance, Lyft, a ride-sharing service, has been supported by General Motors to collaborate on the internet of things (IoT) projects and provide efficient public commuting services. Also, the rising rate of development of smart cities and the availability of 4G networks will augment the growth of the smart parking market size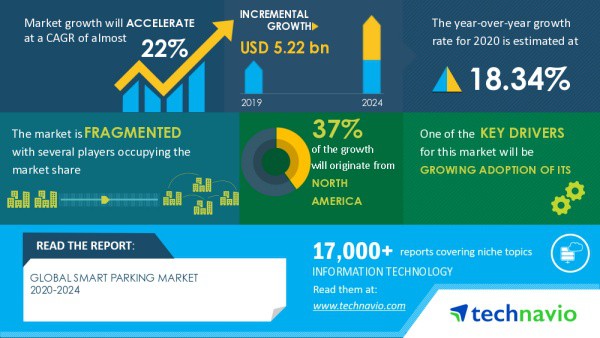 One key insight from the report is that major smart parking market growth came from off-street parking segment. The rising need to have obstacle-free and safe walking spaces for pedestrians is driving the demand for off-street parking facilities. The expansion of off-street parking solutions will be seen in public as well as private sectors in the coming years, and it will involve the construction of parking garages and slots.Also, the global smart parking market is fragmented. 3M Co., Conduent Inc., Flowbird SAS, International Business Machines Corp., IPS Group Inc., Kapsch Aktiengesellschaft, Libelium Comunicaciones Distribuidas SL, Nedap NV, Siemens AG, and SKIDATA AG. are some of the major market participants.
Furthermore, the report cited North America - the largest smart parking market in 2019 – will offer several growth opportunities to market vendors during the forecast period. The increasing need for traffic management and the growing number of vehicles in Canada and the US will significantly influence the smart parking market growth in this region over the forecast period.