SK Telecom and Omron Electronics Korea have jointly developed a  5G-powered autonomous robot to enable a systematic and efficient response against the coronavirus (COVID-19).
Tapping technologies, including 5G, AI, autonomous driving and IoT, the robot carries out diverse activities such as contactless temperature screenings for visitors and disinfection of the building.
Designed with mobility in mind
The robot is designed to detect and automatically moves towards incoming visitors to check their body temperatures using a thermal imaging camera. In case the measured temperature is 37.5°C (99.5°F) or higher, it sets off an alarm and _alerts the control centre. Based on this data transmitted over 5G network in real time, SK Telecom will be able to take necessary measures like prohibiting people with suspicious symptoms from entering the building, among others.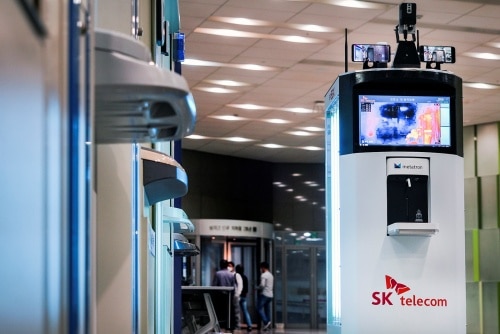 Furthermore, equipped with UV lamps and two automatic floor disinfectant sprayers, the robot automatically disinfects the building. It can achieve 99.9 percent disinfection of 33 square meters of surface areas in just 10 minutes.
"We are seeking ways to help relieve the unprecedented situation brought by the coronavirus," said Choi Nag-hun, vice president and head of industrial data business unit of SK Telecom. "We will continue to introduce diverse services fit for the non-face-to-face era by leveraging our ICT including 5G and AI."
Kim Young-ho, president of Omron Electronics Korea, echoed the same sentiment.
"The 5G autonomous robot is an innovative case where cutting-edge technologies have been applied to overcome the crisis caused by the coronavirus," he said. "The collaboration between Omron Electronics Korea and SK Telecom will serve as a great example showing how businesses can contribute to resolving social issues."
Both companies plan to deploy the 5G-powered robot at their headquarters first and will officially launch the device in Korea this year and in global markets next year.
Using data analytics
The 5G robot has SK Telecom's self-developed AI-based video analysis solution built into it, enabling it to identify places where people are gathered and then move to the location to play a message stressing the importance of social distancing. It will also identify people who are not wearing face masks and request them to wear one.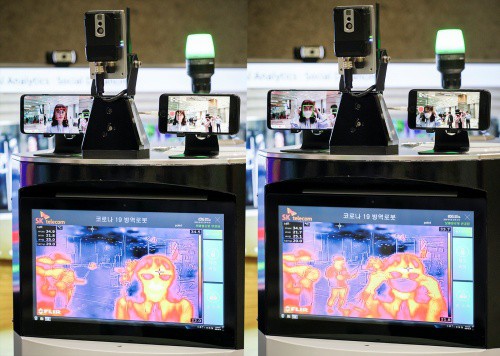 Moreover, SK Telecom will ensure greater efficiency in both operation and management of the robot through the application of its big data analytics solution Metatron.
Metatron will analyse the robot's component management data collected via IoT sensors to check the real-time status of the robot and perform predictive maintenance.