Technology research firm IDC predicts that the IoT market in Asia Pacific will grow by 9.1% in 2022 despite the current semiconductor shortages, supply chain disruptions caused by geopolitical tensions and rising inflation.
Regardless of these challenges that limited the growth of IoT spending, IDC said the rising demand for remote operations, better network coverage, and the deployment of commercial 5G and testbeds are driving IoT adoption in the region.
In fact, based on its latest Worldwide Semi-annual Internet of Things Spending Guide, IDC expects Asia/Pacific spending on IoT to reach US$436 billion in 2026, with a CAGR of 11.8% percent for the period 2021-2026.
"The ongoing deployment and expansion of 5G will drive the growth of connectivity use cases that utilize massive narrowband IoT as well as wideband/broadband IoT such as 4K IP cameras. Low Earth Satellites including nanosatellites and next-generation Very High Throughput Satellites will enable a wide range of remote connectivity uses cases relating to Smart Cities, environmental and sustainability monitoring, transportation infrastructure, energy and resources, and utilities," said Bill Rojas, research director for IDC Asia/Pacific.
From a pure spending perspective, in 2022, the largest portion of spending is expected to remain in the services category, representing roughly 40% of the overall IoT spending in the region.
Furthermore, organisations are increasingly establishing cross-functional IoT centers of excellence, emphasizing IT/OT convergence, which increases their reliance on system integrators and other outsourcing partners.
The hardware market for IoT will be the second-largest technology group in 2022, primarily driven by purchases of modules and sensors. Software will be the fastest growing technology category with a five-year CAGR of 13.3% with a focus on application and analytics software purchases. Connectivity spending will grow at 7.2% CAGR during the forecast period and will account for 7.6% of the total spend in 2026.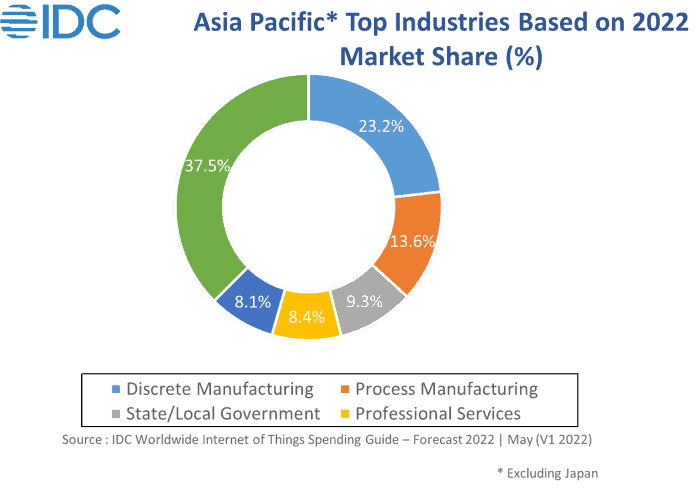 Manufacturing sector leads IoT adoption
According to the IDC study, discrete and process manufacturing will continue to be the top industries investing in IoT solutions in 2022 and in forecasted years, followed by state/local government and professional services. The ability to improve the product and service quality, efficiency, and customer experience are the primary motivations for these businesses to invest in IoT.
Industries that will experience the fastest growth in 2022 are retail and healthcare, with a growth of 11.8 % and 11%, respectively. Changes caused by the pandemic increased digitisation in retail processes, and continued the momentum of remote or contactless engagement are driving this growth.
IoT use cases that see the highest spending in 2022 are manufacturing operations, production asset management, omni-channel operations, public safety and emergency response and smart grids which follows similar growth patterns as the host industries. Together these use-cases will make more than one-third of the overall IoT spending in the region.
Use-case related to healthcare - bedside telemetry will continue to be one of the fastest-growing use-cases in 2022, along with Maintenance & Field Service and Airport Facility Automation.
"Enterprises in Asia/Pacific excluding Japan are actively pursuing digital transformation of business processes to understand better current difficulties and productivity gaps across the value chain. The use of IoT will facilitate better collaboration within the organization and the ecosystem" said Sharad Kotagi, market analyst at IDC IT Spending Guides, Customer Insights & Analysis.
IDC said government-led IoT initiatives and policies, and the emergence of Smart factories and Industry 4.0 have accelerated the IoT adoption across Asia Pacific countries.
Based on its latest study, China (PRC) continues to hold the lion's share, with more than 60% in 2022, followed by South Korea and India. Countries with the fastest IoT spending in 2022 are Singapore and Hong Kong.