With the COVID-19 pandemic locking down South Korea's cultural heritage sites, Deoksugung Palace – one of five royal palaces remaining in Seoul, is now available for virtual visits.
The Deoksugung Palace Management Office under the Cultural Heritage Administration, together with  the country's largest mobile operator SK Telecom, yesterday launched a virtual reality (VR) tour of the palace, whose name means "Palace of virtue and longevity" in prayer for long life for Emperor Gojong.
The VR tour of Deoksugung Palace is offered through a series of 360-degree VR videos that take visitors on a guided tour of traditional and modern palace buildings of Deoksugung. Two videos of Seokjojeon have been released today and two more on Daehanmun, Junghwajeon, Hamnyeongjeon, Jeukjodang and Seogeodang are scheduled to be released on July 17, 2020.
"Due to COVID-19, Deoksugung Palace has remained closed for several months. Through VR contents, we hope everyone will have opportunities to virtually tour Deoksugung Palace and experience the historical spaces where the emperor had strolled a long time ago," said Bang Hyun-ki, director of Deoksugung Palace Management Office.
Six-months statistics from January to June this year showed that the cumulative number of visitors to Deoksugung Palace was 470,000, which is only one-third of that of last year, due to the temporary closure. The reopening date of the Palace remains unknown.
The Deoksugung Palace VR contents provide an experience very similar to that of an on-site visit. An actual guide appears in the videos to explain historical meanings, which users can listen to while enjoying a 360-degree view of their surroundings.
Furthermore, some areas in the palace that have restricted entrance for on-site visitors will  be seen in the virtual tour. For instance, users will be able to take a closer look at the ceiling decoration with twin-dragons from where the emperor's throne was located in the Junghwajeon Hall, and the British antique furniture placed in the emperor's bedroom in the Seokjojeon Hall.
The VR tour of Deoksugung can be enjoyed free of charge by anyone regardless of their mobile carrier, with or without a device, through SK Telecom's Jump VR app.
A foray into mixed reality technologies
SK Telecom has been making constant efforts to introduce Korea's cultural heritage to a greater number of people by fully using its 5G-based immersive media technologies.
In March this year, the company introduced 'AR Deoksugung,' a service which allows users to view 12 palace buildings that span across 61,205㎡ in 3D augmented reality.
"Since the outbreak of COVID-19, the demand for 5G-based immersive media technologies is increasing with the surging non-face-to-face services," said Jeon Jin-soo, vice president and head of 5GX Service Business Group of SK Telecom. "Going forward, SK Telecom will develop innovative media technologies that can further advance virtual experiences for cultural heritage visitors."
Indeed, SK Telecom's foray into developing immersive media technologies got a big boost in April when it started operating Jump Studio, touted to be Asia's first Mixed Reality Capture Studio.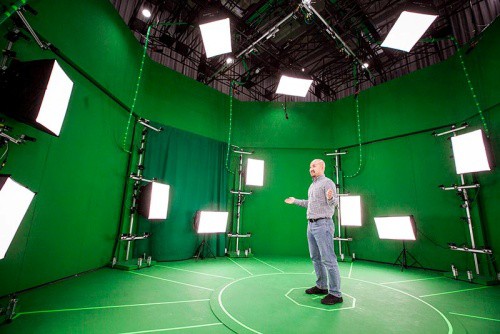 Using  Microsoft's technology, Jump Studio offers advanced immersive media technologies, such as volumetric video capture to create holographic videos by shooting a person's dynamic movements. By combining these with SK Telecom's 'T Real Platform,' which is built with spatial recognition and rendering technologies, the result is highly immersive mixed reality content that can be played on most devices.
High-quality 360-degree 3D holograms – such as the ones of Deoksugung Palace – are created at Jump Studio by using 106 cameras that shoot at up to 60 frames per second (FPS). The technology can significantly reduce both time and cost needed for content production by automating the existing 3D modelling and animation process through the use of artificial intelligence (AI), 3D processing and rendering technologies.
Jump Studio also holds the power to bring immersive media content into the existing media environment.  The facility is able to compress 600 gigabytes of raw footage from a one-minute production shoot into a 300-megabyte file. The file can then be streamed to mobile devices via an MPEG-4 file.
Content production based on existing 3D modelling techniques usually involves a complicated manual process. By using Microsoft's volumetric technology, Jump Studio has fully automated the process from mesh construction to motion generation to produce high-quality end results with authentic looking holographic humans.
For instance, it took about three to four months and hundreds of millions of Korean won to create a three-minute content based on existing 3D modelling techniques. With Jump Studio, the process can now be completed within just one to two weeks and at less than half the cost.
Asia's mixed reality content  hub
According to the Korea Institute of Science and Technology Information and Korea Creative Content Agency, the global market for mixed reality is expected to reach KRW 2.101 trillion by 2022.
Through Jump Studio, SK Telecom plans to further enrich the content offerings of its media services, including Jump AR and Jump VR, SK Telecom's immersive service platforms. Jump VR is a social VR world that can be enjoyed on both mobile and head mounted displays. Jump AR offers diverse AR services including AR Zoo where users can bring up and view a realistic the real world.
"With Jump Studio, SK Telecom will lead the popularization of immersive media by expanding Mixed Reality offerings," said Jeon, adding that "our goal is to shape Jump Studio into the leading content creator hub in Asia".
Meanwhile, SK Telecom plans to work together with diverse businesses such as entertainment companies, production agencies, advertisement companies, fashion, health and education, games, TV and film studios. For instance, 3D avatars of idol groups can be created for performances and advertisements, as well as to make game and movie characters.
Moreover, 3D holograms can be used in countless areas. For instance, doctors will be able to use holograms of patients to study the most effective treatment; and holograms of living celebrities can be created to be kept in a museum permanently.