SAP APJ and NTT DATA have yesterday unveiled a marine transportation solution that uses IoT sensors to deliver real-time monitoring and tracking of global shipments with matching insurance coverage.
Called "Connected Product", the packaged offering is jointly developed by the two companies as part of their strategic alliance signed in 2020. The tracking solution provides greater visibility across the entire supply chain, and agility to activate immediate reactionary procedures, in case of damage or delays.
"What we're announcing today improves supply chain visibility for logistics companies and insurers here in the APJ region, and delivers on NTT and SAP's shared vision of helping companies around the globe achieve greater resiliency and agility to ensure they are prepared for future disruptions," said Paul Marriott, president of SAP APJ, at the SAP Sapphire Conference held in Tokyo yesterday.
Logistics and supply chain disruptions have been commonplace these past two years as a result of the COVID pandemic and climate change, with marine transportation one of the most affected areas in the global supply chain model.
According to NTT DATA, there are instances when products were not tracked for three months and found out to be damaged or lost in transit – resulting to  more than US$5 billion in insurance claims.
"More than ever before, global logistics need to be resilient and adaptative. Long-term planning alone is no longer sufficient, and organisations must be able to react quickly especially in times of uncertainty. Critical to enabling this type of agility is to have the right data in the right hands, in real time," said Norbert Rotter, SVP, NTT DATA Corporation, and CEO, NTT DATA Business Solutions.
The Connected Product solution responds to this need by monitoring the location and environmental conditions of goods in transit, particularly fragile goods, such as solar panels; bulk liquids, such as wine and olive oil; and sensitive cold chain shipments, such as cheese, pharmaceuticals, and even vaccines.
Making insurance management easier
More than 70% of supply chain claims are due to breakages and until the cargo arrives at its destination. Nobody has any idea of its actual condition and if it is suitable for sale to end customers.
Losses due to poor transportation conditions is becoming a multi-billion dollar problem, because it is almost impossible to know who did what and when an incident was caused.
This lack of visibility prevents companies from taking proactive decisions to avoid significant contractual penalties by setting accountability for each stakeholder.
To make insurance management easier, the new Connected Product solution connects SAP business network for logistics with smart insurance policy management assets powered by NTT DATA.
This provides real-time information on operations to all stakeholders, digitising all shipment and insurance documentation – triggering  and executing insurance policies automatically through NTT DATA smart shipments and giving everyone the ability to adapt to potential incidents quickly.
How it works: it all starts with sensor data
The solution starts when goods are loaded in the container a sensor is installed and linked to the logistics order shipment and the smart shipment policy the sensor collects data and sends its geo-location and transportation conditions every hour.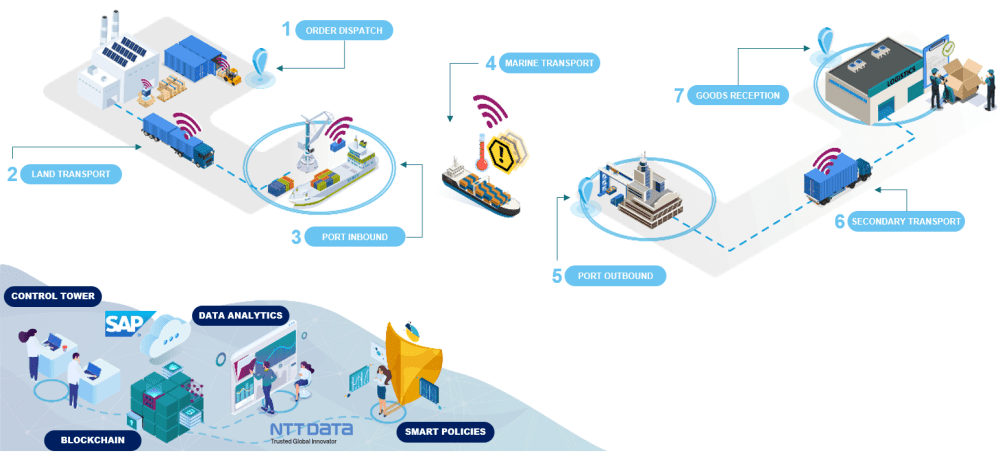 Alongside marine transportation of the goods, the solution monitors all variables that could affect the cargo. All this real-time data gathered remotely facilitates automatic decision-making provided by NTT DATA smart shipments that optimises insurance-related processes significantly and assures all stakeholders across the supply chain that everything is in hand no matter what happens.
Meanwhile, all stakeholders across the supply chain can follow the order conditions using dynamic dashboards showing insurance policy coverage and impact with light medium or heavy categories to anticipate potential breaches.
If the transport conditions defined in the policy are breached during the shipment of the goods, the NTT DATA  smart insurance policy is triggered and executes the payments of the insurance policy reducing claim management overheads and general costs
Piloting the solution
Right now, SAP and NTT DATA are piloting the solution with 20 shippers. From March to September this year, the Connected Product solution are tracking 400 container shipments bound for Europe, Asia and Europe. The journey spans more than 5 million kilometres, collecting more than 200,000 pieces of data from the sensors
It is especially useful for tracking fragile goods, such as solar panels; bulk liquids, such as wine and olive oil; and sensitive cold chain shipments, such as cheese, pharmaceuticals, and even vaccines.
The data gathered by IoT sensors helps to ensure that conditions critical for the goods – like temperature, luminosity, or shock-proofing requirements – are managed during the journey. That information gives customers the opportunity to quickly react to incidents.
After the pilot, NTT DATA plans to incorporate the system into business operations, extending the solution to more international insurance and logistics companies.