Hong Kong is now slowly emerging from the city-wide community lockdowns after the fifth wave of Covid-19 outbreak caused by the Omicron variant.
With the opening of flights into Hong Kong, returning residents and visitors still have to undergo a week-long hotel quarantine to ensure the downward trend of infections in the city.
At quarantine hotels Oasis Avenue – A GDH Hotel and Metropark Hotel Kowloon, robots have been deployed for two purposes: food delivery and disinfection.
"Technology can be used effectively to curb the coronavirus," said Zhang Tao, founder and CEO of Pudu Robotics. "When it is needed, we have the obligation, the ability, and the willingness to stand with the frontline workers and combat the pandemic. Turning the power of science and technology into an actual pandemic prevention force, we are ready to support and give back to global society with our products powered by advanced technologies."
The Shenzhen-based company donated several of its commercial service robots to the two Hong Kong hotels at the height of the Omicron outbreak.
Its BellaBot food delivery robot is equipped with an automotive-grade independent linkage suspension system, an intelligent infrared induction tray, and 3D obstacle avoidance as well as the dual Laser SLAM and Visual SLAM positioning and navigation system. The robot's robust four-layer tray allows the delivery of more than one item at a time.
On the other hand, the company's Puductor 2 is UV cleaning robot is equipped with dual disinfection modes: ultrasonic dry mist disinfection where the disinfectant is atomised into 10µm dry particles that ensure complete sterilisation by remaining suspended in the air in a random motion, and UV-C Disinfection where a UV lamp is equipped, delivering disinfection with an ultraviolet illumination of 188μW/cm² at 1 meter.
By delivering daily necessities to the quarantine hotels' guests in a contactless manner, BellaBot minimises the risk of cross infection by avoiding direct contact between staff and guests in addition to helping save on anti-pandemic supplies, while Puductor 2 guarantees safe and healthy indoor environments within the hotels by enabling its 24/7 automatic disinfection. The two robots work in tandem to maximise their effectiveness as a pandemic preventive solution.
Since the outbreak of the Covid-19 pandemic in early 2020, Pudu Robotics has donated several hundred robots to hospitals, isolation wards, quarantine facilities, and several public transit hubs across China to support combating the pandemic. In addition, its service robots have contributed to solving the problems of labour shortage as a result of the ongoing COVID-19 pandemic worldwide.
Further inroads into the retail sector
Meanwhile, Pudu Robotics through its Jordanian partner Quill has been recently tapped to deploy BellaBot robots to promote and distribute Coca-Cola products at supermarkets throughout the Middle Eastern country.
"Unlike traditional retail services, having intelligent robots serve our customers will go a long way in meeting the expectations of various brands when it comes to more personalised and functional service robots, thereby significantly improving the in-store experience for shoppers," said Zhang. "In addition, the high-tech robot itself will undoubtedly gain popularity among young audiences who love Coca-Cola beverages."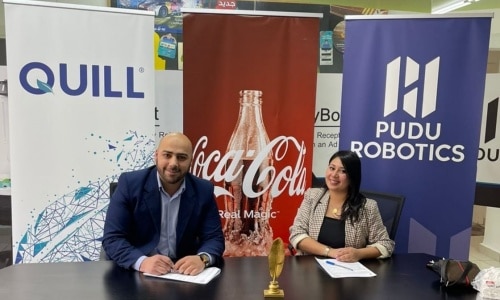 BellaBot, with its attractive cat-like look and great human-computer interaction, is expected to attract the attention of consumers, particularly youngsters, while circulating around the aisles of retail businesses across Jordan.
"With the global pandemic prevention and control measures becoming normalised and integrated into the day-to-day landscape worldwide, it has become necessary for retailers to adopt a new, no-contact approach with shoppers as the sector shifts to intelligent operations that combines digital mindsets with innovation in merchandising," added Felix. "The partnership with Coca-Cola Jordan marks the further implementation of Pudu Robotics' strategy to empower innovation across the retail sector by virtue of multiple cutting-edge technologies, including big data and AI."
Pudu Robotics has shipped over 600 units of its delivery and reception robot KettyBot to Chinese dairy giant Inner Mongolia Mengniu Dairy (Group) according to an agreement previously signed between both companies. The robot is being used by Mengniu to promote and hand out its products in supermarkets throughout China, facilitating the firm's shift to a new intelligent retail model where products are transported and stocked by robots from the traditional one where these same actions are handled by humans.