The Omdia report, Asian IoT Megatrends Report, posits that APAC offers great potential for IoT applications, but fragmentation presents complex challenges for businesses in the region. It also acknowledged that the region lags the rest of the world in year-to-date adoption but at the same time claims that only APAC offers a massive capacity for growth.
The report concludes that with IoT-enabled solutions being introduced in various verticals and applications ranging from transportation and logistics to energy and utilities; digitalisation and IoT have become the only path towards a connected future.
SPTel provides unique connectivity and digital services for customers to become the digital services provider of choice.
Titus Yong, chief executive officer for SPTel, says most businesses want to collect as much sensible data as possible. The aim is to derive insights to automate processes, improve efficiency in an operation, and improve customer experience.
"The challenges many businesses face today is the large amount of information generated on the ground and the lack of a homogeneous platform to harmonise this information to derive insight easily, which can be applied regularly into operational decision making," he elaborated.
Beyond the awareness challenge
In its Worldwide Internet of Things Spending Guide, IDC forecasts the global IoT market to reach US$1.1 trillion in 2023. Just as important identified 18 technology categories, 70 use cases and 19 industries that have a potential real-world use for IoT.
In addition to the broad list of possible applications of the technology, there are at least three competing protocols: MQTT, CoAP, and HTTP; and at least three standards: IEEE, IETF, and ISO. The lack of unified standards and protocols continues to limit IoT from seeing wider adoption.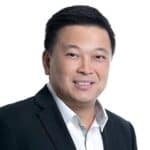 "Across multiple domains, there is no standard expectation of what IoT can really do for businesses and that is an opportunity for industries to level up on the knowledge of what basic IoT to more complex IoT, e.g., video analytics as IoT, can do for businesses."

Titus Yong
He reckoned businesses should start by embracing basic IoT, to collect information in a simple format to benefit from the insight. "The state of knowledge is not as deep as we would like it to be," he opined.
Connecting the dots
Digital transformation initiatives have opened the imagination of leadership, and users of technology, to the possibilities to change or transform the way work is conducted. IoT extends the spectrum of possibilities provided organisations are able to connect the dots.
Yong acknowledged that even internally at SPTel, there are many moving parts as he called them – from the network to the applications.
"Despite being probably the most digitalised telco in Singapore today, we have to leverage many pieces of information on the ground to determine whether the network is stable for customers.
"To connect the dots will require the operational technology (OT) player, from our engineers running the network, to our application guys using the information to produce a capability for customers to get their services in a digital manner. It's a long chain," he conceded.
Where are the disconnects
According to Yong, there are different appreciations of IoT depends on the industry. He cited, as an example within the power industry, OT has been collecting data for a long time, albeit in a very proprietary environment.
"Today, the power industry has realised that if they deployed the latest generation of sensors, they could get insights that will upstream, allowing them to automate the process of pre-emptive meetings. There are people who have played with IoT, and today translate the OT capability insight into a more automated upstream to the application, which can speed up the whole automation end to end," he continued.
With climate change awareness at an all-time high, it is natural to see an increase in the launch of innovative ideas that merge new emerging technologies while supporting social causes such as sustainable initiatives.
SPTel announced Singapore's first Sensor Network powered by LoRaWAN Gateways which runs on solar energy, a first-of-its-kind network built for national scale, to increase the accessibility of IoT technologies and sensors for business applications, government projects, and Smart Nation initiatives, supporting Singapore's digitalisation and sustainability ambitions.
Considerations for fuelling IoT Adoption
Yong believes that harmonising information from IoT to fit into an automation process requires a huge investment. He understands that infrastructure costs will deter many businesses.
"In Singapore, we built a common platform to collect data from different types of sensors, because we don't worry about the communication protocol. We can rationalise this on a common platform, which provides a common dashboard that can be easily customised to different verticals, lowering the cost to serve and deliver.
Arguably, setting common standards and platforms is important but that is just the first step. The ability to talk to the different technologies in the network is important.
"Most importantly, sensors have to talk to the backend, which is why we invested in the islandwide LoRaWAN network in Singapore, which allows sensors to easily turn on, plug and play, to talk to a common network," concluded Yong.
Click on the PodChat player and listen to Yong elaborate on how markets in Asia may be poised to accelerate IoT in the years post-pandemic.
What are the main obstacles faced by organisations when it comes to enabling technology and innovation in their processes?
Focusing our attention on IoT – what do most businesses know about IoT as it relates to their business operations?
When it comes to digital transformation and IoT, are our business, operations and technologies connecting the dots?
Can you highlight where the disconnects are?
What is your general view of IoT adoption in Asia? Where is it more mature and where are there significant opportunities ahead for those willing to adopt IoT?
As we start to hear more leaders commit to and call on their organisations, to sustainable practices, how do you see IoT supporting such efforts in the near and long term?
What will be critical considerations for organisations undergoing digital transformation, as it relates to the use of IoT?