Aruba is strengthening its edge-to-cloud capability by integrating its Aruba Edge Services Platform (ESP) with Microsoft Azure, in a strategic move to stake a claim of the burgeoning IoT market – marked by the launch of two new solutions: Aruba IoT Transport for Azure and the Aruba Central cloud management platform.
"Edge networking and IoT have had a profoundly positive impact on businesses, however, their recent convergence has surfaced interoperability challenges across platforms, applications, and systems," said Michael Tennefoss, vice president of IoT and strategic partnerships at Aruba, a Hewlett Packard Enterprise company.
He added that simplifying the integration of edge IoT and cloud services using the advanced cloud capabilities of Aruba ESP with the extensibility and power of Microsoft Azure overcomes these challenges.
"It does so without sacrificing security, manageability, or reliability. The ubiquity of Azure, and its 99.99% regional availability, makes the solution attractive to customers worldwide that want better informed decisions and continuous process improvements," Tennefoss said.
The IoT integration between Aruba ESP and Microsoft Azure was announced at last week Microsoft Ignite 2021.
Expressway for IoT Data
To simplify the connection of wireless IoT devices, Aruba has transformed its access points into full-fledged IoT platforms.
According to Tennefoss, multiple access point IoT radios can support all manner of IoT devices without the need for external gateways, a design approach that is extensible, highly economical, and consistent with Aruba's zero trust framework.
"Where the IoT data go next is where the Aruba IoT Transport for Microsoft Azure comes into play," he said in a blogpost. "How IoT data are processed and integrated with business processes or digital twin applications is typically left as an exercise for end customers."
"Problem is this isn't a task for the uninitiated – it requires deep knowledge of IoT, data transport, data security, and business applications. The complexity of this process is often farmed out to third party integrators, a costly proposition that leaves the customer at risk of a dependency on a third party for business-critical functions. Costs multiply every time there is an add, move, or change," he added.
Touted as the first-of-its-kind for general purpose application, the Aruba IoT Transport for Azure service addresses this issue by enabling IoT devices connected to Aruba access points (APs) and controllers to bi-directionally communicate with the Azure IoT Hub.
According to Tennefoss, the solution securely connects IoT devices with the Azure IoT Hub where customers can begin monitoring, controlling, and analysing IoT systems, digital twin enablement or utilise other applications or services available from or for the Azure IoT platform.
"Aruba access points –Instant and controller-based – act as virtual IoT gateways, wirelessly connecting to IoT devices, establishing secure connections with the Azure IoT Hub, and bidirectionally streaming IoT data through the secure tunnels. For convenience data are automatically converted to JSON for consumption by Azure services and applications," he said.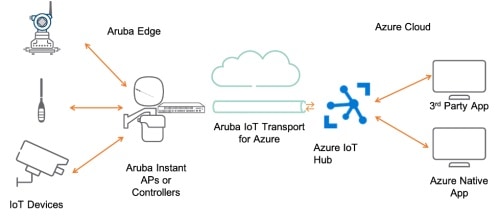 "This design significantly simplifies the secure, bidirectional transfer of data between edge IoT devices and Azure IoT using existing Aruba IT infrastructure as the linkage between the two. Customers are freed from the expense of hiring integrators to create a useable network connection for them or crafting their own edge-to-cloud solution," Tennefoss explained.
Aruba Wi-Fi 6 access points support Wi-Fi, BLE, 802.15.4/Zigbee, and through plug-in adapters a wide range of 800/900MHz IoT and OT devices. To start, certified BLE and 800/900MHz IoT and OT devices will be able to use IoT Transport for Azure, making those access points gateways to the Azure IoT Hub. The access points currently support thousands of different certified IoT and OT devices from a growing number of prominent vendors.
New IoT use cases without ripping existing infrastructure
Indeed, Aruba IoT Transport for Azure eliminates the need for an intermediate gateway, server, or application, thus reducing processing latency. Additionally, the solution allows customers to run IoT systems and services over their existing Aruba infrastructure, thus reducing the time, cost and risk of developing homegrown or customised solutions.
This frees customers to focus on instrumenting facilities, achieving hyperawareness, and deriving deeper insights from their business processes.
"New IoT use cases can be easily handled without the need to rip-and-replace edge infrastructure. Simply on-board the new IoT devices and proceed to the Azure IoT Hub where your data will be deposited," Tennefoss said.
Without the need for additional hardware gateway, companies can:  lower latency between IoT devices and the Azure IoT Hub;  eliminate a major security vulnerability and attack targets; and avoid CISO issues with attaching an IoT device directly to a corporate network.
"Furthermore, the new IoT solution lowers lifecycle costs by eliminating hardware, licensing and maintenance fees, Ethernet cabling and switch port, and installation labour. It simplifies system management by reducing the number of devices that need to be monitored and updated," Tennefoss said.
Enterprise-grade cloud networking for Azure
Meanwhile, a critical element of Aruba ESP is the new Aruba Central, which bring the technology vendor's enterprise-grade cloud networking solution – with more than 1 million devices already under management – to Azure.
Aruba Central is a cloud-native service designed to unify management of campus, branch, remote and datacentre networks. Aruba Central on Azure will allow IT administrators to manage and optimise the network from a single point of control.
"IoT helps organisations make more intelligent decisions—so they can be more efficient, more resilient, and provide better experiences to customers and employees," said Sam George, corporate vice president of Azure IoT at Microsoft. "Our collaboration with Aruba simplifies the process for IT Administrators who are adding IoT devices to their traditional enterprise environments, allowing them to use their existing Aruba network to connect devices to Microsoft Azure IoT Hub. It's a cost-effective, seamless path to powerful transformation."