Ping An Good Doctor, China's one-stop online healthcare platform, has joined hands with the local government of the Guangxi Zhuang Autonomous Region to usher in a new era of "Internet + Healthcare" in region.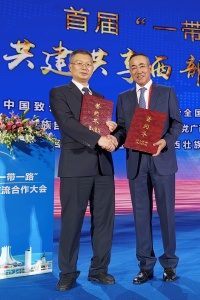 In a cooperation agreement announced last Monday, Ping An Good Doctor will conduct pilot trials of its various services across Guangxi, with the commitment to adhere to "five uniform" management models – namely, the uniform corporate identity, uniform management system, uniform procurement and delivery, uniform service standard, and uniform information management models – as promulgated by the Guangxi Medical Products Administration in July 2019.
Pilot trials of One-Minute Clinic
To reach community grassroots, Ping An Good Doctor said in a statement that it will develop and expand the "Internet + Drug Circulation" model to every town and rural village in the region. The company will install and run, on a pilot basis, its One-Minute Clinic kiosks at enterprises, large communities, chain pharmacies, highway service points, university campuses, entrances and exits of subway and high-speed railway station and other public places across Guangxi.
The first unmanned clinics currently in commercial operation in China, One-Minute Clinics use Ping An Good Doctor's mobile healthcare and artificial intelligence (AI) technology, and integrating it with a variety of smart medical examination devices to provide users with self-service medical and healthcare services, including consultation, rehabilitation guidance, medication recommendation, and medicine.
As of January 2019, One-minute Clinics have been placed across 8 provinces and cities in China and signed service contracts for nearly 1,000 units, providing healthcare services to more than three million users. It has also cooperated with SAIC Volkswagen, Country Garden, China Resources Sanjiu, BiliBili and other well-known enterprises.
In the pilot trial in Guangxi, each One-minute Clinic will consist of an "Independent Diagnosis Room" and an "Intelligent Medicine Cabinet" in which more than 100 types of common OTC drugs will be stored at low temperatures, enabling patients to seek 24/7 medical and health consultation, health management and drug purchase services anytime and anywhere.
Building internet-based physical hospitals
As part of its agreement with the Guangxi Zhuang government, Ping An Good Doctor will also build an "ethnically unique" and high-quality internet-based physical hospitals in Guangxi.
The company will share its experience in Internet hospital operation with existing local hospitals and help them build their own internet hospitals, that will provide people with online healthcare services across the region. These services will include online consultation, electronic prescription circulation and online health management.
Developing a healthcare hub for the Asean
With its agreement with the Guangxi Zhuang government, Ping An Good Doctor hopes that it will serve as a door to reach overseas market, particularly the 10-nation of the Association of Southeast Asian Nations (Asean).
Located in China's southern tip, Guangxi is bookended by Vietnam and the Gulf of Tonkin – the only Chinese province that borders the Asean with both land and sea lanes. Ping An Doctor's goal of penetrating the Asean market is align to the region's own ambition the be a healthcare hub for the Asean.
In August, its State Council approved the establishment of China (Guangxi) Free Trade Pilot Zone in August, with an eye on developing six major industries, including healthcare services as the primary sector of development and attract business investment.