An Internet of Things (IoT) solution platform designed to visualize the operational status of production operations in a synthetic-fibers factory is being trialed until the end of this month in Thailand.
The trials being conducted by Japanese mobile operator NTT Docomo and its Singapore-based subsidiary NTT Docomo Asia is part of a global IoT initiative launched in July 2018 to provide global connectivity, operational support, and consulting to Japanese manufacturers with global IoT operations.
NTT Docomo has over 77 million subscriptions and a huge contributor to 3G, 4G and 5G mobile network technologies while NTT Docomo Asia conducts research aimed at developing new business opportunities in Singapore and neighboring countries in Asia.
In the trials being held this month, the partners said IoT devices equipped with up to 30 different sensors are collecting operational information on the factory floor and then transmitting real-time data to the cloud via a mobile network.
"Technicians will be able to use PCs, smartphones or tablets to remotely monitor the status of production operations via the platform," it said.
Docomo's IoT Solution Platform enables manufacturers to rapidly gather information from factory floors for improved efficiency in production management.
By allowing manufacturers to closely monitor the status of their production equipment to detect malfunctions, maintenance needs, it also helps reduce production downtime, NTT Docomo said.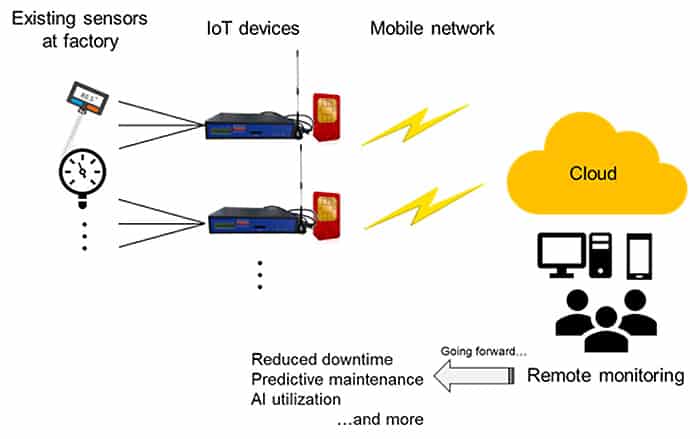 The trials are being conducted in collaboration with Teijin Polyester (Thailand) Limited, a Teijin Frontier Co. Ltd. subsidiary company that manufactures polyester fibers, filament yarn, chips and more.
The two companies said they expect manufacturers of synthetic fibers and other products across Southeast Asia to increasingly adopt the IoT Solution Platform to raise the productivity and quality of their production operations going forward.
The Japanese mobile operator has been aggressively pushing for IoT adoption in Asia. In November 2018, it launched an IoT initiative that will allow IoT providers and mobile operators in Asia to closely collaborate to expand the IoT market.
This is in addition to the 5G Open Partner Program it launched in January 2018 to promote collaboration in the 5G field.