Japanese mobile operator NTT DOCOMO has launched an Internet of Things (IoT) initiative that it envisions as a way for IoT providers and mobile operators in Asia to closely collaborate to expand the IoT market.
The goal was to enhance connectivity, operational support, and consult on issues on certification and regulation.
DOCOMO said mobile operators from 15 countries in the region have expressed intention to participate in the program.
Multiple operators from Australia, Bangladesh, Cambodia, Hong Kong, India, Indonesia, South Korea, Malaysia, Nepal, Philippines, Singapore, Sri Lanka, Taiwan, Thailand, Vietnam have even come forward to support the initiative.
"Mobile operators in the Asian region will be able to acquire timely information on the Japanese and Asian markets and work closely with DOCOMO to further meet the needs of corporate customers," the company said.
In January this year, DOCOMO also launched its 5G Open Partner Program to promote collaboration in the 5G field.
DOCOMO believes that the global IoT market continues to expand, and this expansion is likely to accelerate in the coming 5G era.
"Going forward, DOCOMO is dedicated to broadening its partnerships across the Asia region in order to support its corporate customers' own IoT business expansion," it said in a news release.
IoT service in the US
The announcement on the DOCOMO Asia IoT Program came on the heels of the launch of an IoT-driven temperature- and humidity-monitoring service for industrial refrigerators and freezers in the United States.
The subscription service, which cost $99, is targeted at grocery stores and restaurants, which are concerned about temperature management to prevent food spoilage.
DOCOMO's IOT service allows customers to use smartphones or PCs to monitor the temperature and humidity of their equipment.
IT said temperature and humidity data collected at grocery stores and restaurants are available in the cloud in real time for reliable temperature management.
The service was developed in collaboration with Los Angeles-based myDevices, which provides IoT technology based on LoRa, a wireless data communication technology for low-power, extra-long-range transmissions.  
The system uses the LoRaWAN specification, a low-power, wide area networking protocol introduced by the LoRa Alliance, which enables sensors to run for more than five years without replacement.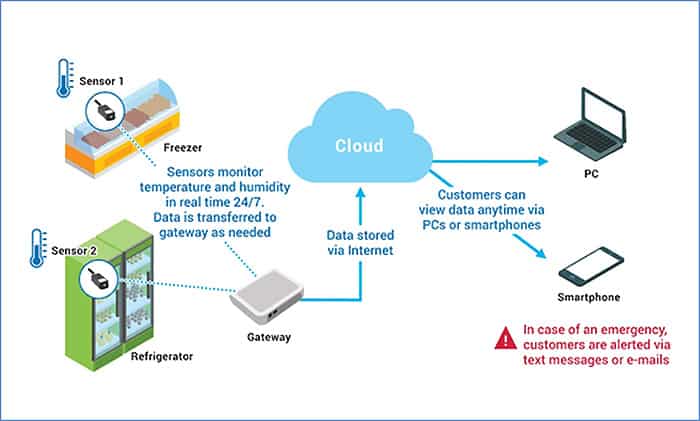 Title image: Photo by Abby Chung from Pexels