Handheld Group, a global manufacturer of rugged mobile computers, is launching a new segment to its product portfolio: rugged wearables – as it introduced yesterday the SP500X ScanPrinter, which aims to bring more efficiency to logistic operations.
The SP500X ScanPrinter is touted as the first-of-its-kind, wearable scan-and-print device that integrates 2D imaging, inkjet printing and wireless communication in one device. It's designed to create a revolution in high-volume logistic operations that use manual scanning and labelling to sort packages.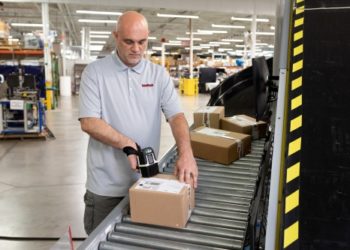 With Wi-Fi and BT, as well as an integrated printer developed in partnership with HP, the SP500X is truly mobile. Companies can quickly scan and print directly on packages anywhere in their facility where staff can keep both hands free. The device has the versability to print on plain paper, kraft paper, packing tape, coated labels, polypropylene, polyester or polyethylene plastic.
"There's no other device like it in the world," said Jerker Hellstrom, Handheld founder and chairman of the board. "You put on the device, grab a package and scan it. The scanner sends the data to your back-end system, which sends back information for printing. And nearly immediately, you print an address, a code or other information directly on the package. Your hands are free. You can move anywhere you need to work. You're not anchored to a printer."
The new wearable is an improvement to Handheld's first  scan-and-print mobile solution developed in 2015, which fitted a computer, a scanner and printer into one rugged mobile device.
"We broke new grounds and pushed boundaries working with one of the world's largest logistics companies to revolutionise package handling," Hellstrom said. "We always design our products based on customer needs. We really love the challenge of combining user needs with the latest technology."
Now, with the new rugged wearable, Handheld is set take efficiency in commercial package handling into the next level.
Established in 1997, Handheld has found its niche on rugged devices – which unlike consumer devices – are designed to withstand conditions. For one, the company's devices can operate in temperatures between -40 and 60 Celsius.  Furthermore, all its rugged computers are at least IP65-rated, which means they are completely dustproof and can withstand jets of water.
IP stands for Ingress Protection. An IP rating describes levels of protection for electrical equipment against solids and liquids. The rating is displayed using two numbers. The first digit describes a level of protection against dust, and has seven different levels from zero to six. The second digit describes a level of protection against liquids (water), and has nine different levels from zero to eight.
Handheld's rugged devices are currently being deployed as part of mobility solutions in industries such as  as geomatics, logistics, forestry, public transportation, utilities, construction, maintenance, mining, military and security.
Based in Sweden, the company has subsidiaries in Australia, Finland, Germany, Italy, the Netherlands, the UK and the US.