Approximately 94% of people in the Asia Pacific are open to using at least one emerging payment method – from QR codes, digital or mobile wallet, instalment plans, cryptocurrencies to biometrics – in the coming year, according to a latest study released yesterday by Mastercard.
"Our study finds that people in the region haven't just adopted new payment  technologies—they've made deliberate shifts based partly on necessity, but also on considerations around personal safety, security and convenience, at a time when these concerns were paramount," said Sandeep Malhotra, executive vice president for products & innovation, Asia Pacific, Mastercard.
Pandemic spurs shift in payment habits
The ongoing COVID-19 pandemic has been a major driver towards broader enthusiasm for a range of payment technologies in Asia Pacific, according to the latest Mastercard New Payment Index, which polled consumers across 18 markets, including India, Australia and Thailand.
The index shows that a new shopping reality and payment habits have emerged in the region. About 84% of consumers in APAC have seen their access to emerging forms of payments increase in the past year alone.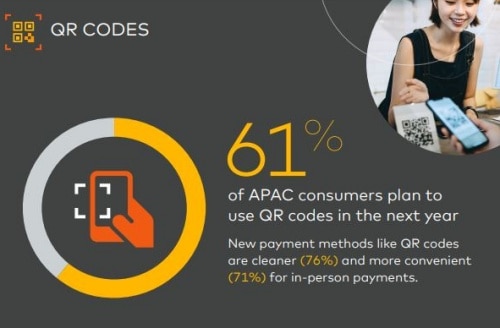 While 88% used at least one emerging payment type in the last year, two-thirds (64%) of all respondents (including 75% of millennials) have tried new payment methods that otherwise they would not have tried were it not for the pandemic.
Furthermore, the index points out that as consumer demand increases, businesses of all sizes will face greater expectations to provide multiple ways to purchase and pay. Its findings show 80% of respondents prefer to shop at stores that have both an in-person and online presence, and 69% are more excited to shop at retailers who offer the latest payment methods. In fact, 60% of  consumers polled say they would avoid merchants that do not accept electronic payments of any kind.
"This behaviour shift is reinforced by people's desire for choice – with 85% of consumers in APAC saying that they expect to make purchases when they want and how they want," said Malhotra. "Businesses that can provide multiple ways to shop and pay will be best positioned to meet the unique needs of this moment that are shaping the future of commerce for years to come."
Use of QR codes, cryptocurrencies and biometrics on the rise
Looking ahead, the index said the use of a range of payment technologies is trending upwards as people's comfort with and understanding of them increases – while the use of cash steadily decreases.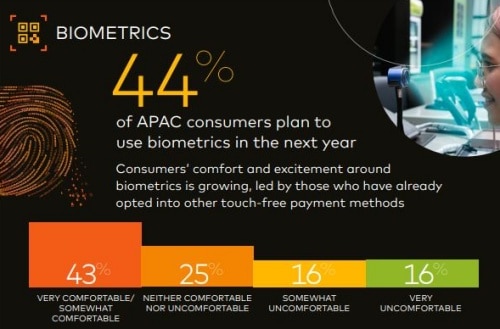 Indeed, 69% of respondents in APAC plan to use cash less frequently in the coming year, as digital or mobile wallets have gained significant popularity amongst consumers in the region. In fact,  68% of respondents anticipate using this type of payment in the next year – higher than the global average of 62%.
Among the various emerging payment methods are:
QR codes especially popular in APAC – QR codes have gained particularly strong traction in APAC compared to the rest of the world. Of those who used QR codes for payment, 63% said they used them more frequently in the last year than they had in the past. In both Thailand and India, the number is 64%, above the global average of 56%. In APAC, majorities of respondents perceive new payment methods like QR codes to be cleaner (76%) and more convenient (71%) for in-person payments as it is likely consumers are using their own mobile device. In Thailand and India, 77% and 71% of consumers respectively perceive QR codes to be secure while only 67% and 64% respectively perceive cash as a secure form of payment, demonstrating people's greater trust in QR codes and other forms of digital payments.
Cryptocurrency gains ground, millennials primed to jump In – Today consumers can buy, sell, and trade cryptocurrency as a commodity or investment. Consumers are also increasingly showing interest in being able to spend crypto assets for everyday purchases. 45% of those surveyed in APAC say they are likely to consider using cryptocurrency in the next year – a huge jump over the 12% that already used it in the last year, and higher than the global average of 40%. Millennials and centennials are relatively more comfortable using cryptocurrency (41%) compared to Gen X and Boomers (26%), with 71% of millennials saying they are more open to using it than they were a year ago. Geographically speaking, more consumers in Thailand (46%) and India (44%) are comfortable using cryptocurrency as compared to consumers in Australia (17%). Finally, while consumer interest in cryptocurrency - especially floating digital currencies such as Bitcoin - is high, work is still required to ensure consumer choice, protection, and their regulatory compliance as a payment instrument.
Consumers increasingly comfortable with biometrics – Perceptions of safety and convenience have been front and centre for people over the past year. 64% of consumers in APAC say they are excited about the potential of biometric verification methods like gait or walk assessments and fingerprint authorization. In fact, 62% feel safer using biometrics to verify a purchase than entering a pin.
"These findings confirm that consumers in the region are more open to new technologies compared with the rest of the world, and this trend is only set to continue as more digital payment options rapidly become mainstream," Malhotra said.