From smart homes and consumer devices to connected workplaces and complex industrial monitoring, the Internet of Things (IoT) has endless potential. By nature, IoT connects the physical world to the digital world, providing visibility into processes that was not previously available.
As connectivity options become more robust, the world of IoT is no longer limited by geographic constraints. Satellite networks can now connect to existing terrestrial networks, expanding the world of IoT across land, sea and sky. Long range networks have significantly expanded tracking options. When paired with a system of connected sensors, this expanded network potential has created novel opportunities for IoT technology to make our planet smarter.
By sea
A healthy ocean is critical to the future of our planet – both as the home to essential biomes and as a food for the world's growing population. In fact, aquaculture continues to be one of the fastest-growing food production sectors according to the Food and Agriculture Organization (FAO) of the United Nations. FAO predicts aquaculture production to increase 15 percent by 2030.
As demand for aquaculture grows, the health of our oceans and the marine life they sustain becomes even more important. A smart climate pilot program in New South Wales, Australia utilizes sensors from ICT International to monitor water quality in oyster farming systems. Water quality varies as a result of rainfall, sewage and flooding, impacting oyster health. Water sensors monitor quality by sensing salinity and temperature, and can communicate critical information, including ideal harvest window as well as alerting oyster growers when deteriorating conditions require estuary closure.
By air
Air quality is of utmost importance – both indoors and outside. The COVID-19 pandemic has underscored the importance of indoor air quality. Whether at home, in the workplace or in healthcare and other facilities, people want to ensure that the air they are breathing is clean.
A school board in Montreal, Canada recently deployed an IoT solution from Milesight across more than 47,000 classrooms across the province of Quebec. The beauty of this deployment exists in its simplicity: deploying long-range sensors in each classroom consisted of an install time of only about five minutes per room. The sensors transmit data including CO2 level, humidity and temperature to gateways at five-minute intervals during school hours. This information is used to implement corrective measures when key thresholds are reached, ensuring fresh air is pumped to the classroom. The system also facilitates analysis of historical data, enabling facility managers to determine HVAC repair needs.
Air quality monitoring is particularly important in healthcare facilities. A university hospital in Paris recently piloted an air quality monitoring and contract tracing solution to control the spread of viruses. To simulate contact tracing, the pilot equipped staff and students with Bluetooth-enabled badges to wear while at the hospital. Sensors measured CO2 levels relative to occupancy rates, as well as ventilation shifts or malfunctions. The technology provides the ability to assess these factors to better predict – and looking forward, limit – the spread of viruses.
Outdoor air quality is a vital indication of the health of our planet. Wildfires can have a devastating impact on communities through burn damage as well as overall environmental impact. In an average year, wildfires add 13 billion metric tons of carbon to the atmosphere. IoT technology can be used to detect wildfires earlier, alerting authorities before fires rage out of control. For example, a solar-powered sensing system from Dryad can detect abnormal patterns of smoke, temperature, humidity and air pressure – alerting fire brigades within 30-60 minutes of the wildfire starting.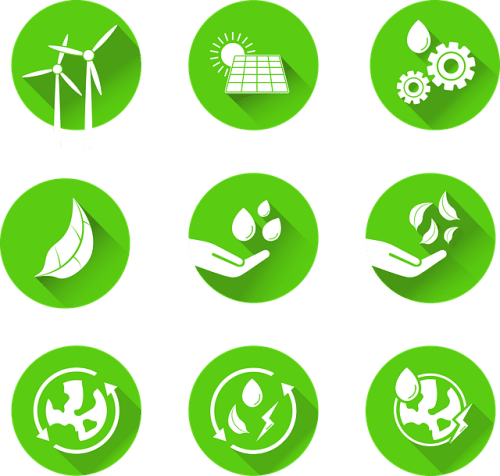 By land
According to the United Nations, the world's population of 7.6 billion is expected to reach 8.6 billion by 2030, and 9.8 billion by 2050. Faced with a growing population, farmers are tasked with finding sustainable, efficient ways to ensure sufficient food production. From measuring growing conditions for crops to tracking livestock health, IoT enables farmers to identify efficiencies that maximize yield and encourage sustainable farming practices.
Australia-based Smart Paddock uses IoT-connected ear tags to monitor livestock and transmit real-time information to ranchers. The ear tags combine the long-distance, low-power capabilities of a network using LoRaWAN with a global positioning system (GPS) to track cattle location and behavior data – ensuring the herd is safe and healthy.
IoT sensors can also measure water usage and crop health to ensure plants are growing efficiently while minimizing water usage. Because soil is not homogenous, moisture levels vary, meaning different areas of a field may require more water than others. Sensoterra's sensors are equipped with soil probes, providing farmers with real-time soil moisture data.
A more sustainable planet
Ocean, sky and land conditions are all critical to overall environmental quality, and in turn, the quality of human life. Bolstered by IoT innovations, sensing and quickly responding to environmental shifts enables us to maintain the health of our planet.