Komatsu of Japan. is one of the world's top manufacturers of excavators, bulldozers, and other heavy equipment. Its bright yellow machinery and vehicles are hard at work across the globe every day – at construction sites, mining projects, infrastructure works, forestry areas, as well as in factories, warehouses, recycling plants, and more.
In 2009, the company first set out to collect production data by using on-premises servers. Five years later, it went further and launched "KOM-MICS" – an Internet of Things (IoT) system that collects data from sensors that are installed on a myriad of machine tools and welding robots.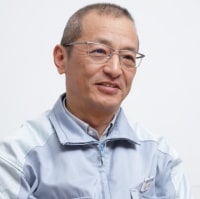 "Komatsu uses a high-mix/low-volume manufacturing system. Plant equipment is not always operating at full capacity as machines may be down for many hours due to setup changes, and so on," said Nobuyoshi Yamanaka, general manager for Komatsu's Manufacturing Engineering Development Center Production.
"Visualising this situation and reducing machine downtime increases manufacturing output without extra equipment or personnel. Our ultimate goal is to double productivity while reducing equipment and personnel," he said.
Komatsu is an innovative manufacturing company that competes in an increasingly unpredictable international marketplace. Ever-shifting economic and other forces – like booms and busts in resource markets – are constantly pushing demand for its equipment up and down from country to country.
Maintaining production momentum in the face of this sort of uncertainty can be a big challenge for factory managers.
"Keeping pace with these fluctuations is our primary issue," Yamanaka said. "The best way to do that is by raising our productivity. And, to do that … we need data."
Taking IoT to the next level with cloud
KOM-MICS was a success. And, soon so much information was coming in that Komatsu realised that its on-premises approach to data needed a rethink. It also wanted to collect and visualise data from a network of outside partners and other factories, both in Japan and abroad, which contribute around 80% of its overall production work.
So, in 2016, it began looking around for a cloud solution.
"We needed to roll out KOM-MICS to our partners and overseas manufacturing bases to increase the overall productivity of Komatsu," said Keisuke Tsuboi from Komatsu's Numerical Controller Team, Advanced Technology Promotion Office.
"Because KOM-MICS collects 20 to 30 GB of data from each machine tool per year, adding the required resources to the on-premise system, and increasing the number of connected machine tools, would have been difficult. So, we decided the cloud could overcome these problems."
Komatsu compared several cloud services and moved its data onto Azure in early 2017.
According to Tsuboi, a primary reason behind the choice was trust: Azure has extensive security measures backed by Microsoft's expertise. Azure also made Komatsu's data capabilities immediately compliant with GDPR, the European Union's new globally important data protection measure.
"It is difficult to keep track of security technology advancements. So, we believe it is better to entrust the professionals at Microsoft," he said.
The flexibility and scalability of Azure were also deciding factors that is allowing KOM-MICS coverage to ramped up almost seamlessly.
"We are connecting 100 to 200 extra machines to KOM-MICS per year," Tsuboi says. "We have around 700 connected machine tools and 350 connected welding robots. Komatsu has around 1,200 machine tools and 700 welding robots that can be connected to KOM-MICS. This scale of data is no problem for our system on Azure."
Connecting partners to KOM-MiCS
The same year it went to the cloud, Komatsu connected its Thai and Indonesian bases to KOM-MICS. Since then, the number of Komatsu's partners connected to KOM-MICS has been increasing rapidly.
"The transition to Azure instantly expanded the potential scope of the KOM-MICS rollout. The meticulous support of Microsoft enabled us to complete the migration in a short time," said Yamanaka.
With earthquakes and typhoons, a constant threat in Japan, Azure has also bolstered Komatsu's disaster response capabilities compared with the previous on-premises system.
In the end, more data from more machines in more places means the company can improve quality measures, plan and adjust with agility, and better anticipate equipment failure.
"Before we started collecting data, we didn't know to what extent our machines were working within a 24-hour period," said Tsuboi.
"With KOM-MICS, data is visualised so we can work on improving production efficiency by increasing areas with low production conditions to be equal to those that are high. By analysing the machine data from a certain production line, we have been able to increase the machine operation rate by about 25%," he added.
With the right data and the right insights, decision makers can visualize situations. From there, they can opt to speed up or slow down production runs, manage supply chains, and accommodate factory downtime for retooling and maintenance.
They can also optimise the use of personnel – a key factor in Japan's sophisticated manufacturing sector, which is grappling with a shortage of skilled workers as the nation's demographics age.
A future with AI and the Intelligent Edge
"Microsoft asked us what we wanted to do and how we wanted to expand the solution in the future, then it gave us exactly the right support," Yamanaka said, whose team is now studying how artificial intelligence (AI) and Intelligent Edge solutions might further boost efficiencies.
Looking ahead, Yamanaka believes artificial intelligence (AI) on the Intelligent Edge can potentially deliver more productivity dividends, such as freeing up the time of skilled workers and opening the door to predictive maintenance.
"I believe that data can be used in a variety of ways," he said. "We would like to automatically realise optimal machining conditions and have AI do some tasks that are currently handled by skilled workers.
"Also, there is quality. We would like features that can automatically detect signs of failures before they happen. We need to make use of AI. But because processing data in the cloud takes time, we are thinking about adopting Azure IoT Edge so we can run Microsoft Azure services on IoT devices."