The utilisation of air, water, or geothermal heat to generate hot water is one of the prominent features offered by heat pump water heaters, which in turn, will proliferate their industry outlook in the coming years.
Market research firm Fact.MR forecasts the global heat pump water heater market to reach US$1.6 billion by 2022, up 12.5% from 2021 levels. The firm is forecasting a more modest 5-year CAGR of 6.7% with the market reaching US$3.08 billion by 2032.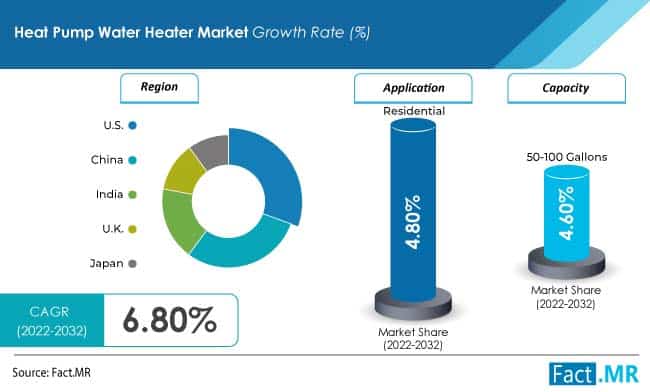 Demand for heat pump water heaters has increased, registering a historical CAGR of 2.0% from 2017 to 2021. Strict governmental regulations and policies to curb emissions from HVAC equipment across the residential and commercial sectors will augment product penetration.
Governments across major regions including North America and Asia Pacific are retrofitting heating & cooling equipment across buildings to meet their emission targets, will further boost the technology advancements.
Sustainable technology boosting demand for smart solutions
The rising need for sustainable technologies from the residential sector will bolster the product requirement. Many governments around the globe are implementing various policies and schemes to promote the distribution of clean technologies in the residential and commercial sectors, improving the technology perception.
Additionally, stringent emission norms and regulations will compel constructors to install energy-efficient and renewable technologies will stimulate the heat pump water heater market demand.
"The integration of heat pump water heater with IoT helps in tracking the abnormalities in heat pump water heaters, subsequently reducing system failure. Thus, the integration is expected to provide lucrative opportunities for the growth of the Heat Pump Water Heater market during the forecast period," noted the analyst.
Competitive landscape
Penetrating new geographies, collaborating with government agencies or service providers and rebranding initiatives comprise some major strategies adopted by prominent Heat Pump Water Heater Service providers. Some prominent market developments are as follows:
In August 2020, Panasonic Corporation partnered with Systemair on technology to launch heating and cooling products for offering its customers with more options related to HVAC products, including heat pumps. Both companies will have separate sales channels and branding for these products.
In August 2020, Bosch Thermotechnology launched the Bosch Tronic 3000, a line of electric instantaneous water heaters that significantly reduce hot water wait times in light commercial applications. The new series, which includes four new types, is the first stage in Bosch's intended cutting-edge, new dynamic electric instantaneous water heater portfolio.
In July 2020, Daikin launched Daikin SmartSource, a dedicated outdoor air system (DOAS) for heat pumps that enables efficient and cost-effective cooling and heating in all conditions using 100% fresh outside air. It also taps a water source heat pump's hot gas reheat coil in addition to the unit's primary DX coil; to enhance the efficiency of the heat pump.