Japanese shipping firm K Line has tapped Nokia to deliver a 4G/LTE Field Area Network solution for its latest LNG-fuelled car carrier Century Highway Green, enabling the application of a range of new efficient digital services such as CCTV and high-speed data transfer for remote monitoring of onload/offload work and remote visual inspection of machinery when the vessel is in port in Japan or overseas.
The IP/MPLS-based network will provide K Line with a FAN environment that delivers high-speed, secure, encrypted wireless communications between ship and shore.
According to K Line, satellite communication normally used between ship and shore is estimated to be 10 years behind land communication; and this is one of the causes of delay for ships digitalisation.
And its management plan released last August, the 102-year-old shipping firm  puts ships digitalisation as one of its priorities in its commitment to expand and accelerate safety, environment and quality initiatives.
The Nokia solution installed onboard the company's new environmentally friendly car carrier is positioned as an DX infrastructure for ship to introduce new advanced digital technologies near future. Through this and other efforts, K Line continue our safe and environment-friendly operation on all its fleets.
"We plan to accelerate the development and utilisation of advanced digital technologies that enable safer, world-class shipping services," Hiroshi Uchida, head of AI Digitalisation Strategy Group at K Line said. "With the Nokia 4G/LTE network, we will be able to communicate more effectively during berthing, using the same sophisticated technology as available on land. This creates the capability to deliver improved operational performance, skills transfer and safety management."
The solution comprises the Nokia 7705 SAR-Hm LTE router for on-board installation, as well as the Nokia 7705 SAR-8 for use onshore. This router pairing supports video and data transfer from the ship's onboard CCTV and IT systems over LTE connections when in port. This FAN solution will enable K Line to closely monitor loading and unloading in real time, and to significantly reduce time needed for large file exchange during port calls.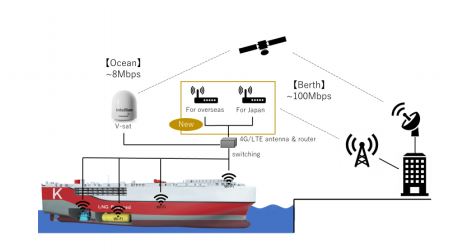 All data is protected by Nokia's Network Group Encryption (NGE). This encrypted communication technology protects MPLS services with minimal overhead and ensures a high level of security and quality of service without any degradation of LTE link performance.
The domestic communication lines will be provided by KDDI Corporation and the system integration will be provided by KCCS Mobile Engineering.
Donny Janssens, head of Customer Team, Nokia Enterprise Japan, said: "Through deployment of the field area network, we're helping 'K' LINE not only to enhance operational efficiency and industrial safety but also to advance its digital transformation. This is the first Nokia 4G/LTE FAN deployment in Japan, bringing it to a new market following its successful deployment in mining sites, electric grids and ports worldwide."
Nokia has deployed mission-critical networks to over 1,500 leading customers in the transport, energy, large enterprise, manufacturing, web-scale, and public sector segments around the globe. It has pioneered the private wireless space with many verticals and now has over 260 large enterprise customers deploying it around the world, of which over 40 incorporate 5G.
Pushing boundaries of DX on maritime fleet
The newly-built Century Highway Green, which was delivered to K Line last week,  is a next-generation environmentally friendly vessel. It is the company's  first LNG-fuelled car carrier designed for a low environmental impact – an important milestone for achieving the targets set by K LINE Environmental Vision 2050.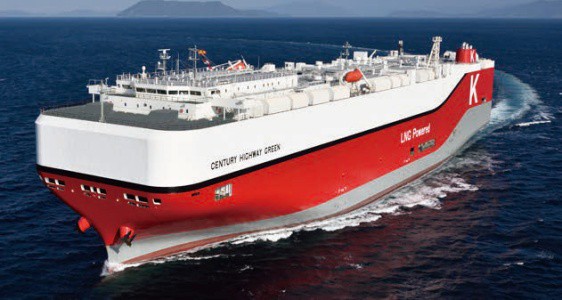 The new vessel is expected to reduce:
emissions of carbon dioxide, a greenhouse gas (GHG) by 25% to 30%
emissions of sulfuroxides (SOx), which cause air pollution, by almost 100%
emissions of nitrogen oxides (NOx) by 80% to 90% with the use of Exhaust Gas Recirculation (EGR) in addition to the use of LNG fuel, compared to conventional vessels using heavy fuel oil.
The vessel is also fitted with advanced digital technologies that is hoped to be installed to the rest of K Line's fleet in the future. Besides Nokia's FAN solution onboard to enhance ship-to-shore communications, the vessel has:
expansion of on-board Wi-Fi: In addition to living quarters, efficiency of vessel operations has been improved by installing Wi-Fi on the cargo deck and in the engine room and LNG fuel-related equipment compartment.
introduction of wireless communication equipment supporting explosion-proof areas: Explosion-proof LCX wireless communications equipment has been introduced in explosionproof areas to ensure communications.
Furthermore, Century Highway Green is the world's first newly-built vessel to obtain Nippon Kaiji Kyokai (ClassNK) notation certifying that the ship is adapted for remote surveys.
In February 2021, ClassNK published guidelines for appropriate operation of remote surveys using ICT. The "Guidelines for Remote Surveys" summarises the judgment standards for ensuring reliability equivalent to conventional, witness surveys with transparency in the application of remote surveys. The guidelines also include class notation requirements for the vessel with reliable telecommunications equipment and is adapted for remote surveys.
A remote survey uses digital technology on vessel to remotely perform the inspection surveys of facilities within a vessel that has previously been performed by a class inspector on site. Use of the remote surveys will enable  K LINE to perform inspections without being constrained by location, and also enables surveys to be conducted while lowering the risk of infection of the crew during the COVID-19 pandemic because it is not necessary to visit the vessel.
It is expected that safe operation will be enhanced through the appropriate and timely implementation of surveys.