[vc_row][vc_column][vc_column_text]One of the defining characteristics of the digital economy is the emphasis on creating customer experience through compelling memorable touchpoints and encounters, with a view towards monetizing the engagements.
The good news is that consumers are already showing the path of least resistance through social media and smart devices. But not everyone will find the path to the customer's wallet that easy. In fact, rising customer expectations are moving the tipping of return on customer experience.
Figure 1: What people value most in their customer experience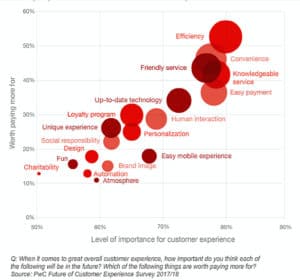 Source: Future of Customer Experience, PwC 2019
The solution may come in different sizes, shapes and formats but share a common persona.
Forrester says customer expectations for high-quality touches are expanding beyond the mobile and web realms. "Internet-of-things (IoT) technology offers new capabilities to sense and control physical products and real-world experiences. So, CIOs and customer experience (CX) pros need each other's help to weave relevant context and control available from IoT sources into customer journeys," said the analyst.
Through 2028, Gartner expects a steady increase in the embedding of sensors, storage, compute and advanced AI capabilities in edge (or smart) devices. In general, intelligence will move toward the edge in a variety of endpoint devices, from industrial devices to screens to smartphones to automobile power generators.
Uli Braun, chief technology officer at Atos, says IoT enables digital transformation but not in the conventional method typically associated with traditional technologies such as computing devices or enterprise software.
"It is close to what the business outcome is going to be. It is not a backend system. It is more at the front end of what a customer, an industry or a business is doing. It has a direct impact on the product is making or to the consumer who is coming it," said Braun.
Watch the full video to understand how IoT is impacting IT operations, and what the CIO and/or CTO needs to do to take advantage of the technology.[/vc_column_text][/vc_column][/vc_row]