Google unveiled yesterday a prototype of its latest AR glasses, which shows language translation in real-time, at the annual Google I/O Developers Conference.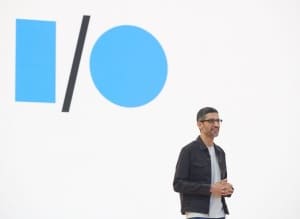 "It's important we design in a way that is built for the real world — and doesn't take you away from it. And AR gives us new ways to accomplish this," said Sundar Pichai, CEO, Google and Alphabet, during his keynote speech at the conference.
"Let's take language as an example. Language is just so fundamental to connecting with one another. And yet, understanding someone who speaks a different language, or trying to follow a conversation if you are deaf or hard of hearing can be a real challenge. Let's see what happens when we take our advancements in translation and transcription and deliver them in your line of sight in one of the early prototypes we've been testing," he added.
This is Google's second attempt at developing smart glasses. It comes 10 years after the debut of Google Glass, a pair of avantgarde spectacles fitted with built-in camera, which raises privacy concerns.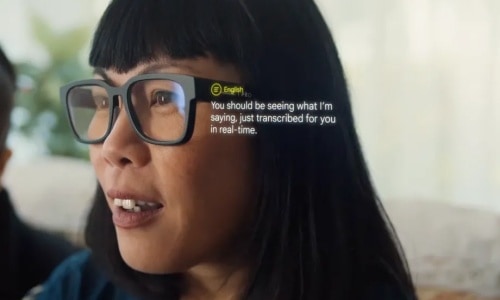 On the other hand, the latest prototype looks like an ordinary pair of glasses. In a video shown at the conference, the new AR glasses are shown displaying conversations involving English, Mandarin, Spanish and American Sign Language.
"What we're working on is technology that enables us to break down language barriers. Taking years of research and Google Translate and bringing that to glasses," said Eddie Chung, "I'm actually looking straight into your eyes, and it seems like you're looking right at me. Making access to information just instant and intuitive. By doing that, technology fades into the background, and we're more connected with the people and the things around us."
Google has been building augmented reality into many of its products from Google Lens, multisearch, scene exploration, and Live and immersive views in Maps.
"These AR capabilities are already useful on phones and the magic will really come alive when you can use them in the real world without the technology getting in the way," said Pichai.
At the conference Google also gave a glimpse of its product roadmap: a tablet to be launched in 2023 and a smartwatch that will go on sale late this year.
Google has been trying to come out with wearables and devices that can stand up to Apple, but its hardware business remains small. According to IT research firm IDC, its global market share in smartphones is under 1%,