Cradlepoint, provider of cloud-delivered 4G and 5G wireless network edge solutions, has been tapped to deliver wireless connectivity to the connected robots manufactured by Singapore-based OTSAW.
Cradlepoint partner Blue Wireless has implemented the Cradlepoint NetCloud platform and cellular-based IoT routers that enables remote management and control across OTSAW's robotic fleet without on-site configuration or troubleshooting.
According to OTSAW chief technology officer Louis Tran Thanh Quang, Cradlepoint's wireless network solution integrates well with their fleet management solution for seamless remote operation of OTSAW robots.
"Certain features and functions, such as live video streaming and two-way communication, require a reliable and always-on network connection to ensure data from the robot is being transmitted to our server and processed in real-time. We can achieve this using the Cradlepoint solutions to deliver cellular connectivity," said Quang.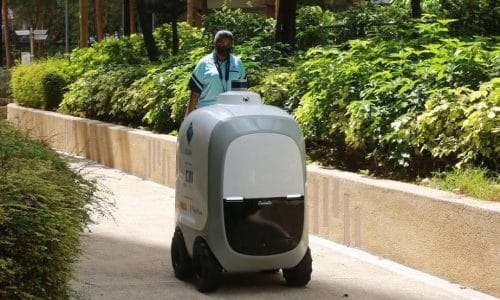 Equipped with 3D navigation technology, OTSAW's robots provide last-mile patrol and surveillance capabilities in outdoor spaces, such as parks and chemical plants, and indoor disinfection of areas, including shopping malls and office buildings, healthcare facilities, hotels, and airports.
Furthermore, the robots offer concierge services in spaces like offices, shopping malls, and hotels. With HD cameras, 360-degree views of computer vision, and numerous sensors, the robots can capture, record, process, and transmit a vast amount of information. These intelligent robots avoid static and dynamic obstacles and return to base when their battery needs recharging.
OTSAW manages and controls the connected robots using cellular from its centralised Fleet Management Control System in Singapore. This web application runs on the local server. It integrates with Cradlepoint NetCloud Manager to remotely turn robots on and off, enable message broadcasting via the robots, and track the status of the robots, including battery power and geolocation.
The OTSAW robots are packed full of electronics that rely on battery power to operate independently before docking to recharge, so there are restrictions in space to house network equipment.
Cradlepoint's wireless IoT solutions offer a compact form factor with limited power requirements and allow the robot to host the device without compromising its operational lifespan. Cradlepoint's ruggedised IoT routers withstand vibrations and tremors, with a heat resistance design for outdoor use.
"Cradlepoint partner Blue Wireless provides a managed cellular connectivity service for OTSAW robots. As more industries rely on robots that require uninterrupted connectivity and data transmission, we will see companies start to realise that wireless is the only real and affordable option," said Ken Poh, Director - ASEAN, Cradlepoint.
Ivan Landen, CEO of Blue Wireless, said: "We are thrilled to support OTSAW with our expertise in connectivity solutions for robotics and IoT. With the roll-out in 5G, we will see increasing use cases for cellular solutions like Cradlepoint.