The automotive sector is the biggest spender on digital transformation.
In its whitepaper, 4 Key Industries Embracing Industry 4.0, ABI Research forecasts that this sector's spending on Industry 4.0 technologies will approach US$100 billion in 2022 and grow to over US$238 billion in 2030. The main reason for this is that OEMs and their suppliers need to adjust for the move away from the internal combustion engine to electric powertrains.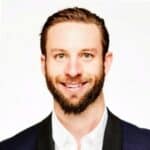 "The automotive industry is not alone in its digital transformation acceleration," says Ryan Martin, industrial and manufacturing markets research director at ABI Research.
"Industry 4.0 – also known as smart manufacturing, connected manufacturing, the Industrial Internet of Things, and other monikers – has revolutionised the way companies manufacture, enhance, and distribute products using new technologies."

Ryan Martin
Michael Larner, industrial and manufacturing markets research director at ABI Research, adds, "This transformation is not just limited to the manufacturing sector, it has begun shaping other industries and markets throughout the globe."
Automotive
ABI Research forecasts spending in the sector to reach US$100 billion in 2022. Original Equipment Manufacturers (OEMs) need software to design new types of vehicles and work with their Tier One Parts suppliers to ensure the components used will meet not only performance requirements but also sustainability considerations while ensuring that each vehicle produced is as unique as its customers.
Electronics & High Technology
Manufacturers of electronic goods must produce items in the millions to increasingly exacting standards. Automation has a growing role to play, as the sophistication required is moving beyond the capabilities of humans on the production line, and automation manufacturers must invest in Machine Learning (ML) to maintain quality levels.
Oil & Gas
Oil & Gas producers use digital technologies to monitor their operations to ensure they get the maximum yield from each location. However, the industry is something of a pariah, so it must invest in technologies to monitor emissions and conditions in the local area.
Fast-Moving Consumer Goods
Manufacturers of FMCG products must find a balance between the rising cost of raw materials and retailers refusing to accept price increases. They are also under pressure from an ESG perspective to adjust their packaging and use less water in their operations.
Technology has a role to play in meeting these challenges, be that supply chain visibility and forecasting or re-designing the packaging. But manufacturers are especially concerned that their recipes do not fall into the wrong hands and, similar to oil & gas firms, continue to prioritise spending on cybersecurity.