Additive manufacturing has the potential to create 3 to 4 million additional jobs in the 10 member countries of the Association of Southeast Asian Nations (Asean) by 2030 and reduce overall import for the region by $30 billion to $50 billion.
This was among the findings of a study conducted by thyssenkrupp, a diversified technology group headquartered in the European Union.
The white paper, "Additive Manufacturing: Adding Up Growth Opportunities for Asean," estimates additive manufacturing to generate around $100 billion of incremental value by 2025, which will impac Asean's projected real GDP by 1.5% to 2%.
"As our study shows, additive manufacturing delivers enormous potential to transform the ASEAN region and level up vital sectors," said an Lueder, CEO of thyssenkrupp, Regional Headquarters Asia Pacific, in a news release.
The white paper comes at the heels of the establishment of thyssenkrupp's Additive Manufacturing TechCenter Hub in Singapore, which is supported by the Singapore Economic Development Board (EDB).
Lueder said the Singapore Hub, along with the Mülheim TechCenter, will focus on innovations around additive manufacturing solutions in metal and plastic technologies for customers in marine and offshore, automotive, cement, chemical, mining and other heavy industries.
Lim Kok Kiang, Assistant Managing Director, EDB, said during the presentation of the research that Singapore has invested more than $200 million in additive manufacturing-related research, to develop new capabilities that can better serve the growing demand in Southeast Asia. 
"thyssenkrupp's Singapore AM TechCentre Hub is an exciting and timely addition to our efforts in this area, leveraging our diverse manufacturing base and strengths in Industry 4.0 to create innovative solutions for its customers, from Singapore," Lim said in a media statement.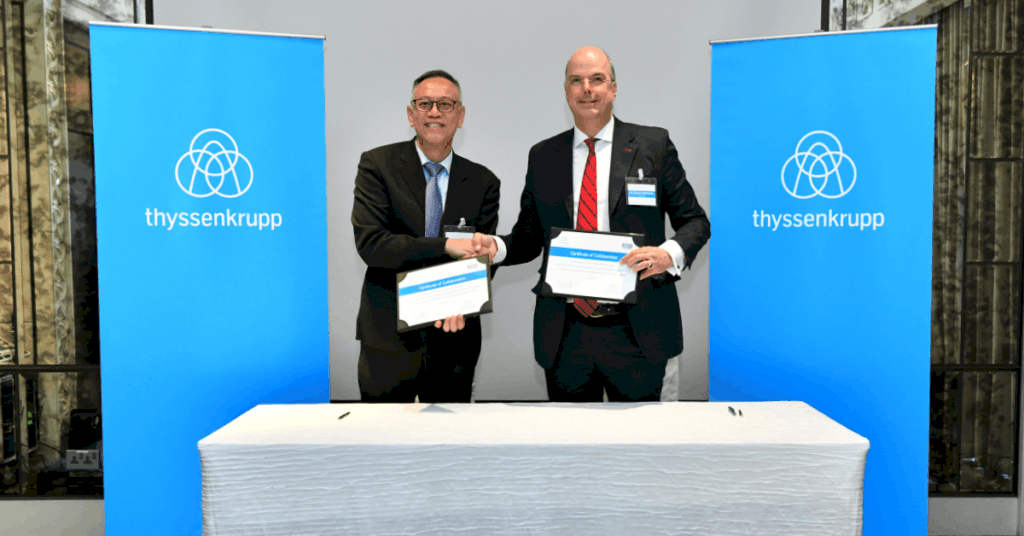 Singapore in the lead
Singapore has around 40% of the additive manufacturing market in Asean, followed by Malaysia and Thailand with the next 40% of the market by value, according to thyssenkrupp.
But Asean's 10 member countries have varying degrees of additive manufacturing adoption, with many  focused on developing the infrastructure and skills to leverage on this disruptive technology.
"The biggest roadblock for additive manufacturing adoption is not the technology but lack of know-how today, and this is where we can create value for our customers building on our deep AM expertise," said Abhinav Singhal, Chief Strategy Officer for thyssenkrupp Regional Headquarters Asia Pacific and one of the authors of the white paper. 
"We believe that all stakeholders – governments, businesses, research institutions – should come together and harness the potential of additive manufacturing to truly transform the region's industries and realize our shared vision of growth and development. The time to act is now," he said.
While the penetration in Asean today is small, accounting for only 5 to 7% of Asia's total additive manufacturing spend estimated at $3.8 billion for 2019,  thyssenkrupp believes that there is huge potential for the Asean market given its contribution to the global manufacturing output. 
"Manufacturing accounts for 20% of the region's GDP, employs nearly 50 million workforce and is expected to grow at least three times in the near future," the white paper noted.
"Opportunities via additive manufacturing will enable the reduction of Asean's import dependence with the potential to impact at least $30 to 50 billion by localizing manufacturing closer to consumption and reducing overall import dependence by up to 2% for the region," it added.