Yili Indonesia Dairy, a subsidiary of China-based Yili Group, starts operations of the first phase of its smart factory which features technologies such as Internet of Things (IoT) and big data analytics.
The 17-hectare ice-cream plant is located at the Greenland International Industrial Center, Bekasi, West Java in Indonesia. It is established amid the surging popularity of Joyday ice cream, a brand that has rapidly expanded its reach to 260 local cities in 26 provinces, covering nearly all of Indonesia, since its entry into the market in 2018.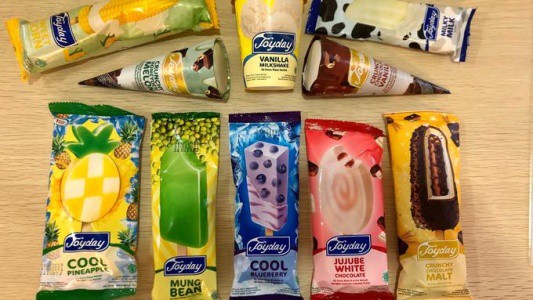 The Indonesia-based hub aims to speed up Joyday's product manufacturing, R&D and marketing efforts, with more new products targeted to suit local palate.
"Local consumers' clear preference for and trust in our products has reinforced Yili's confidence about our long-term investment and development in Indonesia," said Pan Gang, chairman and president of Yili Group, in a virtual speech during the opening of the smart factory over the weekend.
Gang reiterated Yili Group' commitment to the highest quality standards and sustainable development over the long term, and establishing localized operations that benefit the communities where the company operates.
"This ensures that we can better serve local consumers and make deep contributions to socio-economic development throughout the region," he added.
An innovative, green, and open factory
With an investment of RMB867 million, the first phase of the project has a daily production capacity of 159 tons. Yili expects to expand capacity to 343 tons per day – a daily production capacity of four million ice cream products – once the second phase is complete. The production base will become the country's largest ice cream factory.
As Yili's first self-built plant in Southeast Asia, Yili Indonesia Dairy has adopted cutting-edge technology and equipment, including the IoT and big data analytics, to build an innovative and smart factory.
The production base integrates advanced digital technologies throughout its entire production chain. Robotics solutions are introduced to provide automated packing, palletising, and warehousing.
The construction of infrastructure and buildings has been undertaken strictly in line with Yili Group's global quality management standards. To date, the factory has already passed the ISO22000, HALAL, and BPOM certifications and been rated A grade by LPPOM MUI, the largest food and drug certification agency in Indonesia.
As part of its efforts to build a sustainable and environmentally friendly production facility, Yili Indonesia Dairy has built a wastewater treatment system with a daily treatment capacity of 2,800 tons. Reclaimed water is then used for the irrigation of plants in the factory.
To ensure high levels of visibility and transparency, the site will be open to the public whenever the factory is in full operation, and consumers can watch the whole production process as it unfolds.
Meanwhile, Yili Indonesia Dairy will not only focus on the local Indonesian market but the wider region as well. As one of Yili Group's "dual centers" in Southeast Asia (the other center is the company's Thailand-based ice cream production base), it will expand into the Southeast Asian market, providing regional consumers with a more diverse range of products.
The completion of Yili Indonesia Dairy sets up another key pillar for Yili's development in the Indonesian and the broader Southeast Asian markets. Together with the company's Thailand-based ice cream production base, Yili's "Southeast Asian dual centers" and Southeast Asia Innovation Center have taken shape, and are expected to accelerate product manufacturing and R&D in the region.