Labelled a smart library, Changning Library upgraded its public cultural services and accelerated intelligent construction by installing a series of AI applications including "digital human", "book delivery robot", "mobile applications" and "smart bookshelves", which have provided the public with a fresh, dynamic, and convenient library experience.
Zhu Jianwei, head of the Changning District Culture and Tourism Bureau, said, "The New Page Reading Room is the first place to adopt a digital application for borrowing books within the Changning Library.
"This is an exciting pilot program to enhance public cultural services. We look forward to creating a futuristic library experience by taking the lead in implementing digital applications that provide interactive public culture experiences while accelerating the pace of digital transformation."
Adding AI to public library services
As soon as entering the lobby of the Changning Library on the first floor, guests are immediately greeted by a digital human named "Xin Ye".
Once they present a "QR Code" or reader's card, Xie Ye will recommend personalized, popular books based on the reader's personal preferences and their reading and borrowing records.
The reading recommendations are calculated using a big data system. The digital human will also assist readers to complete various activities including borrowing books and reserving a seat in the reading section of the library.
"Xin Ye" was created based on SenseTime's AI digital human technology which integrates computer vision, natural language processing and decision-making intelligence. When guests approach her, the digital human automatically awakens to welcome them and offer a selection of library services.
Especially appealing is Xie Ye's ability to have a realistic and natural dialogue with people using her expressions, gestures, and actions, which greatly improves the human-computer interaction experience. By using a specially customised recommendation algorithm that gradually optimizes itself, guests are provided with suitable recommendations of engaging books.
Xin Ye
The Changning Library offers two methods for readers to enjoy their books: "reading in the library" and "self-service pick up for books." If a reader chooses the option to "read in the library", Xin Ye provides the guest with a reservation for a seat and then guides them to be seated.
Once seated, a robot will deliver the requested books. The reader then enters a verification code and the robot automatically opens a "pocket" to deliver a book.  After the reader finishes reading the book, they can summon the robot again and conveniently return the books to the robot.
A smart book delivery robot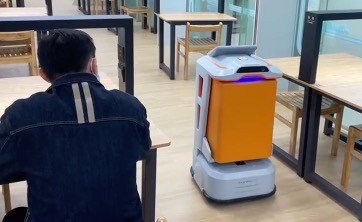 After choosing "self-service pick up for books", the guest can also select a contactless mode. This allows the reader to pick up the reserved books by using SenseTime's contactless smart bookshelf, which improves the convenience of borrowing and returning books as well as reduces risk of spreading infections.
"Smart library" will continue to support smart reading, improve readers' experience, and provide intelligent infrastructure to upgrade Shanghai's public cultural services.