Industry 4.0 will not be an overnight transition, according to Phil Skipper, head of IoT business development at Vodafone Business.
He warned manufacturers across various sectors against an unfiltered decision of pursuing Industry 4.0 transformation in their factories until they have decided on the outcome they are aiming for.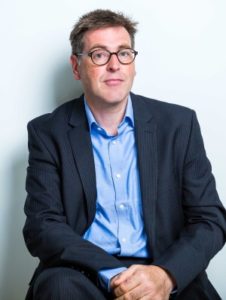 "Rushing into it would be dangerous. There is great value in building a community of trusted partners as you ramp up digitalisation efforts, and especially crucial to be wise in selecting partners who can truly enable your business," said Skipper in an exclusive interview with FutureIoT.
"There's a lot going on, but don't get overwhelmed by the technology. Digital transformation is more about the 'transformation' than the 'digital'," he added "Focus on taking baby steps and trust that it's going to work out."
"Whether it's 5G or IoT, Industry 4.0 is really not a fantasy. Our technologies have come to a point in maturity where Industry 4.0 can actually be realised. It's going to happen, it will just take time," he said.
Inspired by Germany's Industrie 4.0 – a government initiative to promote connected manufacturing and a digital convergence between industry, businesses and other processes, Industry 4.0 is the cyber-physical transformation of manufacturing.
"Industry 4.0 is made up of two important parts – the process piece (which comprise the tools, machines, etc) and the factory automation piece that orchestrates everything within the factory," said Skipper.
Currently in its infancy and beginning to take place in isolated ways, it is expected to be a transformative, end-to-end digitisation of the manufacturing sector. In the vision of Industry 4.0, a fully interoperable ecosystem of machines and partners will be realised across the supply chain and data will both inform and correct the course of actions.
Ultimately, this fourth industrial revolution will result in the smart factory and make full use of digital manufacturing.
IoT and 5G are major drivers of Industry 4.0
The advance of Industry 4.0 is being driven by the convergence of various technologies from advanced robotics to IT/OT integration.
Essentially, all the new and developing technologies created for humans to communicate with machines, for machines to communicate with each other and to achieve more complicated goals, and for data to inform and optimise all the processes related to the manufacturing sector will interconnect manufacturing processes from design through the end of the product lifecycle.
In this mix, Internet of Things (IoT) and 5G are among the major drivers of the digital transformation on the factory floor.
Vodafone Business has been in the forefront of helping manufacturers around the world in deploying IoT in their premises. Most recent use cases in the Asia Pacific included the collaboration with eCube Labs of South Korea to develop smart bins for a more efficient waste management. First deployed in Seoul, the solution is now being used in various parts of Asia, Europe, Middle East and North America.
There was also the IoT project that Vodafone Business handled together with Toshiba Corporation to help Kurita Water Industries to conduct remote monitoring of its water treatment services.
FutureIoT spoke with Skipper to discuss how IoT deployments are accelerating Industry 4.0 transformation as well as the impact of upcoming commercialisation of 5G on IoT adoption.
How does the deployment of IoT change with the advent of Industry 4.0? Where are we in terms of adoption?
PS: With the advent of Industry 4.0, factories are already becoming more flexible and agile. At Vodafone, we call this "work in motion". Evolving human-machine interactions are making a massive impact on factory automation, especially across manufacturing environments. We're also seeing a trend of "factory to the field", where machines are increasingly being assembled at the consumer end.
With the deployment of IoT, Industry 4.0 is really helping to enable the connectivity of every moving part across upstream and downstream processes. Currently, IoT applications have focused on the tracking of factory assets, remote monitoring and control of factory elements, and the like. But as Industry 4.0 becomes a reality, we're going to start seeing organisations deploy IoT across their communications systems, streamlining operations with unified communications systems. This can cover systems such as workforce and safety.
So where should transformation begin?
PS: Vodafone will ask for the objectives first – whether it is to improve revenue, product or efficiency – and we will assess the need from there. Maybe Vodafone may not lead it, but we can gather the right people to design the solution. Where we come in is when there is potential to digitalise a process. We also help evaluate if a business is structured well enough to make the change.
What challenges do APAC companies face in deploying IoT in their organizations? How should they tackle these challenges?
PS: Fragmentation of existing IT systems is definitely a top challenge across organisations of any size, in any region. Majority of organizations have had various technologies and infrastructure installed over several decades. It doesn't always make sense to completely tear down old infrastructure, and organisations today are tasked with figuring out how to work with both the old and new.
Customers are also demanding different types of service than before and companies need to figure out how to best deploy IoT to help them meet those expectations.
Another thing that companies are battling is the influx of data coming in. With the growing number of connected machines collecting data and creating innumerable data streams, this is not going to slow down. Teams need to deal with the increased frequency of data exchange and make sense of it to bring value to their organisation.
Many say the coming of 5G will be a gamechanger, what will its impact be on IoT deployment? And how should companies prepare for the expected changes?
PS: Companies need to first decide on the outcome they're aiming for – setting aside what technology to deploy and what's the best practice in going about it. If you don't know what goal you're aiming for, your efforts will be for nothing.
Big manufacturers should look at how 5G could transform and optimise the way processes are done, from the supply chain to the customer, and back again. For smaller organisations, they should look at how both 5G and 4G networks can help them ride on the digitalisation wave and follow what bigger players are doing in Industry 4.0.
We are seeing a big change with the advent of 5G, moving from data network to control network. One example is in autonomously guided vehicle (AGV) factories, where 5G sits over its existing network. At Vodafone, we've seen the successful implementation of 5G with a German customer, e.Go. The car manufacturer has become Germany's very first, true Industry 4.0 factory, having implemented automation and 5G across even the smallest of components and tools. Since the start of the project, e.Go has seen remarkable improvements in their information flow, work process transparency and cost efficiency.
What should companies do to prep for 5G?
PS: Companies must first ask what they are trying to achieve. Is it to drive revenue stream, greater efficiencies? 5G will enable companies to rethink what they are offering customers – for example, providing services rather than products.
5G has the potential to change the factory from the supply chain, all the way to delivering to end customers. It can also make a factory more agile, as processes can be monitored remotely to ensure productivity. For factories, 5G will also enable the flexibility to increase the frequency of data exchange. With that, it becomes relatively easy to measure quality across the value chain; instead of coming up with entirely new models, or putting in expensive new investments that may not be within reach.
For SMES, the question would be how can I use what the big guys already make?
Vodafone actually has an Application-as-a-Service solution called App Invent. It links companies to a global ecosystem of partners and developers who can create customised IoT solutions for organisations of any size and sector, all while ensuring agility and security. We've had many organisations see the benefits of App Invent and it has created great potential for smaller to mid-markets to effect their own transformation.
What is the best advice can you give companies that are now starting into their IoT journey?
PS: First, understand what outcomes you are trying to achieve and be clear on the role that you need your technology supplier to take on. For example, a large enterprise like IKEA would need an expert in high-volume industrial production who can bring strategic advice on implementation across the many layers of the organisation. With a smaller company, the supplier's role would be very different, probably able to go more in-depth as the company would require a little more handholding.
A major piece of advice is that before starting on any plan, envision what you want your company's manufacturing process to look like after transformation. After you've done that, you can then work on a plan to minimise execution effort for maximum results.
You cannot change everything at once. Learn what you can from your existing data, processes, and infrastructure, and do not transform without first gaining a deep understanding of what is required for the transformation process, because it's going to be a long one with heavy investment.
Where does Vodafone play into all of this?
Vodafone is making its best effort to help manufacturers latch successfully onto Industry 4.0 so as not to get left behind. We are working towards being the partner of choice for the connected factory, and based on what has already been done with our current customers, we can definitely advance digitalisation by helping organisations integrate their manufacturing processes from end to end.
The advent of 5G and the connected network will expand this opportunity for us. We have the ability to integrate across modules – such as customer experience, warehouse etc – and the way we have digitalised our own organisation is a great example.