Vehicle-to-everything communications technology (V2X) will account for a market worth $1.2 billion by the end of 2022, according to estimates by market intelligence and consulting firm SNS Telecom.
V2X, according to the research firm, allows vehicles to directly communicate with each other and with roadside infrastructure and other road users for safety, traffic efficiency, smart mobility, environmental sustainability, and driver convenience.
"V2X is also helping pave the way for fully autonomous driving through its unique non line-of-sight sensing capability which allows vehicles to detect potential hazards, traffic, and road conditions from longer distances and sooner than other in-vehicle sensors such as cameras, radar, and LiDAR (Light Detection and Ranging)," it added.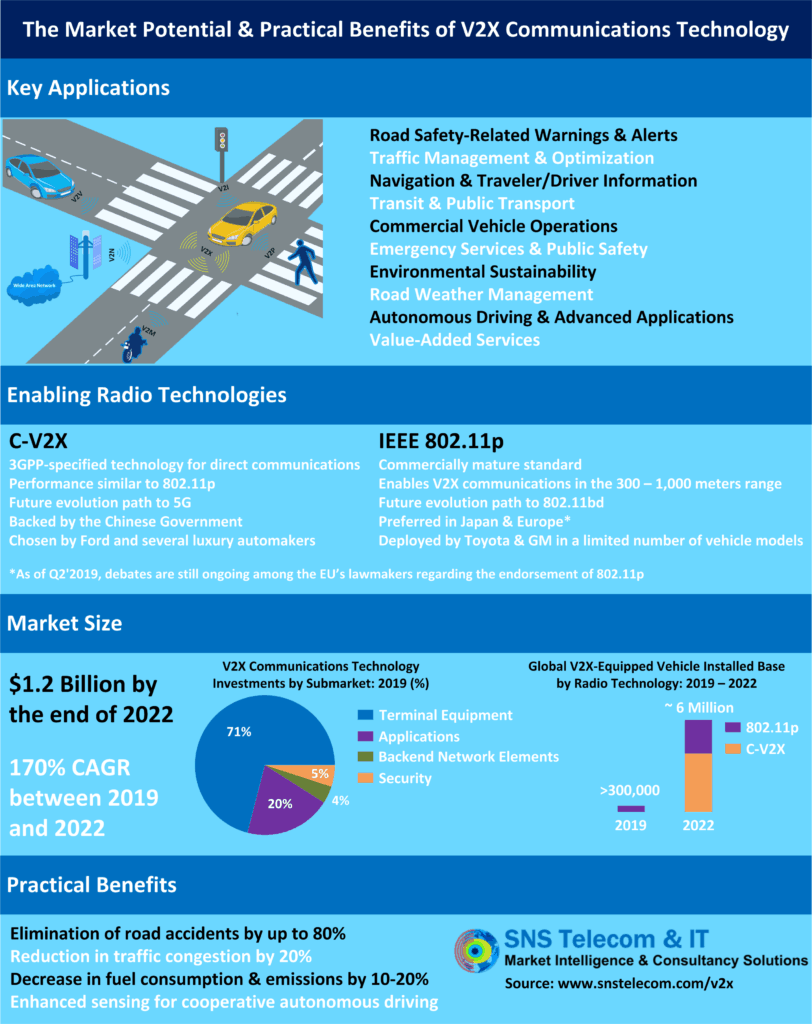 Based on findings from early commercial rollouts, large-scale pilots, and research projects, it is projected that  V2X can potentially eliminate up to 80% of road accidents; ease traffic congestion by as much as 20%; slash journey times by half; reduce fuel consumption and emissions by 10-40%; and significantly enhance sensing capabilities for autonomous driving, according to SNS Telecom.
Hence, it said the projected market value of V2X communications technology at $1.2 billion appears relatively modest when looking at its practical benefits.
These findings are part of SNS Telecom & IT's latest research report, "V2X Communications Ecosystem: 2019-2030 – Opportunities, Challenges, Strategies & Forecasts."
The report also presents an in-depth assessment of the V2X ecosystem as well as market size forecasts from 2019 till 2030 covering four submarkets, two air interface technologies, 10 application categories and five regions.