For the past two years, Hong Kong's first self-driving vehicle called Hercules has been plying across the HKUST campus making point-to-point deliveries at self-pickup cabinets.
The vehicle was developed by Shenzhen Unity-Drive Innovation Technology (UDI), which is founded by the Intelligent Autonomous Driving Technology Center of the Hong Kong University of Science and Technology (HKUST). It is the first unmanned vehicle to obtain a test licence from Hong Kong's Transport Department.
UDI designs autonomous vehicles for industrial logistics, unmanned distribution, terminal operations and other scenarios.
According to Professor Ming Liu, leading developer at UDI, Hercules is a level four autonomous vehicle (based on a five-level scale ranging from assisted driving to a fully autonomous vehicle).
"The body of the UDI unmanned vehicle is covered with various sensors such as LiDAR, camera and ultrasonic, which let the machine sense the surrounding environment in real time and can also autonomously plan and change the driving path when encountering obstacles," said Liu, adding that Hercules can carry loads of nearly a tonne – a capacity of 800 kilograms and volume of 2,900 litres.
Moreover, Hercules can plan and adopt its own routes so long as it has a detailed map of the environment.
"Just as people need to know the driving trajectory through a map, the unmanned vehicle has a high-precision map [so it can determine] its own position and destination and plan its path," Liu added.
The vehicles are mass-produced but can be adapted and configured for many different scenarios
Similar to Hercules, UDI has tailor-made unmanned vehicles for delivery company SF Express to serve two universities in Shanghai, which made more than 1,000 express deliveries during the Singles Day (11/11) peak period.
SF Express is looking for autonomous "last mile" delivery, which is appropriate for UDI's low-speed, high-frequency point-to-point delivery model.
Unmanned driving in controlled areas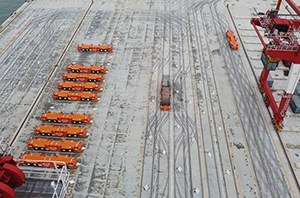 UDI's self-driving vehicles can be adapted and configured for many different scenarios, and the company is now developing a new vehicle that can carry up to 3 tonnes for use in locations such as airports and harbours.
"In the past four years, UDI has accumulated benchmark customers in express logistics and industrial logistics, represented by SF Express, Foxconn, etc, and provides transportation-as-a-service (TaaS) solutions," Liu said.
He added: "Our products include unmanned industrial logistics vehicles, unmanned delivery vehicles, unmanned shuttle vehicles, unmanned sweeping vehicles, unmanned security vehicles, unmanned retail vehicles, and technology for unmanned vehicles for use during epidemics. As policies and regulations improve, UDI will also expand the scope of unmanned vehicle applications to make UDI unmanned vehicles travel throughout cities."
Since UDI provides TaaS, its vehicles can work in synchronised swarms. Liu said UDI's technology allowed for navigating through active traffic, though controlled environments remain the company's core focus currently.
Use case in new retail
Meanwhile, the IoT capabilities of UDI's unmanned vehicles have been deployed in an unlikely industry – retail.
According to Liu, UDI last year worked with new Chinese tea brand CoasTea to transform the carriages [of the unmanned vehicle] into retail cabinets for 'new retailing' in shopping malls with high customer traffic.
"Customers scanned a QR code to place an order without going to the store. Our unmanned retail vehicle can also capture the pedestrian volume and improve the efficiency of matching people and goods," Liu said, adding that UDI is looking to expand into other retail functions.
GBA opportunities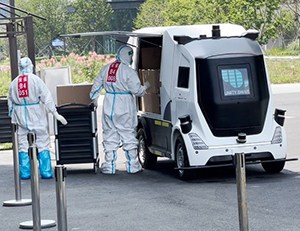 UDI, which began at HKUST, is now based in Shenzhen. With its close ties to both cities, the company hopes to further establish close cooperation with the Guangdong-Hong Kong-Macao Greater Bay Area (GBA).
"There are many commercial opportunities and requirements. We have participated in the Greater Bay Area Auto Show for two consecutive years to actively expand the resources of the GBA," said Liu.
"In terms of market applications, we have put a number of unmanned vehicles on the market in Hong Kong, Shenzhen, Zhuhai, Guangzhou etc. At the same time, we provided IGV autonomous driving navigation solutions in Guangzhou Port, and provided unmanned vehicle technology anti-epidemic solutions in Shenzhen and other places," he added.