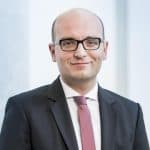 Authored by:
Sedat Sezgün,
Group Vice President Business Segment Rail
HIMA
From level crossings to signal boxes, and even autonomous trains, the potential for digitization in the rail sector is huge and already becoming a reality. This transformation presents new opportunities but also new challenges. How must the rail sector react?
For rail transportation to remain competitive with other methods of travel, such as airplanes and cars, the sector must become more efficient and reduce costs. There are many means to achieve this, including automating processes and even trains themselves. However, while such measures may make rail operation simpler and more effective, they also have implications for rail safety. These changes require new types of safety solution and providers must adapt with the ever-developing technology landscape of the rail sector.
Evolving with Digitization to Gain the Market Share
Despite the rail industry being a somewhat closed market with high barriers to entry, if existing players do not develop solutions suitable for the networked age, they are likely to get left behind. Software companies could potentially take over and gain the market share. This transformation of the market represents challenges for companies as success depends on investing resources in research and development. However, if handled correctly, digitization offers safety solution providers and rail operators an abundance of opportunities. By working closely with rail companies, safety solution providers can help create new business models and access new markets.
Defining a clear strategy for success
If safety providers react to this change, not only can they profit, they can actually contribute to influencing digitization. Companies must embrace drivers of digitization such as the Internet of Things (IoT) and machine learning, and develop a strategy using them. In this way, new solutions and systems will work in harmony with the demands of the digital age.
Secondly, safety providers must look to build on their internal IT knowledge and expertise. This allows them to take control of solution development themselves and not be reliant on IT third parties, which may be costly and relinquish a business' influence on digitization of the rail sector. Finally, working together with others in the industry is vital. In this way, the rail sector can tackle challenges as a collective to minimize costs and reduce risks in solution development.
"Due to the rise of digitization in the rail sector, solutions based on COTS systems and open safety technology will form the key foundation for digital platforms in the future." Reinhold Hundt, Rail Industry Expert at Astran
Digitization in the rail industry is changing safety requirements. This calls for significant technological advancements to keep pace with the new market. Cybercrime is perhaps the foremost challenge, but there are also many other aspects to consider, such as innovation cycles and communication between devices. What must companies do to ensure they're protected?
The digital age is the era of interconnectivity. Machines can be connected to one another and even to people. Five key drivers of digitization are used to create these intelligent networks. These are IoT, machine learning, Industry 4.0, virtual reality, and autonomous systems. This development requires new types of safety technology.
Standardized Communication Is Key
To defend applications against cyberattacks, it is vital to minimize, or even eliminate, opportunities for people to access systems. This can be achieved by implementing closed safety systems. HIMA identified cybercrime as an issue early on and designed its COTS controllers with this in mind. Such controllers for rail safety utilize their own operating systems for applications, making it incredibly difficult for hackers to gain access. COTS technologies, including those from HIMA, only use the functions required for the relevant application, and distributed control systems are separate from one another. As a result, if the communication processor is attacked, safe operation continues.
Standardization of communication interfaces could spark huge developments in rail technology and automation. By creating consistent communication, organizations could connect rail networks across entire nations, or even internationally. But consolidating different communication protocols presents challenges. Therefore, controllers should be designed so that they fulfill the requirements for standardizing communication and ensuring continuous safety.
Innovation Cycles Undergoing Change
As a result of the rapid advancement in software over the past two decades, innovation cycles have become significantly shorter. If safety technology requires long-term availability, updates are necessary in short intervals. Modern controllers must ensure that updates are simple and quick to perform. Additionally, it should be possible to map hardware functions using software. Backward compatibility would also be ideal in order to combine older systems with newer ones to ensure they are future proof.  A modular design makes it possible for users to exchange certain functional modules or add completely new ones – even during operation.
A Clear Strategy for the Digital Future Is Required
Regardless of whether it's standardization, migrating central functions to the cloud, autonomous trains, or smart supply chains and maintenance models, digitization will trigger fundamental new developments in the rail sector. It still remains to be seen who is fully on track for future success.
"Standardization of communication and ensuring reliable safety are our two central challenges in the digital age." Dr. Alexander Horch, Vice President of Research, Development, and Product Management at HIMA