Tuya Smart, which delivers purpose-built IoT cloud platform, has been helping US companies to evolve their range of home entertainment, security and communication systems for the smart home era.
The China-based company has teamed up with leading home brands, suppliers and manufacturers such as Monster, Noonlight, MOBI and Silicon Labs to provide consumers with a comprehensive smart home solutions.
Tuya Smart delivers a full suite of offerings, including Platform-as-a-Service, or PaaS, and Software-as-a-Service, or SaaS, to businesses and developers. Through its IoT cloud platform, Tuya has enabled developers to activate a vibrant IoT ecosystem of brands, OEMs, partners and end users to engage and communicate through a broad range of smart devices.
According to CIC, Tuya is the largest IoT PaaS business in the global market of IoT PaaS in terms of the volume of smart devices powered in 2020.
Early IoT adopter in home entertainment
With shifting consumer behaviour and technological advances driving demand for increasingly sophisticated smart home systems,  these companies challenged to keep pace with rapid rate of changes.
"There are a lot of smart products out there, but most are part of a closed proprietary system, which can limit consumer choice. Tuya Smart had the foresight to create an open platform, which means Monster smart products and app will work within Tuya's ecosystem of smart products from other brands," said Kevin Lee, SVP for corporate development at Monster. "This is great for consumers. Monster entering a strategic partnership with Tuya Smart is simply smart business."
With more than 40 years of business under its belt, Monster has become an early adopter of IoT  in home entertainment with its line of smart IoT high performance headphones and speakers.
Affordable home security solutions
Likewise, Noonlight, a technology-empowered emergency response platform, has partnered with Tuya Smart to develop more powerful wireless IoT security products.
"We are proud to partner with Tuya, as we empower companies in their commitment to innovation, safety and advanced home automation," said Noonlight co-Founder and CCO, Brittany LeComte. "Noonlight services will help Tuya's partners protect user homes at an affordable price, all while supporting their business with an added revenue stream. It's a great product addition for everyone involved."
Noonlight was originally launched as a mobile application in 2013, but has seen grown into a connected safety platform with a full suite of products and services offering modern and affordable 24/7 professional sensor monitoring, video monitoring, and data-rich emergency response via an API.  The company's technology works throughout in the US, allowing end users to quickly get help in any situation without dial 911, talking or texting.
Silicon Labs, on the other hand, is working with Tuya Smart to build a low-power Wi-Fi platform solution for smart door locks that will extend to other smart home application in the future.
"Tuya and Silicon Labs are combining world-class engineering expertise and best-in-class IoT platforms. Together we can enable a new generation of always connected, highly secure and energy efficient products for smart home consumers, major brands, OEM manufacturers and retail chains," said Fritz Werder, North American general Manager for Tuya Smart. "Silicon Labs has demonstrated a long track record of leadership and success in wireless IoT. We are very impressed with the features and capabilities of its Wi-Fi solutions. We look forward to this collaboration, which will make people's lives easier and their homes and buildings more secure."
Easy-to-use smart nursery kit
Meanwhile, US consumer health and home electronics provider MOBI has collaborated with Tuya Smart to build its first Smart Nursery Kit, an easy-to-use monitor for infant and child care. Whether in the next room or checking in from across the world, parents can easily have eyes, ears, and voice on the scene.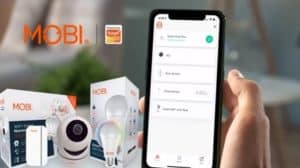 Each component in the kit can be used together or individually, allowing parents to truly customise smart settings based on the needs of their family. All products are managed effortlessly through one app that empowers caretakers to keep up with the important little ones in their life.
"We have found the perfect union with Tuya because they provide a reliable and sophisticated digital 'highway' of infrastructure for our smart products to run on, while we provide the ideal home health tech 'vehicles' to keep families safe and connected," said David Naghi, CEO, MOBI Technologies.
The value of this offering goes far beyond what each partner brings to the table. The future and successes of smart homes lies in open platforms capable of bringing change, innovation and improvements to the end consumers.