Frost & Sullivan says in just a few short years, the digital front door has shifted from being a nice-to-have online presence to being a critical part of every healthcare organisation's overarching digital health strategy.
Extending well beyond a website, the digital front door consists of a federated suite of applications, services, portals, and digital devices, enabling healthcare organisations to engage patients through digital touchpoints as they journey across the continuum of care outside of brick-and-mortar facilities.
The objective is to create a unified, seamless, consumer-centric patient experience that fosters behaviour change while providing better healthcare access, equity, efficiency, quality, outcomes and improved patient and staff satisfaction. The digital front door can also increase brand awareness, reputation, and revenue.
"As a result of the COVID-19 pandemic, the rise of healthcare consumerism, and new entrants in healthcare, the notion that the digital front door is an isolated part of an organisation's digital health strategy is now archaic thinking," observed Paul Sonnier, industry principal, healthcare and life sciences at Frost & Sullivan.
He opined that the competitive imperative to build a robust digital front door is a matter of survival, whether an organisation realises it or not.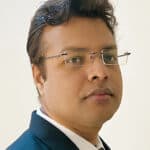 "Patient expectations for quick, convenient, transparent, connected, and responsive healthcare services are redefining how they engage with their healthcare providers at each stage of their care journey, including pre-care, at-care, and post-care," noted Rishi Pathak, director of healthcare and life sciences at Frost & Sullivan.
He added that this shift results in patients, especially Gen Z and Millennials, choosing healthcare providers that offer digital capabilities across the care continuum, therefore forcing healthcare systems to find new ways to digitally transform their services to deliver a truly omnichannel healthcare experience through digital front door strategies.
"Now is the time for the providers to act," he concluded.