Taiwan's TECO Electric & Machinery Co. yesterday opened its US$12-million small-motor plant in Becamex Industrial Park III in Vietnam's Binh Dunong Province.
The new plant, which will supply efficiency motor units to Southeast Asia, Australia, New Zealand and the United States, will become the Teco Group's key production base in the Asean region.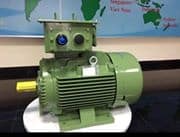 A showcase of Industry 4.0, the Vietnamese plant embodies of the company's vision of energy conservation, emission reduction, smart application, and automation.
"This is the first time we have applied Internet of Things technology at our overseas plants, so that we can monitor the plant's product quality, machine condition and management efficiency from Taiwan," Sophia Chiu, Teco Group chairman, was quoted in news reports.
For environmental protection, the new plant has installed continuous varnish treatment equipment and employed environment-friendly solvent-free varnish, cutting VOC s (volatile organic compounds) emission by 30%, curtailing air pollution. The use of a single oven for four production line results in over 60% saving in power bill.
Furthermore, the Vietnamese plant is fitted with mechanized production lines for motor stators, which has a production efficiency that is 333% higher than manual operation.
The plant also features a centralized paint supply and employs cutting-edge robotic arms, which can cut the use of paints by 10% and cleansing solvents by 80%. Moreover, with the QR Code-based management program, operators can change the movement of robotic arms rapidly and correctly, facilitating customized mass production.
"The plant is a critical intelligent production base for Teco in Southeast Asia, and we plan to introduce a logistics control system and more advanced automation in the next few years," Chiu said.
Construction of the new plant begun last year across a 4-hectare lot at the Becamex Industrial Park III – the first phase of what is dubbed as the first phase of the Teco Vietnam Technology project.  It has a production capacity of 200,000 units a year, which will rise to 300,000 units in the future. It is to be the guidepost plant of the industrial park.
In line with the New Southbound Policy of the Taiwanese government, Teco Group has been urging Taiwanese companies to set up operations in the park, thereby forming an industrial clustering, to enhance the competitiveness of Taiwanese firms
According to Teco, a total of 150 companies will be able to move into the technology park after the whole project is completed in 2027.
The New Southbound Policy was created in September 2016 to make Taiwan less dependent on Mainland China and to improve its cooperation with other countries.