TAG Heuer, which pioneered the luxury smart watch segment in 2015, last week introduced the third generation of its visionary connected timepiece in a select network of retailers.
The new  Connected Modular Golf Edition 2019  is design to enable users to enjoy daily connected services offered from Wear OS by Google, to immersive sports experiences thanks to the new TAG Heuer Sports app, which provides detailed tracking for golf, running, cycling, walking, fitness and other sessions, thanks to the watch's built-in GPS and heart-rate monitor, among other sensors. The experience on the wrist is complemented by a newly developed TAG Heuer mobile companion app that allows for even greater personalisation and insights into the wearer's achievements.
"The TAG Heuer Connected watch was designed and engineered with the same passion and attention to detail as our mechanical watches. Quality of execution is paramount in everything we do, and we never compromise on aesthetics or emotion," said TAG Heuer's chief strategy and digital officer Frédéric Arnault, who has led this ambitious project since its start 18 months ago.
He pointed out that the connected watch is not only a beautiful timepiece, but a truly immersive experience.
"It now sits within a complete TAG Heuer digital ecosystem geared towards performance and sports. The navigation has been deeply refined so the product is as intuitive and easy to use as possible, both in everyday life and during sports sessions. It expresses the brand in a completely new way and offers limitless possibilities in terms of innovation for the future," Arnault said.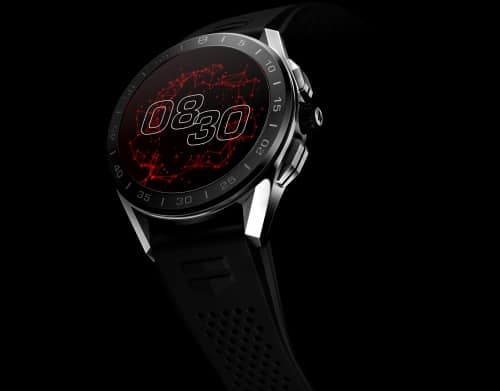 Connected lifestyle
Powered with Wear OS by Google, the TAG Heuer Connected watch supports wearers throughout every activity of their day with invaluable services such as Google Assistant and Google Translate using the microphone located on the left side of the case, mail and message notifications, Google Pay in shops and countries where this service is enabled, as well as music controls, an agenda, weather, maps and more with Google Play and its wide selection of apps, available for iOS and Android mobile users alike.
"TAG Heuer sets the standard for building smartwatches that are uniquely personalised and curated for their customers. As strategic partners, TAG Heuer and Wear OS by Google push the wearable platform forward and enable innovative connected experiences for our users," said Wear OS by Google and Google Fit's vice president of product management Stacey Burr.
She added: We've truly enjoyed working together on the new TAG Heuer Connected, which raises the bar of quality and style for the category."
Ready for action
Every feature of the TAG Heuer Connected watch has been purposefully selected to enhance the wearer's experience – specifically during sports.
Designed with high-intensity activities in mind, the TAG Heuer Connected watch offers sapphire glass screen protection, ultra-lightweight grade 2 titanium on the matt black case, rubberised straps for optimal grip, breathability and comfort, a 5 ATM water resistance rating, suitable for low-velocity and shallow-water activities, such as swimming or running in the rain, and a 430 mAh all-day battery optimised to include a one-hour sports session using GPS, audio streaming and heart-rate monitoring. For longer activities the battery can support up to six hours of constant sports tracking using GPS, heart rate monitoring and music, and can be fully recharged in just 1.5 hours at temperatures between 15°C and 45°C.
The new custom-designed TAG Heuer Sports application is the highlight of the 2020 range and supports golf, running, cycling, walking, fitness and other activities, with more on the way. The golf experience is similar to the 2019 edition, with integrated mechanical pushers, while all other sports tracking functions are new this year.
Wearers can track their activities directly through the watch with key metrics such as speed, pace, distance, heart rate and splits displayed in real time in the Sports app and as an overview in the TAG Heuer Sports tiles, then gain detailed insights into their performance on their TAG Heuer mobile application, and even synchronise their data with Apple Health or Strava.
Paying tribute to the brand's timekeeping heritage, the new models also introduce a TAG Heuer stopwatch application that can be operated with the pushers and boasts to-the-millisecond precision, as well as a timer, an alarm and a bespoke settings interface.
Joining the best-in-class golf app launched in 2019, these TAG Heuer Connected watch and mobile applications were designed and developed entirely in-house, offering a unique luxury digital experience, in which every detail has been crafted to faithfully express the brand's values and aesthetic.