A major new report by Strategy Analytics found  that smart homes have now become the majority in the US, with more than 54% of households owning at least one smart home device.
Smart home adopters in the countries say that the main reasons for buying into the smart home products are that they are easy to use, very convenient and that they feel more secure.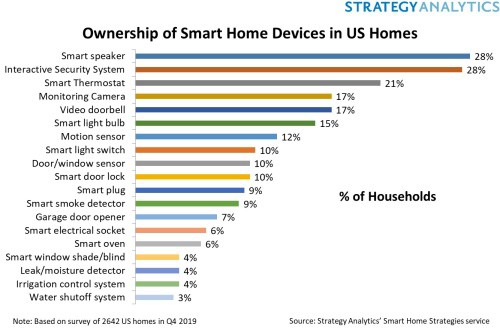 As well as the US, the study researched smart home adoption in France, Germany and the UK. Smart home adoption rates have now reached 50% in the UK, 40% in Germany and 38% in France.
"After less than a decade as a commercial proposition, the smart home has already passed the tipping point," said  Bill Ablondi, director for Smart Home Strategies at Strategy Analytics. "The fact that a majority of people have bought into the smart home shows that there is no going back – the smart home has become the normal home."
The report was issued to coincide with CES 2020, which was held in Las Vegas last week.
Jack Narcotta, senior analyst at Strategy Analytics, added: "Our research shows that smart home products and services have improved people's lives by removing some of the familiar frustrations associated with household technologies. Where people find value and convenience in smart technologies they are prepared to invest, and vendors wanting to benefit from this fast-growing market need to focus on understanding and addressing those pain points."
Wild over the cool factor
A separate survey conducted online in Q4 2019 of 5,000 people across the US meanwhile showed that the "cool factor" as a major driver surrounding  smart home investments, with nearly 37% of respondents citing it as a reason for their interest in a smart home device.
The survey, focusing on customer preferences surrounding smart home investments, was conducted by SmartEnergy IP, a division of SmartMark Communications.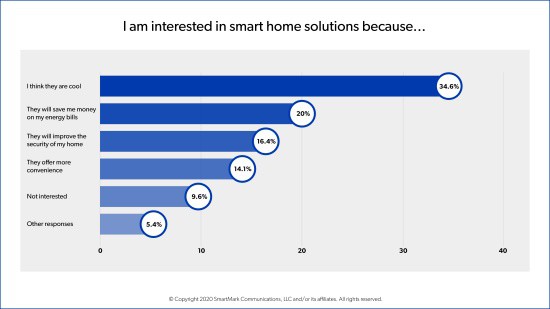 "This data suggests a shift in original thinking and marketing of smart home products," said Juliet Shavit, president of SmartMark Communications and founder of SmartEnergy IP. "Previous data suggests that security was the top rationale for such purchases. We believe this new data will account for a shift in marketing strategy and engagement with these new products."
SmartMark Communications is a strategic communications and advisory firm dedicated to helping businesses, organizations, and policymakers boldly transform their industries and educate their stakeholders. The company is driving the next era of technology adoption by helping industries innovate and use technology applications to improve customer experience and drive behaviour change.
Also included in the survey were questions around product preferences, with smart thermostats, smart security and smart lighting, gathering most votes.
SmartEnergy IP believes this information can be valuable to industries looking to optimise these technologies in their service strategies.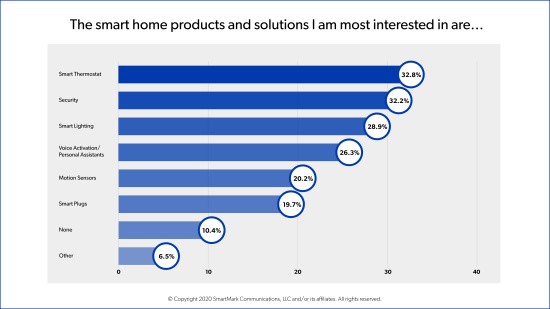 "As a research firm that serves the energy sector, we were pleased to see the awareness and appreciation for smart thermostats and smart energy technology," said Shavit.
The company believes that lifestyle and utility will converge in the coming year as smart home strategies become integrated and providers – both technology and service — collaborate to become more strategically aligned.