Young children have been known to die from heatstroke after being left inside a vehicle for hours. In the US, Jan Null, a certified consulting meteorologist from the Department of Meteorology and Climate Science at San Jose State University have registered an average of 38 children under the age of 15 die each year from being left inside a hot car.
In fact, nearly every US state has experienced at least one death since 1998. In both 2018 and 2019, a record number of 53 children died after being left in a hot vehicle.
Unfortunately, incidents where children are forgotten by parents or caregivers inside their cars while they run errands is a global occurrence.
With an eye on preventing these tragic incidents South Korean startup bitsensing developed an imaging radar technology that detects the presence and vital signs of in-cabin occupants and sending the driver alerts if a child is left unattended inside a car.
Called the MOD620 radar, the product is developed in partnership with semiconductor giant Infineon Technologies, which provided the chipset for the monitoring solution. The 60GHZ radar, which has a customisable detection range of up to 2.5m, captures all rear-seat with its 120-degree field of view. Privacy concerns are also eliminated with the MOD620 as it does not rely on cameras for presence detection.
The compact form factor allows for ease of integration, while the software architecture enables an accurate match of specific in-cabin requirements for any vehicle.
"Our partnership with Infineon demonstrates the significant progress we are making towards building safer smart cities and elevating connected living by designing radar solutions for all. This is an important moment in our company's history as we have dedicated the last three years to strategically engineering advanced radar technology that can use existing top-tier chipsets to address this need in the market," said Dr. Jae-Eun Lee, CEO of bitsensing, adding that the company is the first Korean startup that can deliver all aspects of auto grade radar solutions, in-house.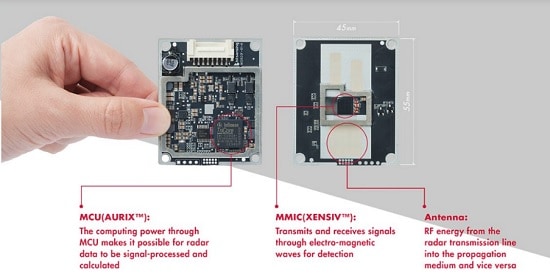 To build the in-cabin sensing radar, bitsensing rearranged the hardware configuration and redesigned the antenna. Powerful computing is achieved through the MCU making it possible for radar data to be signal-processed and calculated. The MMIC transmits and receives signals through electro-magnetic waves for detection while the antenna is integrated with RF energy from the radar transmission line into the propagation medium and vice versa. These components work together seamlessly for an advanced caliber of radar performance.
The MOD620 comprehensive monitoring solution matches the specific in-cabin requirements for any vehicle offering continuous and limitless detection, regardless of clothes or blankets.
"The engineers of bitsensing have years of experience in optimising chipsets. Working with Infineon's state-of-the-art radar offering, this allowed them to strategically and systematically arrange components for the MOD620's best-in-class radar performance," said How Cheen Ng, director for partnership management & digital marketing communication at Infineon Asia Pacific. "This powerful partnership produced a solution that truly transcends safety and creates a better quality of life for all."
Moreover, bitsensing's in-house specialists partnered with various labs from top universities to obtain the most accurate data to produce this radar that can accurately detect.
The South Korean startup carefully performed extensive testing to ensure that the robustness of the system solution is unaffected by external factors in its bid to deliver a solution that is necessary for the optimal autonomous driving experience.