HAPSMobile, a subsidiary of Softbank and Aerovironment, has announced an investment of $125 million in Alphabet's Loon to advance high altitude network connectivity.
The strategic partnership between HAPSMobile and Loon will cover the advance use of high altitude vehicles such as balloons and unmanned aircraft systems (UAS) to bring connectivity to more people, places, and things worldwide.
The companies said they are actively exploring commercial collaborations that focus on expanding mobile internet penetration, enabling internet of things (IoT) applications, and assisting in the deployment of 5G.
These collaborations, according to HAPSMobile, include a wholesale business that would allow HAPSMobile to utilize Loon's full-functioning vehicle and technology, and Loon to utilize HAPSMobile's aircraft, which is currently under development.
The partners said they are also creating an alliance to promote the use of high altitude communications solution with regulators and officials worldwide as well as initiatives to enabling flight vehicles from each party to connect and share the same network connectivity in the air.
"With the deployment of such technology, people will be reachable in areas where connectivity is lacking; such as mountainous terrain, remote islands, and developing countries," HAPSMobile said.
High altitude network connectivity
Simultaneous with the announcement of its investment in Loon, HAPSMobile also announced "HAWK30," an unmanned aircraft for stratospheric telecommunications platform system that flies at altitudes of approximately 20 kilometers.
HAPSmobile explained that high altitude network connectivity platforms operate in the stratosphere, which is above ground infrastructure, but below satellites. So it allows near ubiquitous coverage that avoids ground clutter and significant latency issues.
These advantages make such vehicles a promising solution for expanding mobile coverage to those who need it as well as IoT and 5G use-cases, according to HAPSMobile.
It said HAWK30 measures approximately 78 meters long and powered by solar panels on its wings that house 10 propellers. It can fly at speeds of approximately 110 kilometers per hour on average and can also be flown for long periods.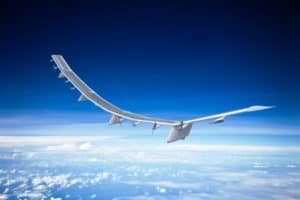 "The telecommunications network to be delivered to the ground by "HAWK30" is expected to use a system that does not interfere with the networks of terrestrial base stations," HAPSMobile said.
Junichi Miyakawa, Representative Director & CTO of SoftBank Corp., also President & CEO of HAPSMobile Inc. said that building a telecommunications network in the stratosphere, which has not been utilized by humankind so far, is uncharted territory and a major challenge for SoftBank.
"Even in this current era of coming 5G services, we cannot ignore the reality that roughly half of the world's population is without Internet access," he said.
Founded in December 2017 and headquartered in Tokyo, HAPSMobile has been working on building the next generation telecom system in the stratosphere, where its telecommunication platform HAPS or High Altitude Platform Station is located.
"HAPS can provide low-latency communication since it is much closer to the earth compared to GEO and LEO satellite," it said on its website.
Extending internet access
Loon, on the other hand, is a subsidiary of Google's parent company Alphabet Inc. Launched in 2013, it is committed to extending Internet access to unconnected communities worldwide through high altitude balloons placed in the stratosphere.
"Loon began as a simple idea to bring the internet to those who don't have it. Of course, that's not a simple problem, which is how we ended up with stratospheric internet balloons," wrote Loon CEO Alastair Westgarth in a blog post when it introduced a new advisory board for the firm in January 2019.
In July 2018, Loon announced that it will provide balloon-powered internet to regions of central Kenya, starting in 2019, in collaboration with Telkom Kenya.
On the investment of HAPSMobile in Loon, Westgarth said, "We see joining forces as an opportunity to develop an entire industry, one which holds the promise to bring connectivity to parts of the world no one thought possible. This is the beginning of a long-term relationship based on a shared vision for expanding connectivity to those who need it. We look forward to what the future holds."