In March this year, Sunseap Group completed the installation of one of the world's 's largest floating solar farms on sea water in the Straits of Johor, an engineering feat and a blueprint on how land- and resource-scarce cities like Singapore can push ahead with their renewable energy projects.
"We believe that offshore space like the sea, reservoirs, lakes etc., offers exciting opportunities for land-scarce and densely populated cities to tap solar energy. They are places that are unobscured from the sun and with low risks of vandalism or theft," said Frank Phuan, co-founder and CEO of Sunseap Group.
To date, the solar energy system developer, owner and operator has under its belt over 400 MegaWatt-peak (MWp) of solar energy projects in Singapore, of which more than 168 MWp have been completed on more than 1,500 buildings, including public housing estates, as well as commercial and industrial buildings.
Established 10 years ago, Sunseap Group has overseas presence in Southeast Asia with its solar farm in Vietnam and solar projects in Cambodia, China, Taiwan, Japan, Thailand and Malaysia
Having honed the company's expertise in offshore floating PV  (OFPV) systems with the completion of the five-MWp-Woodlands project on the Straits of Johor, the company hopes to bring "this new frontier for solar" energy to other countries in the subregion.
Technology helps project get through  environmental hurdles
Sunseap said the Woodlands project was more challenging compared to other land-based or rooftop installations due to the unpredictable nature of open sea, the need to avoid shipping routes and the presence of barnacles. Marine expertise was also required for mooring installation and system design.
Unlike inland water bodies, the open sea is subject to a range of conditions and is prone to change, from fluctuations in temperature and rough swells to the corrosive nature of saltwater. Such unfavourable conditions, combined with the biofouling  commonly found in warm tropical waters — where microorganisms, plants, algae, and small animals accumulate on surfaces — can potentially accelerate the degradation of PV system components, such as inverters.
The five-hectare sea-based solar plant is the size of five soccer fields. It consists of 13,312 solar panels, 40 inverters, and more than 30,000 floats. It is design to produce an estimated 6,022,500 kWh of energy per year to supply enough power for 1,250 four-room public housing flats on the island – offsetting  an estimated 4,258 tons of carbon dioxide.
The solar farm is equipped with electrical panels, control system and a 22kV transformer. It is also a landing point for the subsea cable that transmits the generated power to the national grid. The construction of this undersea cable system is considered a milestone for connecting the floating platform to the mainland, creating a 22 KV electrical distribution network.
Furthermore, the OFPV  system is  designed with a robust constant tension mooring system that is able to withstand changing weather conditions, keeping the platform and all of the operational equipment on board steady. There is also an air-conditioned second deck that doubles-up as a visitor centre and viewing gallery.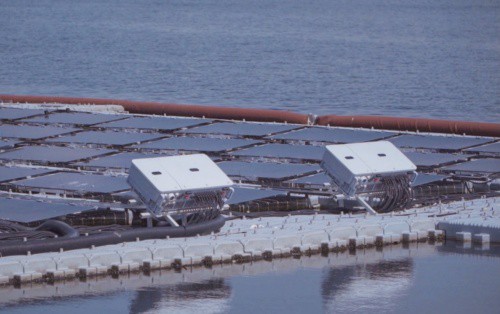 Sunseap deployed Huawei's  string inverters — Huawei SUN2000-90KTL-H2 — to make the floating solar farm more efficient, safer, and more reliable. The smart inverters allows Sunseap to streamline the Operations and Maintenance (O&M) process of the floating platform, as well as prevent rust and
general material wear and tear. (These smart inverters have undergone a series of tests for salt corrosion and heat dissipation, demonstrating their resilience to harsh environments and temperatures ranging from –55°C to 80°C.)
The company picked Huawei to supply the smart inverters  for its modular design, which makes deployment fast and easy, with minimal adjustments required onsite.
"The portability of Huawei's string inverters was a key feature as it allowed us to install the inverters directly onto the floating platform, next to the PV panels. This eliminated the need for a Direct Current (DC) cable hose and DC combiner boxes, reducing costs and deployment times. Owing to the unique design of the inverters, heat is dissipated more efficiently, increasing the overall reliability of the entire solar PV system," said Shawn Tan, vice president of engineering at Sunseap.
Furthermore, the smart inverters enable Sunseap engineers to conveniently conduct daily routine checks remotely.
"Huawei's technology is simply a game-changer: not only can we diagnose plant issues remotely, but we can also troubleshoot without having to be physically onsite," said Wilson Tsen, manager of business development and project management at Sunseap. "We are able to carry out routine inspection and servicing of the plant equipment, the floats, and the mooring lines with greater convenience and ease."
Indeed, by tapping into its expertise in integrating Artificial Intelligence (AI) and the cloud, Huawei introduces the latest ICT into PV equipment to optimise power generation.
Huawei has been leveraging its extensive experience in power electronics and energy storage as well as technical expertise in 5G, cloud, and AI, to develop its digital power business and provide digital power solutions for different industries. As of December 2020, Huawei's digital power products and solutions have generated 325 billion kWh of electricity from renewable sources, and saved a total of 10 billion kWh of electricity. These efforts have resulted in a reduction of 160 million tons in CO2 emissions.
COVID-19 and Singapore Green Plan 2030
Besides the environmental hurdles posed by installing the floating farm at sea, the Woodlands project was hit by the COVID-19 lockdown that prevented foreign workers contracted by Sunseap to leave their dormitories.
"I am so thankful to many members of our team who rolled up their sleeves to fill in the gap during this period. Their professionalism and esprit de corps were key to the successful completion of the project in the face of the numerous challenges," Phuan said.
The supply chain disruption caused by the pandemic cause some delays as well. As such, it took close to a year to set up and complete the project.
The floating solar farm comes at a time of renewed efforts to attain sustainable development in the Lion City. Last year, a nationwide initiative called Singapore Green Plan 2030 was established with the aim of reducing by half the peak greenhouse gas emission by 2050.
Finding alternative methods to generate electricity is therefore essential, as natural gas is responsible for 97% of electricity generation in Singapore. As such, one of the key targets under the Green Plan 2030 is to quadruple solar energy deployment to 1.5 GW-peak by 2025, with further plans to reach 2 GW-peak by 2030.
"The Green Plan from the Singapore government is a strong commitment against  climate change and the offshore floating 5 MW-peak plant that we have here is just a  small step forward on the path to carbon neutrality. I hope, in the future, Sunseap and  Huawei will continue to contribute to the clean energy landscape here in Singapore," Phuan said.