More than 85% of people in Hong Kong and Singapore say the deployment of high-tech cleaning and disinfection applications can restore their confidence in public area safety amidst the ongoing COVID-19, according to the latest Asia Consumer Index.
Of these applications,  the use of robotic disinfection solutions fit the bill for having the top three features that consumers polled in both cities cited:
increased cleaning and disinfection efficiency and efficacy;
executing pre-defined protocols consistently and reliably; and
the ability to work during off-hours and overnight.
The survey also showed that a majority of Asian consumers in Hong Kong (77%) and Singapore (71%) have experienced anxiety when visiting public areas
The Asia Consumer Index was conducted by Avalon SteriTech through Ipsos' survey of 2,100 respondents across Hong Kong and Singapore, which revealed health and safety is a prominent concern among Asian consumers. The survey gauged consumer confidence in Hong Kong and Singapore, and the expectations for cleaning and disinfection measures at public recreational venues.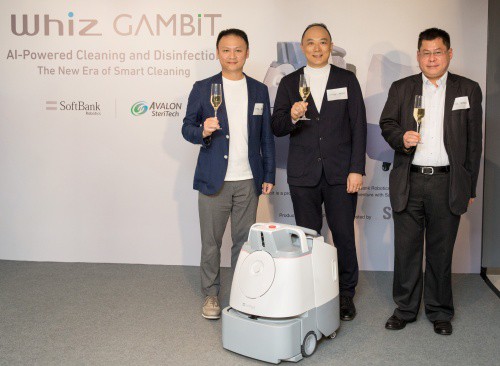 "The findings of the Asia Consumer Confidence Index reveal a shift of people's values and behaviour – a new social dynamic that businesses need to address not only for their survival but the speed of the global economic recovery. We are dedicated to empower different industry and public sectors to rebuild trust and public confidence with our effective and scientifically proven solutions," said Lewis Ho, chief executive officer, Avalon SteriTech .
Avalon SteriTech is a Hong Kong-based biomedical group startup established in 2013, which designs and delivers next-generation cleaning, disinfection and sterilization technology infrastructure for public spaces. Led by a diverse team of world-class scientists, medical doctors, academic advisors and business professionals, the company delivers customised solutions that address unmet public health needs.
The survey results were revealed yesterday during the launch of Whiz Gambit, a smart cleaning robot – the first to be developed from the joint venture between Avalon and Softbank Robotics. Whiz Gambit integrates Avalon's customised bio-decontamination solution with Softbank's Whiz AI-powered cleaning robot.
"We believe Whiz Gambit is a reliable solution to ease consumer health and safety concerns, and raise public confidence as business and travel begin to resume in Asia. Along with our extensive research work with SGS and SoftBank Robotics, we see Whiz Gambit is sparking a new era of 'Smart Cleaning', enabling businesses and public sectors to navigate this challenging moment, as well as what comes next and beyond," Ho said.
A two-in-one device
According to Kenichi Yoshida, chief business officer at SoftBank Robotics, Whiz Gambit elevates smart cleaning "from art to science" and caters for a market need for a robot that does not only clean but disinfect.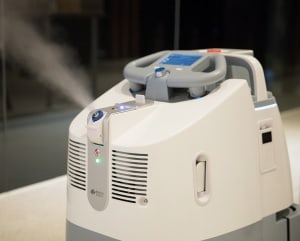 "The Whiz Gambit robot we launched with Avalon redefines cleaning and disinfection protocols by delivering consistent and sustainable performance. It offers the agility of adjusting frequency, intensity of cleaning and disinfection practices based on the specific needs of clients and their spaces with affordable operating costs," Yoshida said.
He pointed out that the new robot is the first disinfection robot to achieve Performance Mark by SGS Hong Kong with proven efficacy to eliminate >99% microbial bioburden. SGS-tested disinfectant shows >99.99% performance against wide ranging pathogens, including human coronavirus 229E.
"As our first and the only global disinfection sprayer partner and the first product launched under our joint venture, the SGS-certified Whiz Gambit ensures that the efficiency and efficacy of cleaning and disinfection can be maximised, with 2-in-1 disinfection and vacuum cleaning technology. We strongly believe that the solutions we build should not only address the problems of today, but also safeguard the health for the generations to come," he added.
The Whiz Gambit  is autonomously driven, with sensor-fitted camera that enable it to automatically avoid people and other obstacles in its path such as glass panels and walls. It is powered by a user-friendly OS that enables  for easy assignment of cleaning route and deployment. The sprayer will only be activated if Whiz is in operation, excessive use of chemicals. The sprayer uses dry mist technology that generate <10 micron disinfection particles. The atomising nozzle can be adjusted to target zone, surface or ground bio-decontamination.
The robot issues real-time alert through its wireless communicator once the cleaning route is complete or it any other issues arise.
Helping businesses get back on their feet
With Whiz Gambit, Softbank Robotics and Avalon hopes to do their part in helping businesses raise public confidence in the safety and hygiene of commercial spaces. The two-in-one cleaning and disinfection robot is initially available in Hong Kong and will soon be launched in Singapore and Japan.
According to the Asia Consumer Confidence Index, Asian consumers have raised their expectations for comprehensive cleaning in public spaces, where 92% expect commercial businesses to put more effort in disinfection protocols (92% in Hong Kong and 91% in Singapore) and 93% agreeing that regular disinfection is key to maintaining safe and clean public spaces (93% in Hong Kong and 93% in Singapore).
The majority of respondents (86% in Hong Kong and 87% in Singapore) indicate that the deployment of high-tech cleaning and disinfection applications can restore their confidence in public area safety.
Yoshida has high hopes for the Whiz Gambit given that Softbank's original Whiz has gained the number one market share in cleaning robots with about 10,000 units sold since its launch two years ago.