SK Telecom, SK Square and SK hynix will establish an investment fund worth over 1KRW trillion (US$835.1) million, attracting capital from overseas investors, to inject into innovative projects around AI, metaverse, blockchain and semiconductors.
Through these investment activities, the three companies expect to stay ahead of the convergence trend within the ICT industry and discover unicorns that can change the industrial landscape, which will lead to valuable business synergies.
The three SK Group companies announced the fund as they launched their newly-created "SK ICT Alliance" at CES 2022 as they strive to make inroads into global markets in the areas of 5G, AI and semiconductor technologies
US entity to target the AI semiconductor market
First on the agenda of the new SK ICT Alliance is the establishment of SAPEON Inc. in the US to introduce SK Telecom's AI chip. The new US-based company will serve as an outpost for expanding SKT the AI semiconductor business to the global market by attracting U.S.-based big tech companies as major clients.
It will also secure an edge in luring semiconductor development experts and drawing in outside investors. Moreover, as the subsidiary of SAPEON Inc., SAPEON Korea will take charge of business in Korea and the Asian region.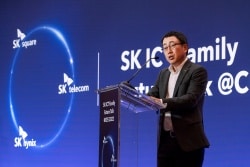 "By proactively responding to changes taking place in the areas of AI, metaverse and 5G, we will prepare ourselves for the next decade," said Ryu Young-sang, CEO, SK Telecom.
SK Telecom plans to lead the development of SAPEON-related technologies by leveraging its R&D capabilities and service experience accumulated in 5G and AI. In the mid-to long-term, the company will expand its SAPEON model line-up by developing AI chips dedicated to data centers and autonomous driving.
SK Telecom will also promote synergies between its AI semiconductor and SK hynix's semiconductor memory technologies, while also attracting strategic and financial investors in cooperation with SK Square.
Projecting that the convergence of AI and metaverse will define the future world of ICT, SK Telecom plans to innovate its three key services, T Universe, Ifland and AI Agent, in an accelerated manner. Moreover, it will also introduce new services by adding connected intelligence to future devices such as UAM aircrafts, self-driving cars and robots.
SK hynix in talks with Qualcomm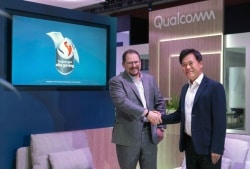 Meanwhile, SK hynix, the world's second largest memory chipmaker, and Qualcomm, the world's leading wireless technology innovator held talks regarding collaboration on the development of data centre applications and high-speed memory for PCs.
SKT and Qualcomm discussed cooperation in 5G business areas including metaverse and smart factory.
"With competition intensifying in the global ICT market, cooperation is no longer a matter of choice but an absolute necessity," said Park Jung-ho, vice chairman and CEO of SK Square and SK hynix. "All ICT affiliate companies of SK will lead innovations by pursuing cooperation that goes beyond all national borders and industries."