In 2018, Sino Group is one of the earliest property developers in Hong Kong to install photovoltaic systems on its premises, with more than 3,000 solar panels already installed to date. Upping the stakes further, the company recently announced a plan to install over 3,200 panels on rooftops and exteriors across 19 properties and three hotels by 2021.
Sino Group estimates that over 8,000,000 kWh of energy will be generated through the photovoltaic system by 2030 from the 2012 level - equivalent to the energy consumption of 1,279 local households for one year. Pilot projects to explore other renewable energy sources that can work within the space limitations of Hong Kong are also underway, such as the group's award-winning in-building hydropower system and rooftop wind turbines.
As an early responder to the air pollution issue, Sino Group has committed to a 30% reduction in greenhouse gas emissions by 2030 from the 2012 level.
Charting sustainability vision
The plan for additional solar panels on its properties was is part of Sino Group's newly announced Sustainability Vision 2030 ('SV2030') initiative in support of the United Nations Sustainable Development Goals (UNSDGs).
Under its SV2030, the Group has set sustainability goals that align with the six key areas of focus under its "Creating Better Lifescapes" vision, and adopt a new 3R Strategy (Renew, Reduce, Redefine) to address Hong Kong's sustainability challenges.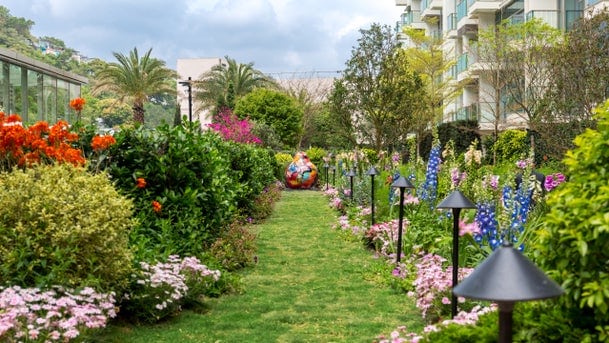 "Sustainability is integrated in every aspect of operations as we seek to create values for stakeholders and make business a driver of sustainability for a better future," said Daryl Ng, deputy chairman of Sino Group.
"The Sustainability Vision 2030 – covering crucial areas such as renewable energy, plastic reduction, green building certification and innovative sustainability solutions – is an important blueprint charting the course for 2030 and beyond," he added as he thanked partners for their staunch support.
Besides the adoption of over 3,200 solar panels to generate renewable energy sources, Sino Group's new sustainability initiative includes reducing consumption of single-use plastics (SUP) by 50% across all business lines by 2022, and developing green properties – all in a bid to be wellness-centric.
Using smart technologies
Meanwhile, Sino Group has been proactively using smart technologies to put legs on its sustainability vision.
For one, the company has been working closely since September 2019  with local PropTech company Negawatt to leverage big data, Internet of Things (IoT) and Artificial Intelligence (AI) to enhance the group's energy efficiency levels. The pilot programme at Exchange Tower has achieved an 8% year-on-year reduction in chiller plant energy consumption while maintaining the same level of indoor comfort. The energy saved is equivalent to the annual energy consumption of 37 local households. The system is expected to be deployed at another 13 buildings under the group.
It will again lean on these technologies  to reduce 50% of single-use plastic consumption across all of its business lines by next year, down to its 2017 levels. Since 2018, the company has saved over 1.98 million plastic bottles by installing smart filtered water stations at its malls and hotels. This has translated into carbon emission reduction by around 3,140,000 kg, equivalent to planting 136,539 trees.
"Sino Group is among the first in the industry in setting a plastic reduction target and installing smart filtered water stations at its premises. Currently, the group has the largest network of smart water dispensers in Hong Kong. We are glad to see  its swift execution in contributing to protecting the Earth through reducing the use of plastics," said Ada Yip, CEO of Urban Spring.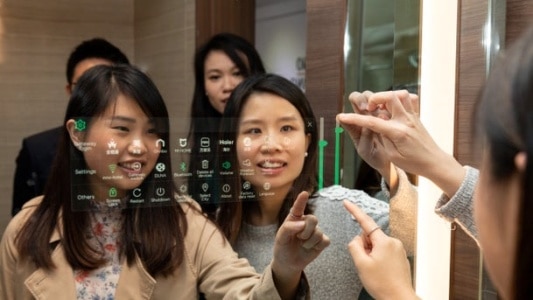 The company is also incubating its own technologies through its with Sino Inno Lab, which supports and partners with start-ups and inventors. Since 2018, it serves as a sandbox platform for technology companies and start-ups to test out innovative solutions that benefit the industry as a whole. To date, it has already nurtured more than 100 PropTech solutions, connecting more than 400 companies on technology sourcing.
Building new green properties
Furthermore, the company's sustainability goals encompass its new developments – the largest number of new buildings in Hong Kong that are registered and listed under the WELL v2 project directory.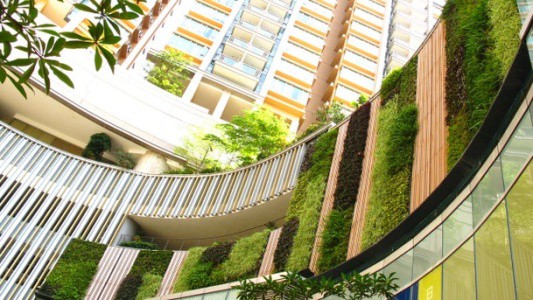 WELL is the world's first architectural benchmark focused exclusively on human health and wellness to improve sustainability. It identifies 10 concepts of the built environment that make a positive impact on human health and well-being, namely air, water, nourishment, light, movement, thermal comfort, sound, materials, mind and community.
Indeed, the group's new project in Sai Kung called 133 Portofino was the first residential property in Hong Kong to receive WELL Core v2 pre-certification, followed by St. George's Mansions and the Group's new commercial development at Wong Chuk Hang.