At the recently-concluded Energy Innovation Week, the Energy Market Authority (EMA) in Singapore announced  several projects which aim to diversify the city's energy mix in line with its  Green Plan 2030.
The first three projects involves testing new clean energy innovations on Jurong Island, under a S$6-million grant awarded by the EMA and JTC with support from Enterprise Singapore. (More than 30 proposals were received following the open grant call in October 2021. The grant supports the prototyping and demonstration of the awarded projects over the next two years.)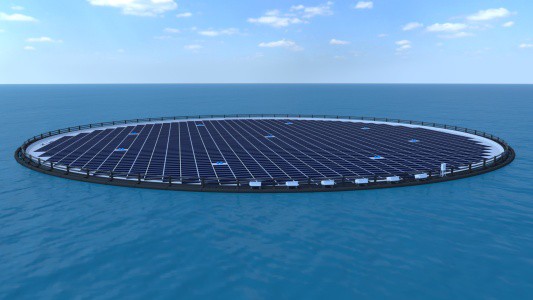 The investment in clean energy technologies is part of Singapore's energy transition to decarbonise its energy supply and will support Singapore's raised climate ambition to achieve net-zero by or around mid-century.
These projects, piloted for the first time on Jurong Island, cover a diverse mix of technologies. They include innovative floating solar deployment and the development of a virtual ledger system to support green hydrogen production.
One of the projects will also look at using existing infrastructure to deploy energy storage systems and the electrolytes used for energy storage can be produced from recycled industrial waste, which enhances circularity on Jurong Island. The awarded projects were selected based on their innovativeness, commercialisation potential and scalability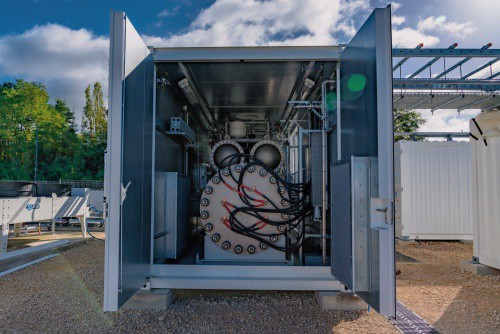 "With Singapore's limited renewable energy options, new energy technologies and innovations are key in our decarbonisation journey. Solar is our most viable renewable energy source, and we hope to push the boundaries further to maximise the amount we can harness. We are also looking at low-carbon alternatives such as hydrogen to reduce our carbon emissions in the longer term. The partnership with industry and research community will accelerate our transition towards a more sustainable energy future," said Ngiam Shih Chun, chief executive, EMA.
If shown to be commercially viable, the test-bed projects could be scaled up and deployed across more companies on Jurong Island as well as other industrial companies looking for cleaner energy solutions.
Sustainable solutions in underwater infrastructure inspection
Another two projects, this time as part of the S$8-million partnership between EMA and Shell, have been awarded to two local startups BeeX and SunGreenH2.
As a deep tech spin-off from the National University of Singapore, BeeX specialises in designing and building autonomous equipment used for inspection of underwater infrastructure. Their solution could potentially be used to remotely monitor and inspect underwater energy infrastructure such as subsea cables or floating solar photovoltaic systems. This reduces the need for manual inspections as Singapore scales up solar deployment on water bodies and taps on regional power grids to import low-carbon electricity.
For their pilot, BeeX will be collaborating with Shell to trial a HAUV (Hovering Autonomous Underwater Vehicle), to make underwater inspections safer, more efficient and effective at the Shell Energy and Chemicals Park Singapore on Pulau Bukom.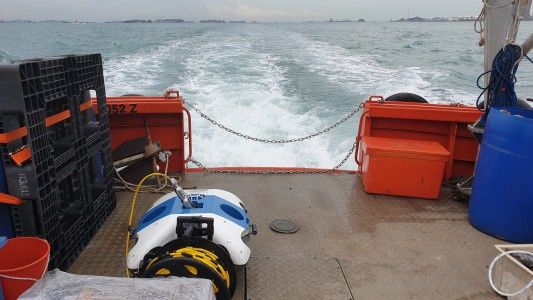 On the other hand, SunGreenH2 has developed a proprietary electrolyser technology used to produce low-carbon hydrogen. The Anion Exchange Membrane (AEM) technology has the potential to improve the efficiency and cost effectiveness of producing low-carbon hydrogen, a clean renewable energy source that may one day become an alternative fuel for power generation.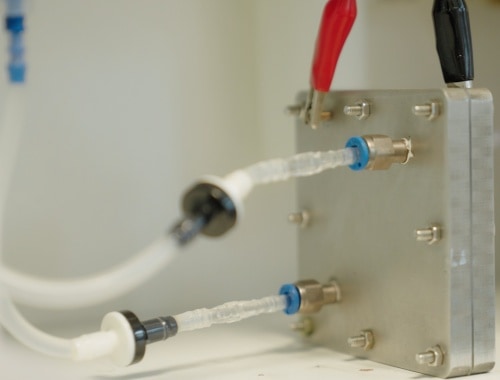 "We strongly believe that innovating and collaborating with the different players of the energy value chain is key in moving towards a low-carbon world. Startups are an exciting source of new ideas and innovation," said Thomas Wong, general manager of Shell Energy and Chemicals Park Singapore at Bukom and chairman of Shell StartUp Engine Singapore Committee .
He added: "Supporting and working with local innovative startups like BeeX and SunGreenH2 is valuable in not only helping us to transform our business and the industry, but also contributing towards a net-zero world."
EMA and Shell kicked off their partnership in 2019 to nurture local energy startups through the Shell StartUp Engine Singapore accelerator programme. To date, the partnership has supported 18 startups. Among the supported startups, EMA has also provided grants to selected startups to further develop their solutions to advance the energy sector's transition towards greener sources.
Calls for R&D proposals in next-generation energy tech
Meanwhile, EMA and the Singapore Institute of Technology (SIT) jointly launched their second grant call for research and development (R&D) proposals in next-generation energy technologies.
Funds from the S$20 million Exploiting Distributed Generation (EDGE) programme, which was started in 2019, would be used to develop innovative power engineering projects that will boost power engineering capabilities and support Singapore's transition to a more sustainable energy future.
"Singapore's energy demand is forecasted to grow in the next decade, driven by increasing electrification and digitalisation. Our power grid needs to evolve to support a more complex power system as we transition into various sources of cleaner energy and integrate them into our power system to meet increasing demand," said Ngiam of EMA.
The second EDGE grant call is open to researchers from Singapore-based institutions of higher learning, research institutes, public sector agencies, as well as local companies and company-affiliated research laboratories/institutions. Funded projects must be implemented in Singapore. All proposals must be submitted by 15 October 2022, 1200hrs, Singapore time.
Indeed, with the increase in distributed energy resources (DERs) such as solar photovoltaic installations and the rise in the adoption of electric vehicles, power systems of the future will need to be flexible and responsive.
Singapore's power grid to evolve and adapt to variable power sources while continuing to ensure the reliability and stability of our power system. Because of this, EMA and SIT are seeking innovative solutions to manage the increasing DERs while ensuring continued grid stability and reliability.
Successful grant applicants would be able to test-bed their solutions on SIT's Multi-Energy Microgrid at its Punggol Campus, located in the heart of the Punggol Digital District when ready in 2024. The Multi-Energy Microgrid serves as a platform for the industry and academics to catalyse R&D by allowing them to test-bed their solutions under real-world conditions. This could enable their ideas to be developed into market-ready solutions for commercialisation.
"Through EDGE, we aim to leverage Singapore's first campus microgrid infrastructure for SIT's Punggol Campus, which will serve as a national infrastructure that is open to the research community and businesses in Singapore," said Professor Chua Kee Chaing, president, SIT.
"This platform allows new technologies and solutions to be tested in a controlled environment within the main grid while providing SIT students with the opportunity to work with industry partners and energy start-ups," he added
In 2018, EMA and SIT launched the EDGE programme to support the building of capabilities in distributed energy technologies to prepare Singapore for an increasingly decentralised energy landscape. Since then, three projects in the research areas of microgrid design and distributed energy optimisation and management have been awarded.