Residents and visitors of Seoul's Sangam-dong district will have the opportunity – until the end of the month – to ride the freshly deployed autonomous vehicles for free, as the Seoul Metropolitan Government (SMG) conducts pilot operation of the new mode of transportation.
For two weeks now, three autonomous cars have been traversing through Sangam-dong from DMC Station to apartment complexes and office areas. Passengers can call the vehicles by calling through a smartphone app. By the end of December, three more vehicles including one autonomous bus that runs through DMC Station, World Cup Station, and World Cup Park will be added and expanded to a total of six vehicles.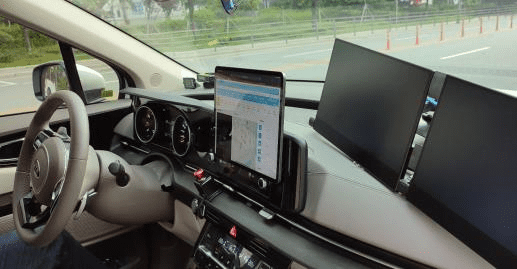 The "robo-taxis" carry passengers through a pair of routes over roughly 2.3 square miles.
Seoul city mayor Oh Se-hoon was the first passenger to board the "robo-taxi" when the driverless service was rolled out at the end of November, travelling from S-Plex Center to Gugak FM Building in Sangam-dong.
"At the beginning I felt a bit awkward and a little bit nervous but soon the car pulled over and started and changed lanes and made a left turn and a right turn very smoothly as I experienced this, I believed it would be a good start to the commercial service," said Oh See-Hoon, Seoul mayor told Al Jazeera.
"Autonomous driving is not a technology of the future anymore," Oh added. "It is already here with us. Today, public self-driving vehicles have started to serve our citizens."
Starting in January, a fare will be charged -- pricing has not been established yet, but officials have said it will cost no more than US$1 for the bus and US$2.50 for a car ride.
The vehicles are operated by two private companies, 42dot and SWM, under a license from the city government.
The SMG targets to roll out over 50 self-driving vehicles by 2026 in Sangam-dong alone.
The data and experience from the robo-taxis' pilot month in Sangam-dong would be invaluable as Seoul looks to become one of the world's top cities for autonomous driving.
Seoul is not the first city to commercialise driverless service -- ongoing projects elsewhere include Google's Waymo One ride-hailing service in the Phoenix suburbs and Baidu's robo-taxi service in Beijing.
In 2022, the South Korean capital plans to start expanding services to other parts of the city, bringing fully automated robot taxis to Gangnam early in the year and running self-driving buses in the downtown area by April.
All through 2026, the SMG will invest an estimated 148.7 billion KRW by 2026 to build autonomous driving infrastructure on all roads