Students from the Hong Kong Institute of Vocational Education (IVE) located in Tsing Yi  has developed an IoT-based U-trap Refill Automator, a device fitted with an ultrasonic sensor that detects the water level in U-traps.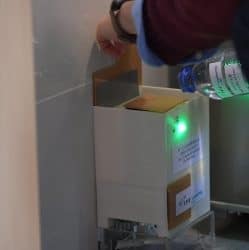 With the ongoing COVID-19 pandemic, making sure that water in the U-traps or drainage pipes does not dry out is crucial in preventing the passage of bacteria and viruses into the living areas. In the past year, the Hong Kong government issued regular reminders for residents – majority of whom live in high-rise flats – to be vigilant in the weekly task of pouring half litre of water into their U-traps.
The IoT device is specifically designed to automate this often overlooked task. When the water level falls too low, the device's injection valve will open and release water into pipes. A water seal is then formed to block any viruses from entering the home.
The U-trap Refill Automator recently won the Gold Award in a competition co-organised by the Urban Renewal Authority (URA).
"We would like to help somebody who may forget or not be able to refill the drainage system frequently and try to help the elderly and people with disabilities to complete this easy but tedious task," said Benson Hung, Workplace Learning & Assessment Project Team (Engineering Programmes) Project Officer, who lead his team of students from HK IVE.
Modifying the prototype
The team modified design of the U-trap Refill Automator with the help of URA, which provided professional advice and residential units for conducting trials.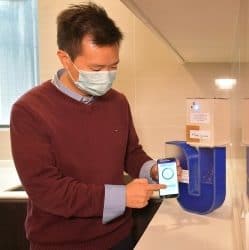 The device is currently on its second-generation, designed to handle problems that came up during the onsite trials.
"We found one problem during trials. We realised that the water level could not be sensed by our original design's ultrasonic sensor, so we had to rebuild it and work out a second-generation design acting on a time-based function," said HK IVE (Sha Tin) Department of Engineering Lecturer Kelvin To, who joined the team to share his IoT expertise
With the newly installed IoT components, users are not only able to set a timer for the device to refill with water, but can also check its status and receive push notifications on a mobile application.
Even without an Internet connection, the device can still be activated manually by simply pressing a button.
Wider reach
Meanwhile, To also helped the team to overcome one of its biggest challenges - coming up with a design that could fit drains of all shapes and sizes.
Their solution was to build a new attachment that can be fixed to the bottom of the original design to fit floor and wall drains - two common drain outlet designs in Hong Kong buildings.
The engineering team is now preparing to test the device in some older buildings as well as shopping malls.
They hope the industry will take notice of their design, take it to the next level and roll it out to the mass market.