Relying on five years of original R&D, SenseTime has used its expertise in AI to create a new suite of intelligent solutions aimed at forming a scalable and adaptable ecosystem for the automotive industry.
Called SenseAuto, the company's new intelligent automobile brand consists of SenseAuto Cabin solution, the SenseAuto Pilot smart driving solution and the SenseAuto Connect platform for intelligent sensing.
SenseTime has unveiled its new product portfolio at the recently-concluded  2021 World Artificial Intelligence Conference (WAIC) in Shanghai last week.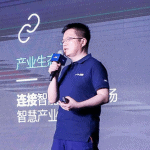 "We believe SenseAuto will enable us to explore the numerous potentials in automotive intelligent sensing, bringing new experiences and services that will benefit users and the society," said Professor Wang Xiaogang, co-founder and head of research at SenseTime.
"To achieve this, we offer standardised solutions to meet the growing complex needs of industry partners, while our core AI capabilities accumulated from over 20 years of research expertise will help reduce R&D cost and duration for segmented markets and contribute to a more sustainable automotive ecosystem," Wang added.
To date, the company has established partnerships with over 30 automotive industry leaders, both in China and  overseas covering over 20 million vehicles. With international certifications like ASPICE L2, ASIL B, SenseAuto has achieved global international standards for its R&D capability and quality controls.
Moving forward, SenseTime will continue to deepen cooperation with industry partners, further enhance its competitive edge to marry its intelligent automotive solutions with various industries and bring end-users a revolutionary automotive experience.
Intelligent sensing integrating vehicle and road
According to SenseTime, SenseAuto facilitates the upgrade from single-vehicle intelligence to collaborative intelligence that connects both the vehicle and the road transport system.
With the aim of creating a safe, convenient and fun in-cabin experience, the SenseAuto Cabin solution consists of a comprehensive solution portfolio, featuring the SenseAuto Cabin-D Driver Monitoring System (DMS), SenseAuto Cabin-O Occupant Monitoring System (OMS), SenseAuto Cabin-K Keyless Entry, Virtual Companion and multiple in-vehicle infotainment (IVI) functions powered by augmented reality (AR).
Drivers can opt to turn on the automatic setting function of the DMS, making it hassle-free to manually adjust the driver's seat or rear-view mirrors. The DMS will also trigger timely alerts when signs of dangerous driving, such as drowsiness, distraction or phone use are detected. It also provides gaze tracking for the drivers and contactless human-computer interaction with a high level of accuracy to ensure safer driving.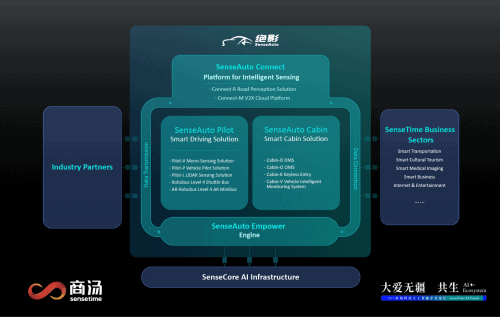 Meanwhile, the OMS provides a suite of customised services according to passenger attributes such as age and gender. A key highlight of the OMS is the child absence detection function, which detects the situation when a child is accidentally left unattended in the car, and will immediately send a notification to the parents to prevent potential risks.
The SenseAuto Pilot smart driving solution integrates all-scenario visual sensing, LiDAR sensing and multi-modal intention prediction technologies to make accurate decisions and route planning. The front sensing solution is capable of detecting pedestrians and vehicles within 200 meters to perform safe and efficient manoeuvres.
For highway scenarios, the driving pilot solution can undertake various L2+ advanced driving assistance including lane following, lane change, ramp merging etc. To guarantee the system's robustness under adverse weather conditions and environments, LiDAR sensors – that use SenseTime's high-accuracy 3D sensing technology – have also been incorporated into the product offerings.
The SenseAuto Connect cloud platform for intelligent sensing streamlines the connection between vehicle, road and cloud for one-stop management. It empowers road assets with full-stack intelligent sensing ability through basic sensors like LiDAR and mmWave radar.
Moreover, through cloud and edge computing, it enables collaborative management, analysis and execution for efficient and complete end-to-end transportation management. The cloud platform can also function as a hub for Vehicle to Everything (V2X) communications, introducing intelligent automotive solutions to various industries, such as intelligent transportation, retail and cultural tourism and ultimately deliver a convenient and innovative user experience.
Laying the foundation of innovation
At WAIC 2021, SenseTime also officially showcased its SenseCore AI Infrastructure encompassing computing power, core algorithms and platforms, designed to develop powerful and efficient AI solutions that are scalable and adaptable to a wide range of applications and industries.
The SenseAuto Empower engine, based on SenseCore technology, enables the development of automotive products and solutions with new levels of cost-efficiency. Designed for both common and long-tail scenarios, SenseAuto Empower guarantees reliable driving assistance while creating a humanised cabin experience.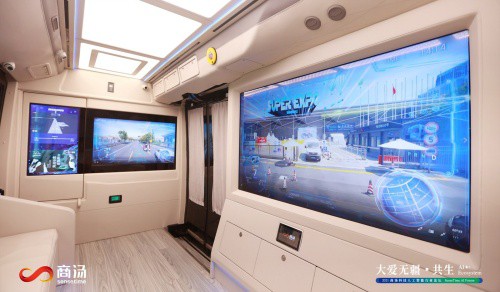 At the WAIC 2021, SenseTime also showed its AR minibus with L4 autonomous driving technology, offering a glimpse of the infinite possibilities of "automotive + AR" technology.
Passengers can experience a futuristic world with stunning AR effects and audio guide as the minibus drives autonomously around the Shanghai Expo Park.