In time for this year's Mid-Autumn Festival, SenseTime this week has introduced augmented reality to enhance travellers' experience when they visit three of China's iconic tourism sites – two in Hangzhou and one in Beijing.
Cultural tourism has become a growing trend in recent years, creating a huge demand for innovation and new experiences in the industry. Emerging technologies such as AR and AI are taking the tourist experience to new levels.
By introducing interactive elements into the tourism industry, SenseTime wants to create immersive experiences for the tourists with its AI+AR/MR application offerings. Through the use of these technologies, SenseTime hopes to reshape the arts and cultural experience and create a more accessible and engaging environment for all.
SenseTime, which has earned the distinction as the first unicorn to emerge from Hong Kong tech startup community, is a strong AI advocate with 1,100 customers and partners worldwide. It has presence in markets including Mainland China, Japan, Singapore, South Korea, Indonesia, Saudi Arabia, the United Arab Emirates, Taiwan and Macau.
Bringing Hangzhou WestLake to life
Last weekend, China's AI pioneer released an AR navigation feature that brings to life a series of arresting scenes for tourists as they navigate around the world-famous Hangzhou West Lake.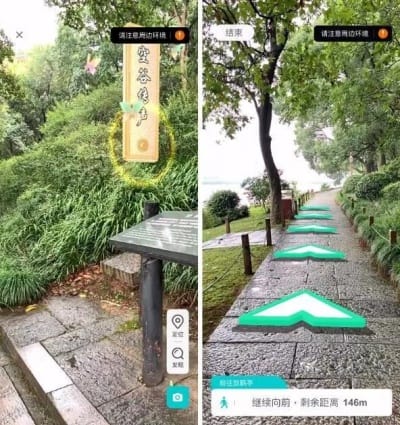 The AR powered feature is integrated with the app named "Hangzhou West Lake" (掌上西湖),  which provides extensive information and detailed tourist activities at the popular destination.
The 1.4 km-long AR-enhanced scenic route starts from Ping Hu Qiu Yue, also known as the "Autumn Moon Over the Calm Lake" and ends at the "Yue Fei Temple", taking visitors through the "Gushan Houshan Road".
Visitors can scan each scenic spot with the app, which fires up the AR navigation journey – from there, virtual signs emerge to guide visitors through the attractions along the route in real-time, accompanied by ambient background music. Visitors can also tap on the virtual signs on their mobile phone for each scenic spot to access the related audio guide.
In addition to navigation, another AR feature in the app creates rendered images of specific scenic spots derived from the back stories of each historical site. For example, it is recommended to visit the "Autumn Moon Over the Calm Lake" during a full moon, and especially during mid-Autumn in order to experience its charm. With the new AR feature, users can at any time of their visit, transform the lake into a mid-autumn evening scene and even add further special effects such as fireworks under a full moon or fireflies over the lake, to recreate their own unique visual experience.
The AR features within the app are powered by SenseTime's self-developed SenseMARS, a mixed augmented reality platform. The platform boasts high-precision positioning and content enhancement technologies to realise 3D reconstructions of the key tourist spots at West Lake. By incorporating cross-platform and terminal spatial sensing algorithm and end-cloud collaborative positioning abilities, the solution provides even greater positioning accuracy than existing GPS or digital model rendering technologies. The program can also be easily customised and applied on a large scale to a variety needs and scenarios for the cultural tourism industry.
Xiang Lake Running Trail
On the tail of this latest tourism innovation at West Lake, AR was also introduced in another tourist attraction in Hangzhou at Xiang Lake Running Trail.
SenseTime  last Monday launched new AI+AR features which bring a series of smart and interactive applications to visitors and runners at the what is known as "Hangzhou's best greenway" for its mesmerising views surrounded by flowers and greens.
Xiang Lake is a gorgeous place to relax and exercise, it is also known as the sister lake to the West Lake in Hangzhou. To bring a brand-new experience to both sports lovers and visitors, new elements of culture and technology were introduced recently. Visitors can now enjoy personalized fitness assistant features as well as fun, interactive AR applications after registering on the "Xiang Lake Tourism" (爱游湘湖) mobile app with facial recognition.
Using AI technology, the smart analysis system along the trail can track a user's statistics including pace, stride, distance and calorie burn for runners using the app to keep track of their personal fitness. In addition to features designed for runners, the app also brings the culture and history of Xiang Lake to life through AR technology. Visitors arriving at the designated location along the trail can unlock AR treasures with the app as if going on a treasure hunt.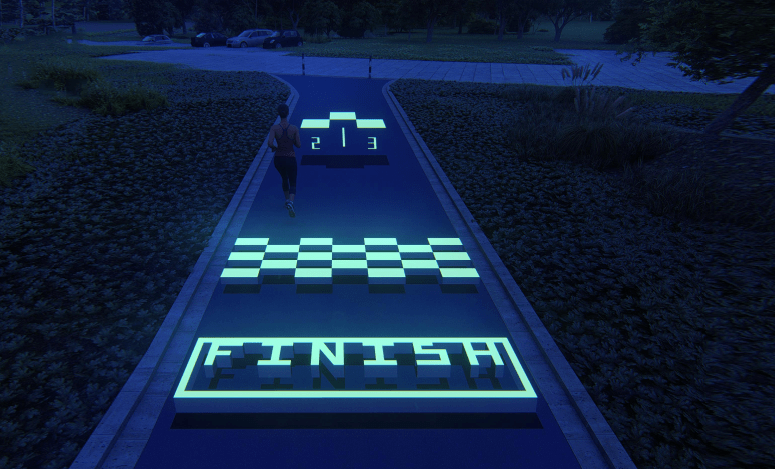 Furthermore, SenseTime created engaging virtual bullet screens at the Dingshan Square and Shandao Beach, where visitors can leave virtual messages using their phones, read ones left by others, and experience the marvel of technology which breaks the boundaries of time and space.
To elevate the overall running experience, visitors arriving at the trail are able to securely deposit their belongings at the smart lockers with a simple face scan, or seek running guidance and customize personalised routes from SenseTime's AI Digital Human, emulating a human personal trainer before their run. Visitors can also pose in front of the AR photo booth which supports fun special effects for a photo to mark this trip.
As people become more conscious about their health and fitness in today's society, SenseTime plans to introduce fun, interactive features with its AI+AR/MR application offerings to transform people's exercise experience.
AR game at Water Cube
In Beijing, SenseTime has deployed its proprietary mixed AR platform SenseMARS at the iconic Water Cube in Beijing for visitors to enjoy an interactive online game while they explore the sports venue built for the 2008 Summer Olympics.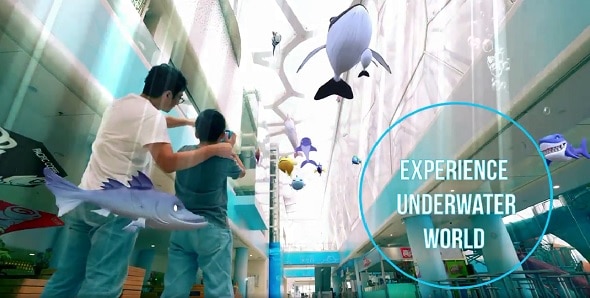 Running the whole month of October, the AR game called "WaterCube GO" engages visitors to use their mobile devices to save a range animals from polar bears, seagulls and penguins while touring the stadium – giving an immersive experience which integrates virtual characters with the environment in real time.